For Summer 2022 (April 22 -to-November 22) MSC Armonia will depart from Venice every Sunday and visit Bari (Italy), Santorini (Greece), Chania (Greece), Corfu (Greece) and Dubrovnik (Croatia).
Armonia means harmony in English and the MSC Armonia (Lirica-Class cruise ship) indeed has this in buckets. Minimalist fittings and beautiful clean lines, as well as colours that are soothing and tranquil, will leave you feeling that you have escaped to your happy place.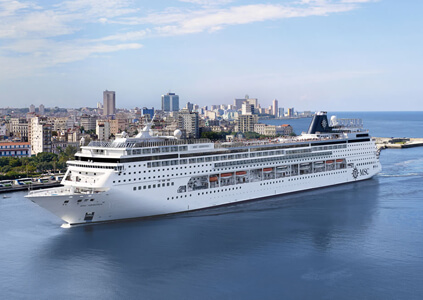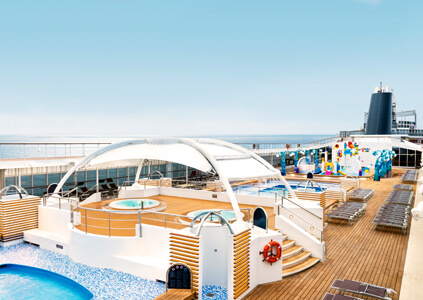 There are numerous categories, with the price depending on the grade, size and location you choose. MSC Armonia features 132 Suites, each with a private balcony and a couch which can be converted into a bed; 94 Balcony cabins; 2 Family cabins; 401 Ocean view cabins; 350 Interior cabins and 4 Wheelchair-Accessible cabins.
All cabins come with two single beds that are converted to a queen-size (two singles on request), bedside tables, a flat-screen TV, safe, hairdryer, a private bathroom with shower & toilet, a spacious size closet. The mini-bar is stocked with various items (at a charge). The air-conditioning is individually thermostat controlled and the air is 100% fresh and not recycled.
All the power outlets (220v/110v) and USB ports are located on top of the desk. Make sure you take a multi-plug if you have a lot of items to charge. The mattress is very firm - if you like a softer mattress, it might be too firm for you. Some cabins come with bunk beds or sofa beds for a 3rd/4th person.
The bathroom is functional but fairly small in all non-suite cabins. All showers and basins have shampoo/conditioner and body wash mounted to the wall as well as a wire rack to hold toiletries.
The cabin size ranges from 13m2 to 24m2, which is enough considering that the itineraries are designed around ports and passengers spend so little time in their cabins.
For groups or families, the ship has 18 interleading suites, 10 interleading balcony cabins and 2 designated family cabins that offer a separate sitting area with a pull-down bunk bed. The family cabins each sleep a family of 5.
The 4 accessible cabins (21m2 / 230ft2) are conveniently located next to the elevator (except for 9149 which is mid-ship).
MSC Armonia's main complimentary dining rooms are the Marco Polo Restaurant (deck 5) with a seating capacity of 610 (breakfast, lunch & dinner) and the Pergola (deck 6) with a seating capacity of 340 guests (only dinner). La Brasserie (buffet) and Il Girasole (burger & pizza) are both on deck 11 these are also free of charge. Surf & Turf (deck 6) will serve steaks, fish and lobsters for a fee.
Most dietary requirements can be catered for onboard, (vegan choices are offered), but we advise that you let your travel agent or MSC Cruises know before your cruise to add those to your booking. (Kosher meals are available at a fee.)
Marco Polo, deck 5, seating 1,058 guests, is one of the two main restaurants onboard MSC Armonia. Tables seat from two to six guests. Breakfast (7 to 10 am) and lunch (noon to 13h30) are both waiter-served and open seating. Guests dining at the Marco Polo are allocated a fixed dining time and a specified table. The two seatings are 18:15 & 20:30.
Price per person: Included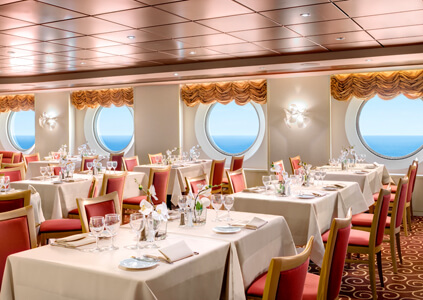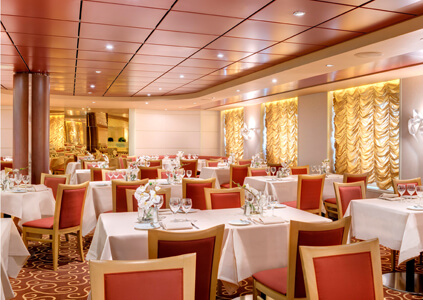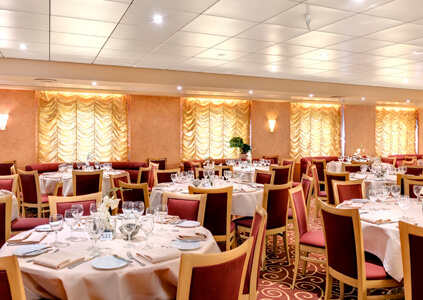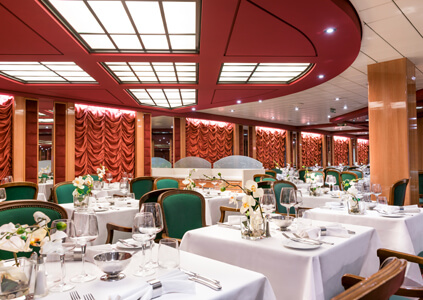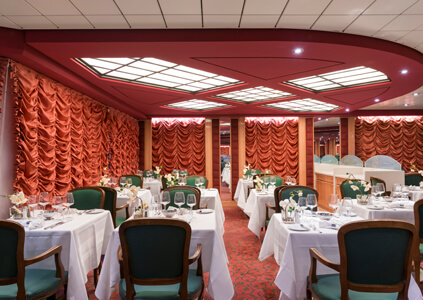 Seating 340 guests, located on deck 6, La Pergola is the second of the two main dining rooms onboard MSC Armonia. Open for dinner only, as with the Marco Polo restaurant, the menu features Mediterranean specialities, a wide variety of vegetarian dishes and a range of dishes to accommodate the tastes of local guests.
Price per person: Included
For those who have room for more food, Surf & Turf is a great alternative. The restaurant serves a variety of steaks and lobster with some classic sides that pair with them. The cover charge will include a choice of amuse-bouche, such as pork belly and crab cakes, entree (lobster tails, rib eye, lobster thermidor) with two side dishes. Reservations are highly recommended.
Price per person: EUR 30 p.p.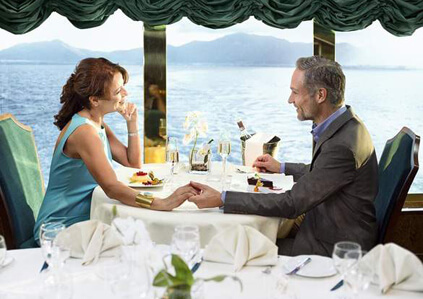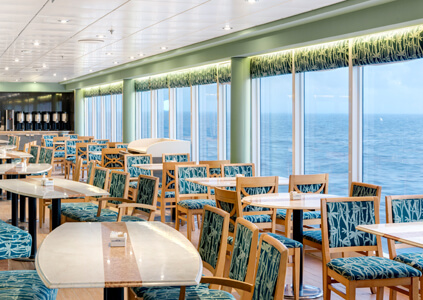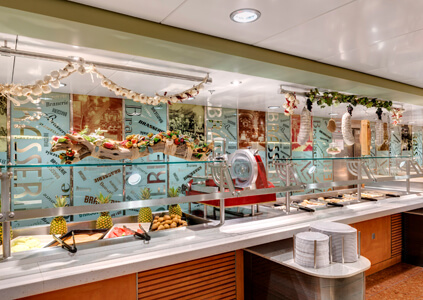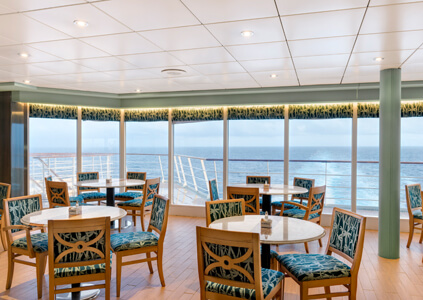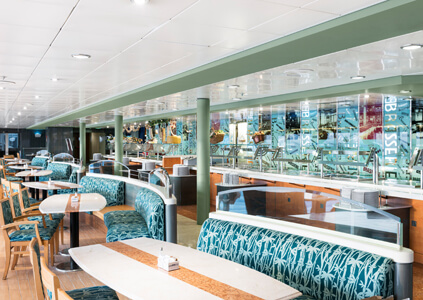 La Brasserie is MSC Armonia's buffet, seating 290 guests and located at the aft of deck 11. La Brasserie is open from 06:00 to 00:30, with a 24 hour tea, coffee and water station. For breakfast, the buffet offers both cooked and continental food, with standard options such as crepes and pancakes. Lunch and dinner feature cold cuts, salad, carvery, pasta and other hot dishes. Fresh fruits and cakes are also on the menu.
Price per person: Included
MSC Armonia Activities & Entertainment
MSC Armonia offers a rich entertainment program, from live music in the various bars and lounges to activities and top-notch theatre productions. You can choose to be entertained from early one morning to very late the next morning!
With so many different nationalities onboard any of the MSC cruises fleet, shows are designed to focus on the visual with dancing and acrobatics. Shows range from "Dirty Dancing" to concerts and cabarets.
During the day, the activities are vastly varied throughout the ship. Morning aerobic and stretching classes to salsa & bachata dance classes (the dance classes are hilarious and a lot of fun). For those who prefer calmer activities, you may prefer the art and crafts pastime or a trivia quizz might resonate with you.
MSC Armonia is not equipped with the latest features and gizmos like the newer MSC Cruises Ships. The ship offers the standard Doremi Spray Park and a pool deck. You can play shuffleboard and ping-pong, or enjoy a round of mini golf. For those basketball lovers, a hoop is available on the multipurpose court on deck 13.
MSC Armonia Bars & Lounges
These are the top questions about MSC Armonia. If you don't find the answer to your question here, chat to us, we are happy to help.
All drinks beyond water, tea, coffee (non-speciality) and selected juices in the buffet
Shore excursions
Wifi (unless specified otherwise)
Spa treatments
Casino, photos by the onboard professional photographers, shops
Service fees, (if you purchase your cruise through Hupla, we include the compulsory service fees)
All meals in the two main dining rooms, the buffet and selected other eateries
All shows in the theatre and other venues
Most daily activities, unless noted otherwise
Water, coffee, tea and selected juices during mealtime
Use of the gym, excluding the classes and extra gym amenities such as sauna, gym whirlpool etc
Entered in Service Jul-06

Flag Panama

Class MUSICA

Former Name European Vision

Builder Chantier de l'Atlantique (France)

Tonnage 135,000

Last Refurbishment June 2010

Plug Type EURO | USA

Original Cost EUR 360 Million

Owner MSC CRUISES
Passenger (LB)* 2,550

Cabin (Total) 2,550

Cabin Range 13 to 28 sqm

Max Cabin Capacity 4

Cabins (for one Person) 3

Interior Cabin 275

Outside Cabin

Balcony Cabin 827

Wheelchair Cabin 17

Wheelchair Accessibility Good
Length 293.8 m

Beam 32.2 m

Propulsion diesel

Propellers 2

Max Speed 13.9 knots

Passenger Decks 13

Total Crew 1,054

Maximum Occupancy 2,600

Space on Board LB* 36.2

Level of Service LB* 2.4
Bar and Lounges 16

Cinema NO

Restaurants 5

Library YES

SPA YES

Internet Access YES
Casino YES

Water Sports YES

Shops YES

Theatre YES

Games Room YES

Laundry YES
Hair Dressing YES

Chapel NO

Lift 13

Disco YES

Self Service Laundry NO
Cabin Amenities

Room Service 24h YES

Inter-Leading Cabins YES

Safe YES

Phone YES

Hairdryer YES

Internet in Cabin YES

Individual Cabin YES
Children Facilities

Nursery YES

Youth Area YES

Kids Area YES

Youth Program YES

Children Pool YES
Sports Facilities

Swimming Pools 2

Indoor Pool NO

Outdoor Pool 2

Basketball Court YES

Mini-Golf YES

Ice-Skating Rank NO

Tennis Court YES

Running YES

Gym YES

Golf Simulator YES

Rock Climbing NO

Water Sports YES
Don't forget to share this page!