A cruise to the Arctic does not conjure up images of a relaxing holiday, where one soaks up warm rays on idyllic beaches doing little or nothing. However, June in this region can be surprisingly warm with many hours of sunshine.
An Arctic expedition cruise is for the adventurous and active person. It also requires significant funds for a holiday budget. So why cruise the Arctic?
Short nights and long days are the norms during most of the itinerary

Mixing with like-minded people, that have the same passion for discovery

Travel to some of the most remote places on our planet

Most places visited are inaccessible other than by expedition cruises

It is all about nature and unique, abundant wildlife, like newborn polar bears or baby seals

Specialized and educational lectures are performed by accomplished and passionate speakers
In this article, we will cover the main information that you need to make an informed decision when choosing whether to travel on an Arctic cruise.
The Arctic borders Alaska, Canada and Russia and encompasses several different continents. It is made up of the North Pole and a number of large islands, such as Greenland, Franz Josef Land, Baffin Island and the Svalbard Archipelago.
The Arctic is permanently inhabited by 40 different ethnic groups of indigenous people, including the Saami, Inuit and Siberian. These groups represent around 10% of the 4 million inhabitants of the Arctic Circle.
With over 5% of the Arctic covered in small shrubs and plants, the summertime is particularly green and makes a great habitat for land mammals like foxes and reindeer and if you are lucky, you may see some polar bears.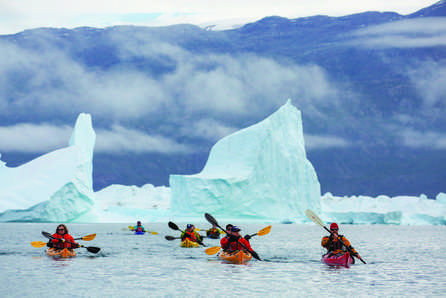 Credit: Aurora Expeditions - Michael Baynes-Rode
The summer months of July to August are the best time to go on an Arctic cruise. During this time, the sea ice melts enough for the ships to pass and passengers have 24 hours of daylight.
The Arctic cruise season ranges from April to September, with April promising larger icebergs and often the Northern Lights, but the months of June to August are the peak season.
The later you travel, the further north you can sail. The Gulf Stream flows up Svalbard's coast, creating a mild oasis 1,200km north of the Arctic Circle.
When visiting Greenland, the temperature rarely rises above 14°C. The cruise season is between mid-May and Mid-July and after that you can expect high levels of rain.
The temperatures in Spitsbergen are much cooler than Greenland. The waters through the archipelago are filled with ice packs, especially in the north-west, beyond Ny-Alesund.
Oslo, Norway
Oslo is home to world-class museums and galleries. For a voyage back in time, visit the Vikingskipshuset (Viking Ship Museum). Three Viking ships were recovered from burial sites and are preserved. Two of the vessels are in excellent condition.
Oslo is a great port for pre-or post-cruise holidays. You can hike and explore forests, lakes and hills, enjoy the many thriving cafes and bars or dine in one of the superb restaurant options available.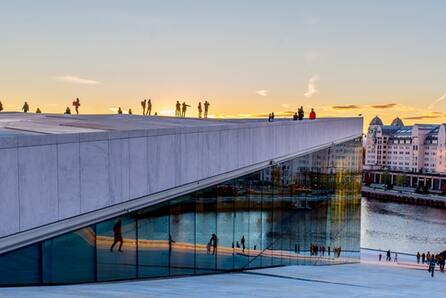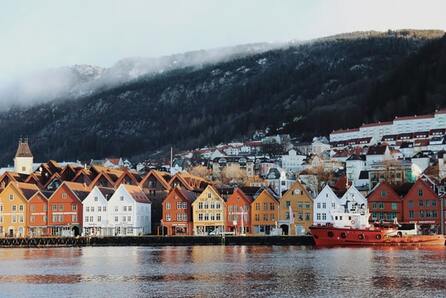 Bergen, Norway
Surrounded by seven fjords and seven hills, Bergen is an enchanting city. You can explore its historical heritage strolling through the Bryggen district, where you will discover beautiful old wooden houses from the 14th century.
These structures are now protected as a Unesco World Heritage Site.
An Arctic cruise does not require a huge amount of clothing but rather a very carefully chosen wardrobe. Temperatures will range from -15°C to 4°C (5°F to 40° F), so warm clothing is essential.
However, on a nice sunny day, you can experience temperatures close to 15°C or even higher. On a cruise, you will also spend some time listening to lectures and dining, and will therefore want comfortable clothes for those occasions.
The essentials are: a great pair of sunglasses, high factor sun cream, cameras with spare batteries and charger, binoculars, lots of sealable plastic bags, waterproof day pack, thermal underwear, warm socks, polonecks and turtlenecks, warm trousers (ski pants are great as they are often also waterproof), waterproof jacket, warm cap, high-quality gloves and boots.
In addition to the above essentials, you will need ordinary shoes, appropriate attire according to the onboard dress code, bathing suits (promise you might need it), and comfortable pants..
The company has chartered many ships since it started operating in 1993. With the launch in 2019 of a 126 passenger ship, Greg Mortimer, Aurora Expeditions now has its own purpose-built ship. In the true sense of Expedition, the Greg Mortimer offers scuba diving, climbing, kayaking and ski touring as part of its Arctic offering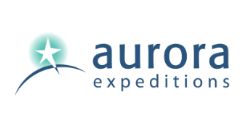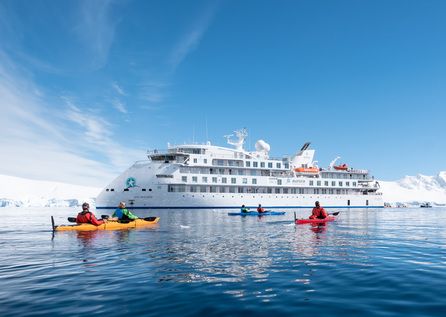 The Arctic expedition cruise specialist to the North Pole. They currently have three ships - two Icebreakers (I/b 50 Years of Victory & I/b Kapitan Dranitsyn) and one luxury Expedition Ship the M/v Sea Spirit.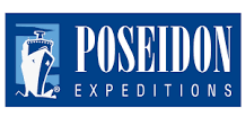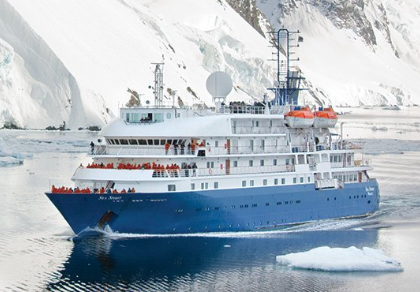 The planning process for an Arctic cruise is not only exciting but greatly rewarding and informative. However, due to the remoteness of the itineraries and the required high qualifications of the crew, the Arctic cruise costs are much higher than a standard Mediterranean or Caribbean cruise.
There are essentially three types of cruise ships in the Arctic: Research Vessels, Expedition Ships and Luxury / Ultra Luxury Expedition Ships.
Most of the cruise operators sail very similar itineraries, which make the choice of the vessels the main impact on price.
Research Vessels: On the lower end of the cruise market are the research vessels. These have been converted into cruise ships. The interiors and service are basic, but they get the job done. The Research Vessels are great for a true feel of being on an expedition on-board these ships.
The average price is around USD 4,000. Starting at around USD 2,000 up to USD 7,000 depending on which vessel and the itineraries you choose.
(Poseidon Expeditions, Quark Expedition, G Adventures)
Expedition Vessels: Expedition vessels are hugely popular as they provide a much finer experience. The ships are designed with the passenger in mind, offering comfortable living quarters whilst still keeping alive a sense of adventure. The Expedition Vessels offer a great variety of adventures with onshore landings.
(Hurtigruten, Lindblad Expeditions, Aurora Expeditions)
The average price is around USD 6,000. Starting from around USD 3,000 up to USD 10,000 depending on which vessel and itineraries you choose.
Luxury and Ultra Luxury Cruises: These vessels often have top notch service and comfort and luxury like that of a 5 or 6 star hotel in the Arctic. Expect jacuzzis, spa treatments, libraries and various restaurants. You will be transported to shore activities with helicopters and submarines on some vessels.
The average price is around USD 10,000. Starting from around USD 7,000 up to USD 30,000 depending on which vessel and itineraries you choose.
(Silversea Expeditions, Ponant, Scenic, Seabourn, Crystal Expedition)
Don't forget to share this page!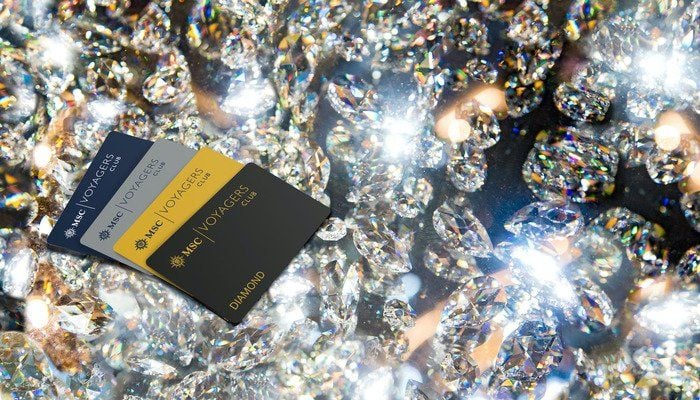 MSC Cruises
Everything you need to know about MSC Voyagers Club program
MSC Cruises Voyager Club is an excellent way for loyal cruisers to get rewarded. The line has revamped its program in May 2022, focusing on offering...