Best Cruises from Durban to Pomene on MSC Cruises - 2022/2023 Specials
Pomene is an idyllic strip of sand on the estuary of Pomene Bay. It is located about 605 km north of Maputo.
You can explore the estuary, some of Mozambique most stunning beaches and the surrounding nature on various itineraries on MSC Orchestra.
(3 Reviews)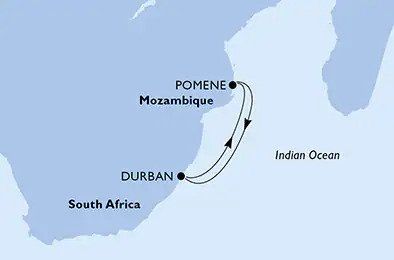 What are you looking for?
"
The staff on the ship was very helpful and the friendly service was excellent. From food to entertainment I thoroughly enjoyed my holiday. I'm going back to Pomene for sure.
Kerin Naidu, Durban
MSC Orchestra, Feb 2020
Includes & Excludes in your Cruise Fare
All meals onboard MSC Orchestra included

3 Main Restaurants - L'Oleandro / Belle Epoque & Gli Archi Buffet

1 Speciality Restaurant - Kaito Sushi Bar ($/€)

Duty-Free shopping gallery ($/€)

Library & game room

Kids club for all ages
Daily service charges / gratuities are included

Accommodation in well appointed cabins

Water, coffee and some juices are included in certain areas of the ship.

Most on-board activities such as group games, competitions, quizzes, crafts classes are included.

No entrance fee for the disco / nightclub

All evening shows are free to enjoy
All drinks beyond water, tea, coffee and selected juices in the buffet

Shore Excursions

SPA treatments & access to SPA area (Subject to experiences)

Wifi (unless specified otherwise)

Casino, photos, shops

Service fees (please check - it is INCLUDED in some markets)

Aditional Kids activities
Pomene bay is an unspoilt region located 170 km from Vilanculos and 605 km north of Maputo.
The Bay is part of Pomene Nature Reserve, a protected marine area that has escaped destruction thanks to its remote location.
The location offers travellers a strip of impeccable white sandy beaches coupled with the warm waters of the Indian Ocean. The added value is the pristine natural estuary that faces the beaches.
MSC took over the Pomene Lodge in 2017 to offer a second Mozambican stop to their South African itineraries.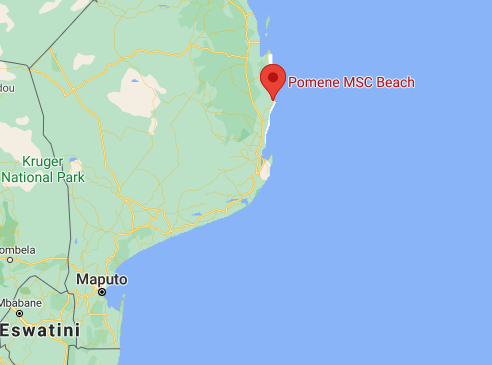 How do you travel from the ship to Pomene?
The ship anchors a couple of miles off the coast of Pomene.
Passengers will travel for approximately 20 minutes to the island by tender boat, which is similar to a speedboat that carries approximately 150 passengers.
Guests are required to get a disembarkation tender ticket with a number on it from one of the lounges prior to leaving the ship. The exact lounge is advertised in the daily newsletter that you get on your bed in your cabin. We recommend that you get a ticket early and then enjoy your breakfast until you get called by the ship.
When the ship is ready to start with the transfer of guests, the reception will call each individual number. You then will join the queue to reach the tender boat.
Tips: similar to the tender in Portuguese Island, the trip from the ship can be very bumpy and wet.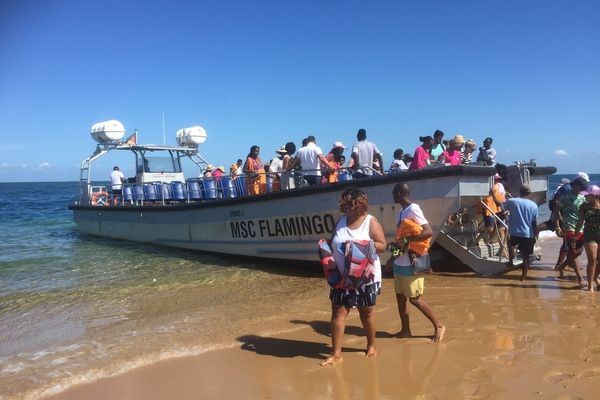 The Pomene destination has been developed by MSC into a resort / club-like island feel. The swimming pool overlooks the estuary side of the island and its large decks.
The white sand and thatched umbrellas set out on the beach make you feel like you're transported in paradise.
Like most of the Indian Ocean destinations, you can enjoy a range of activities, that includes snorkelling tours, underwater excursions, a quad visit to the old Pomene Hotels ruins.
If you are looking for a R&R experience, why not rent a private cabana or even an umbrella and sit on the beach sipping cocktails and taking a swim to cool down.
Here are a couple of the MSC Cruises official excursions:
1) Pomene Bay Ocean Safari
Head into Pomene's estuary and spot marine life on this 1-hour excursion. You may have the chance to spot whales and dolphins.
Price: Adults $35.99 / Kids $29.99
2) Pomene Snorkelling
This guided snorkelling tour takes you to a picturesque coral reef from where you can snorkel.
Located within the Pomene Bay Marine Park, this protected area is home to a variety of marine life. Explore the mangrove and the sheltered rock reef habitat where you can spot a range of wildlife in the calm and protected waters of Pomene.
Price: Adults $39.99 / Kids: $32.99 | Duration: 1 Hour
3) Hiring Snorkelling Equipment
If you prefer to explore on your own, you can hire snorkelling equipment for $9.99 per set (mask and flippers).
Price: Adults $9.99 / Kids $9.99 | Duration: 1 Hour
4) Pedalo Boat Rental
A great way to explore the estuary and get up close and personal with Pomene's marine life is to take a pedalo out on the water.
Price: Adults $32.99 per pedalo | Duration: 1 Hour
Do you need a visa for a cruise from Durban to Pomene?
Most SADC and South African citizens will not need a visa for Pomene, Inhaca Island, Maputo or Portuguese Island.
For those travellers that do, the cruise ship will take care of the visa for you. The cost of the visa is normally about USD 50.- and will be settled with your onboard cruise spend at the end of your holiday.
5) Stand Up Paddle Board Rental
If you're looking for a fun way to explore the waters around Pomene, why not try stand up paddleboarding? It is super easy to learn and you'll be able to explore the waters at your own pace.
Price: Adults $19.99 / Kids $n/a | Duration: 1 Hour
6) Sea Kayak Rental Rental
Kayaking is an amazing way to explore Pomene's estuary. A tranquil, natural environment with clear waters - the perfect place for kayaking! You'll be sure to see a variety of wildlife including sea birds and fish on your paddle.
Price: Adults $22.99 / Kids $n/a | Duration: 30 Hour
7) Pomene Nature Reserve Mangrove Tour
On this excursion, you will discover one of Mozambique's last natural mangrove forests.
Price: Adults $29.99 / Kids $25.99 | Duration: 1.5 Hour
8) Pomene Hotel Ruins Transfer
Take a stroll around the ruins of the once-famous Pomene Hotel, built-in 1964. The hotel was abandoned in 1974 after only six years in operations following the war that forced the Portuguese out of Mozambique.
When you are walking through the ruins, you can almost feel the grandeur and the charm of yesterday and how impressive this hotel would have been in the 1970s.
Price: Adults $19.99 / Kids $15.99 | Duration: 2 Hour
Note: all the excursions prices are FYI only, prices can change at anytime
Some tips to help with your cuise
Shuttle from the airport - pre-book your transfer, or Uber to get to the terminal. With over 3,000 passengers landing in Durban within a 3 hours window, it becomes sometimes difficult to find transport on the day.
Retreat on Deck 16 - A private sunbed with lounger chairs extra sheets and snouts is available on Deck 16, with the Aurea Experience.
Motion sickness tablets - It can get rocky out there
Drinks package - pre-booking your drinks package will save you +- 15% and take the stress of budgeting off your hand to enjoy the unspoiled islands of Mozambique.
Know your ship - before you go, review the ship map and get a feel of where your cabin is vs the restaurant, bar and lounge. It will make your life easier on board.
Onboard - once onboard, spend time exploring the ship and the quikest way to get to your cabins. FYI the life jacket is in the cupboard.
Pomene - disembark in Pomene, and enjoy the various natural beauty spots. Go through the main lodge and then walk either right or left on the magical beaches. Within 200 meters you end up on your own.
Shore excursions - why not book some shore excursions with the ship.
Beach Lounger - For those staying on the beach all day, we recommend renting a beach lounger. It will give you access to a private area with a bar. You will also get priority disembarkation on the day.
The MSC Orchestra is 92,409 tonnes, 2,550 passengers with 1,014 crew members. She is part of the extensive MSC Cruises fleet and is sister to the MSC Magnifica, MSC Poesia and MSC Musica. The Orchestra was in SA during the 2021/2022 season.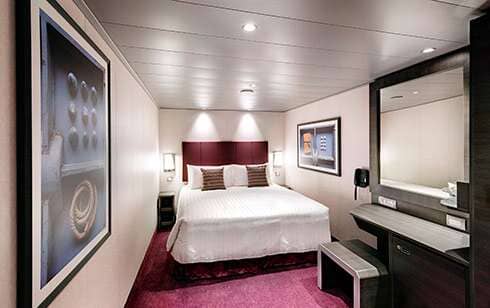 Interior
Cabin size: ≈13 m2 to 17 m2
Occupancy: 1 - 4 guests
275 Interior cabins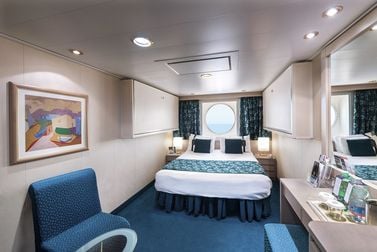 Ocean View
Cabin size: ≈16m2 to ≈17m2
Occupancy: 1 - 4 guests
69 Ocean View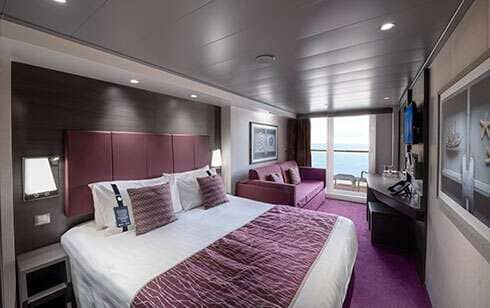 Balcony
Cabin size: ≈15m2 to 18m2
Occupancy: 1 - 4 guests
809 Balcony Cabins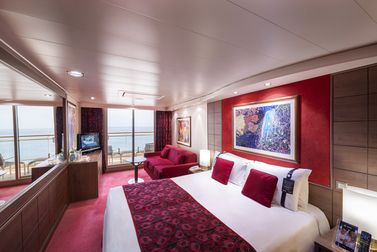 Suite
Cabin size: ≈26m2 with balcony ≈4m2
Occupancy: 1 - 3 guests
18 Suites
2 Main Restaurants (L'Ibiscus & Villa Borghese)
1 Buffet Restaurant (

La Piazzetta)

1 Speciality Restaurant - Shanghai

($/€)

1 Theatre
2 Lounges
16 Bars
Casino
SPA with treatments rooms
Boutiques
Card Room & Library
Children Playroom
Mini-Golf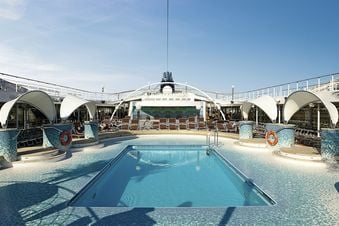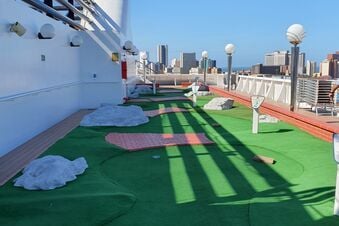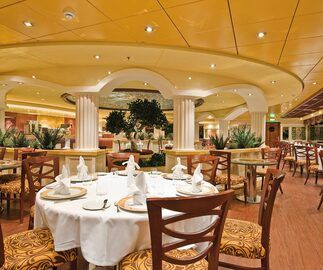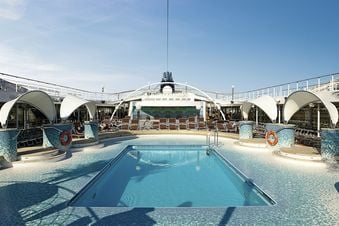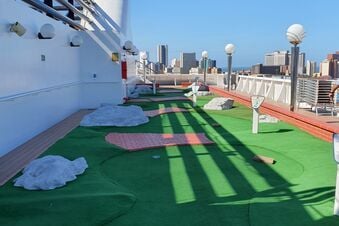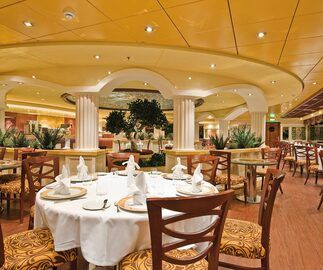 FAQ for a Cruise to Pomene
Do I need to be vaccinated?
From the 1st December 2021, all passengers 12 years and older have to be fully vaccinated in order to cruise to Portuguese Islands. Read more in the FAQ what is required to embark on an MSC Cruise from South Africa
Do I need a passport for this cruise?
Even if Portuguese Island is a tender and not an actual port, you still need a passport as you are exiting the Republic of South Africa.
Immigration in the port of Durban will check your passport details and give you an exit stamp.
What is the currency on Pomene?
All your drinks can be purchased with the ships' cruise card. The drinks packages can also be used on Pomene.
For any purchases you want to make in the local market, the vendors will accept South African Rands and US Dollars. If you have local currencies (such as Meticais) they will accept them too.
How long do we stay?
The cruise vessel will anchor off Pomene Bay in the early hours of the morning. The time spent on land will depend on the tides. Most of the time all passengers will have to be back to the ship before 15h00.
Do I need to bring my own towels?
You can take the towels that are provided in your cabin onshore, so you don't have to bring your own. Just don't forget to bring them back.
Is Pomene an Indian Ocean island?
Pomene is a bay north of the Pomene Nature Reserve, 100km north of Inhambane. The bay of Pomene consists of two peninsulas.
The northern peninsula has most of the hotels and lodges on the beach. And the southern peninsula hosts the MSC Cruises Beach Lodge, the Old Pomene Hotel Ruins, Pomene Lodge and a few other lodges.
What about loungers & umbrellas?
You can rent loungers & beach umbrellas as part of packages sold onboard the cruise ship. Ask reception or check the daily program for any more details and for things to do.
In which country is Pomene?
Pomene Bay is in Massinga, Mozambique. A very rural part of the country about 16 hours drive from Johannesburg.
The remote location is part of the MSC Cruises ship Itinerary during the South African season.
A quick history of the old Pomene hotel?
There is unfortunately not much information available on the Old Pomene Hotel. This is what we have found.
Early 1954, a man called Vic Preen and his son Brian, had enough of Southern Mozambique and were looking for a more remote and untouched fishing ground.
They ended up setting camp in Pomene Point, a natural portent waiting to be discovered. And this after cutting through the forest from the West shore of the estuary.
A part of some local fishermen, they were the only people living on Pomene for about 6 years. In 1960, a cargo ship carrying sugar, the Berea which was shipwrecked on the South Beach of the Peninsula.
A road was built to recover the cargo and the extraordinary bay was discovered.
in 1966 the Old Hotel started its operations and was abandoned in 1974 during the Mozambiquan war.
Can I still buy Easy Onboard?
MSC South Africa doesn't allow the purchase of Priority boarding - (easy onboard) as a single item anymore. This will be part of the Aurea experience and can not be purchased on its own.
Parking at Durban Cruise Terminal?
Portuguese Island - Passengers Review
The team at Hupla delivered an outstanding service, they were quick and efficient in helping us to choose the right cruise for us. The 4 nights cruise to Pomene Island was a dream coming true. Highly recommended.
My husband often spoke about his memories of Maputo and the Old Pomene Hotel. I wanted to celebrate his 60th birthday and go back in memory lane. I can honestly say it was the best decision I had come to make. The MSC ship was spectacular, the food was delicious. Pomene is still spectacular.
Irene van Rooyen
from Pretoria
Food the food entertainment was really lovely indeed. We had a wonderful time on the MSC Opera to Portuguese Island & Pomene. Would really recommend it to any family.
Kwau Anenih
from Nelspruit