4.7/5 by thousands of cruisers to Portuguese Island
Enjoy world-class services on MSC Cruise Durban to Portuguese Island
A cruise to Portuguese Island is the perfect place to get away from it all. With crystal-clear waters, white sand beaches, and lush vegetation, you'll feel like you've been transported to paradise.
All your meals, accommodation and entertainment included
Get away from it all and relax on a beautiful cruise ship
Swim in the warm waters of Mozambique and relax on the beach


The memories you will make will last a lifetime.
Number 1 cruise destination for South African.
Cruise to an amazing uninhabited Island in Mozambique.
This will be a vacation you'll never forget.
All meals and entertainment included on and off the ship.
Transfer from the ship to the island included.

4.7/5 by thousands of cruisers to Portuguese Island
What to do on Portuguese Island?
The vast, unpopulated beaches attract travellers from all over the world who camp on the white-sand shores next to thatch-roofed huts or makeshift campsites. Inhaca Island offers many opportunities for the study of diverse ecosystems.
As MSC Cruises focuses on holidays for families, you will have a lot of activities around family and children. From beach volleyball and watersports to shore excursions, here are some of the exciting things you can look forward to:
Relax and enjoy the beach
With its white sand beaches and crystalline ocean waters, Portuguese Islands is the perfect place to relax and soak up the sun. Take a stroll along the beach, build sandcastles with the kids or go for a swim in the warm waters of Mozambique. The MSC entertainment crew will have beach activities with games, music and dance to keep you entertained.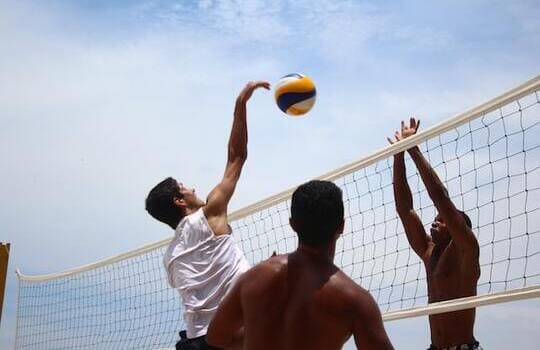 Explore the Portuguese Island
If you're feeling active, there are plenty of things to do on the island. To walk around the island takes about an hour walk (+- 6km) and you will barely see anyone else. While not take a pleasant stroll on the other side of Portugese island and enjoy the fantastic beaches all for yourself!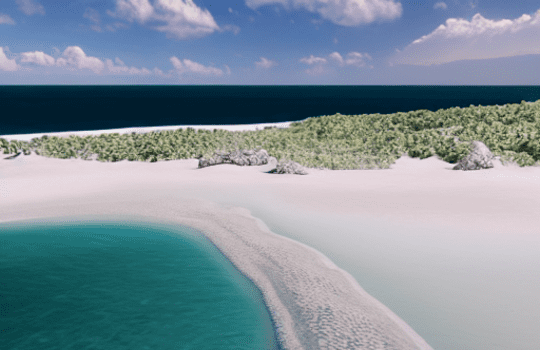 Eco Tour to Inhaca Island
You'll find incredible biodiversity and variety at Inhaca Island. The dunes, lagoons, coral reefs, mangroves, rocky shores and other intertidal areas make for one of the most diverse environments in Mozambique. The local guide will take you to the Marine Biology Research Station for a brief, but informative visit.
Price: Adults $25.99 / Kids $22.99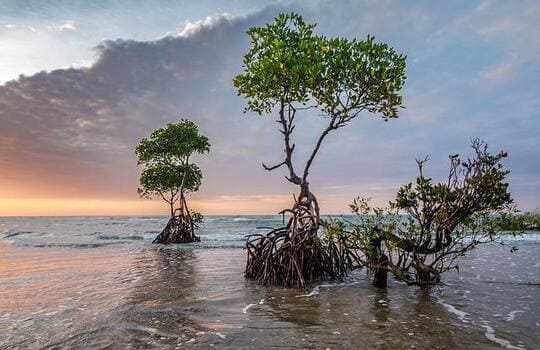 Beach Lounger Rental
Renting a beach lounger and an umbrella is a great way to treat yourself to relaxation.
It is a perfect option for the family to have a base while enjoying the warm waters. You will still be close to the activities and entertainment.
Price: Adults $25.99 / Kids $25.99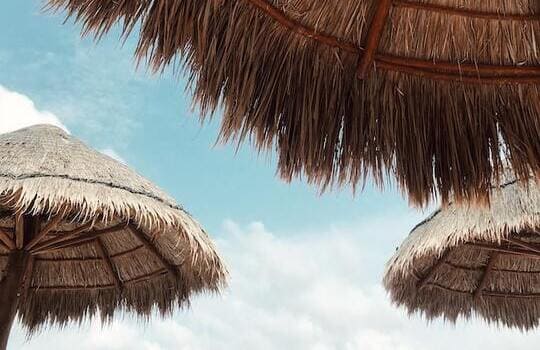 Enjoy Stand Up Paddle Boarding
Paddle Boarding is one of the best ways to enjoy time on the island. Easy to learn and great for all ages!
Price: Adults $19.99 / Kids: N/A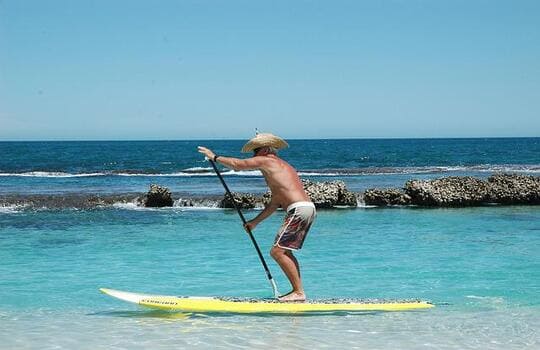 Other Watersport Activities
From snorkelling, floating on a soft-foam mat to enjoying a pedalo ride, the MSC staff on Portuguese Island have a range of options that will make your day memorable, fun and super relaxing!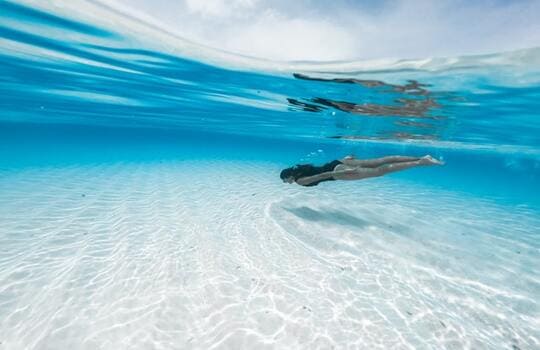 Where is Portuguese Island?
Portuguese Island is off the coast of Mozambique, in Maputo Bay between Maputo and Inhaca Island. It is situated in the Indian Ocean about 600 kilometres from Durban.
Portuguese Island was discovered by Vasco da Gama in 1498 during his second voyage to India. The island was named Ilha de Santa Cruz - the Christian Holy Cross Island - and was the first territory in Africa to be colonised by Europeans.
The history of Portuguese Island is a rich one, with many interesting facts about its discovery, settlement and development. Vasco da Gama himself spent three weeks on the island whilst he replenished his water supplies before continuing on his voyage back to Europe.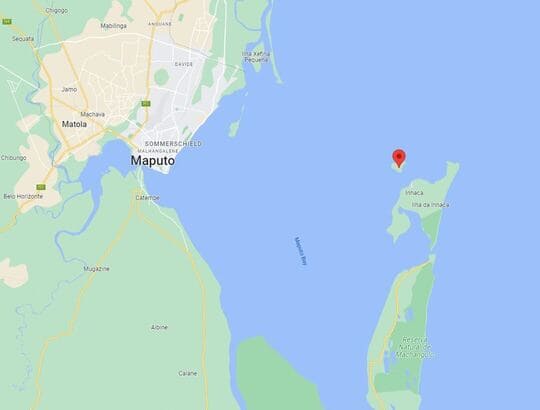 Typical 3 nights / 4 days to Portuguese Island itinerary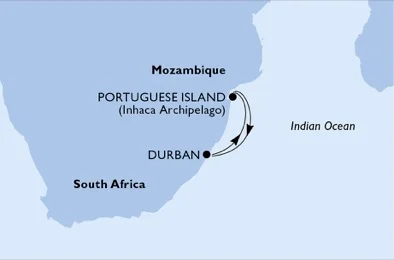 Friday - Departure from Durban
Ship leaves at 20:00 PM
Checkin closes at 17:30
Saturday - At Sea
Enjoy the MSC Orchestra
Sunday - On Portuguese Island
From 08h00 to 16:00
Monday - Return to Durban
Ships arrives at 10h00 AM
A typical day on Portuguese Island
Portuguese Island is a small, uninhabited island situated across the bay from Maputo, a stone's throw away from Inhaca Island. During the cruise season, it is considered MSC Cruises' private Indian Ocean island.
The destination is on 90% of MSC Cruises departures from Durban and it is a great way to get an insight into Mozambique.
The island has no permanent residents or structures, no pollution, no roads and no traffic, only white sandy beaches and a paradise-like feel.
After breakfast onboard, passengers arrange a tender ticket to disembark to cross to Portuguese Island. (The tender is included in the cruise)
Each and every passenger receives a time slot to access the various tender boats.
The tender ride is an experience on its own. The boats are specially designed for this Mozambican island; contrary to most other tenders around the world, MSC doesn't use the ship's tender but a specialized high-speed boat with a capacity of +- 150 people.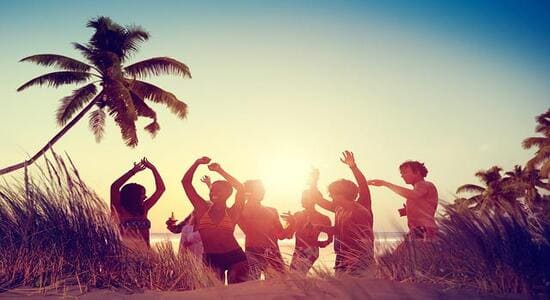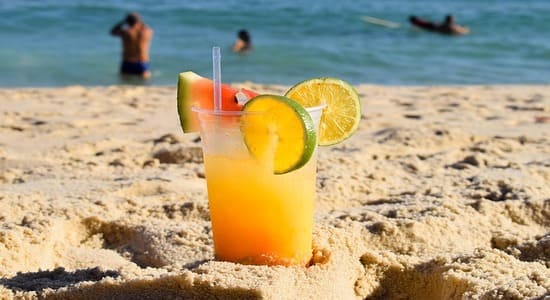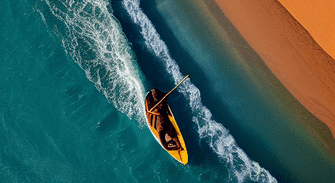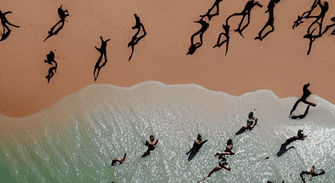 The tender boats deliver passengers directly onto the pristine white sandy beach of the uninhabited island.
MSC has built wooden structures with bars, decking, shade and an area for serving lunch, on the beach to cater for the 2,500 passengers who disembark every week. The ship crew brings everything on land from the drinks to the Feta Cheese!
Experience the crowd when you get on the Island and then start your journey again, but instead of turning right, turn left. You will find one of the best-kept secrets of the island: the perception of having the island to yourself. To walk around the island takes about an hour and a half (+- 6km) and you will barely see anyone else.
Find a great spot where you can lay your towels down and spend your morning sunbathing and swimming in the warm waters of Maputo Bay.
You will find yourself in paradise, with no noise, no rush and no worries. The only disturbance will be the waves breaking and the sound of birds, a true Robinson Crusoe experience.
Just before lunch, go back to the main area, and head up to the lunch buffet. Take this opportunity to enjoy sipping on a cocktail and listening to live music. As the ship crew is well known to create an island-like feel with the decor and the food served at the buffet.
After a filling lunch, go back in the water to enjoy the last couple of hours of this idyllic island.
Before returning to the vessel, browse the local market for some typical Mozambican souvenirs - wooden items and trinkets, traditional sarongs and powerful rum.
The market is really vibrant and colourful. Despite it not being very big and most of the stalls offering similar items, it is a great spot to meet some of the locals and support them with a purchase or two.
It is now time to return to the ship. The tenders only run from the ship to the beach at Portuguese Island between 08h00 and 12h00, then from the beach to the vessel between 12h00 and 15h00.
It takes around 20 minutes of queuing to get back to the ship and enjoy a shower before getting ready for the evening.

How do you travel from the ship to Portuguese Island?
The ship anchors a couple of miles off the coast of Portuguese Island. Passengers will travel for approximately 20 minutes to the island by tender, which is similar to a speedboat that carries approximately 150 passengers.
Guests are required to get a disembarkation tender ticket with a number on it from one of the lounges prior to leaving the ship. The exact lounge is advertised in the daily newsletter that you get on your bed in your cabin. We recommend that you get a ticket early and then enjoy your breakfast until you get called by the ship.
When the ship is ready to start with the transfer of guests, the reception will call each individual number. You then will join the queue to reach the tender boat.
Tips: similar to the tender in Pomene, the trip from the ship can be very bumpy and wet. We often got caught in the late afternoon Mozambican showers.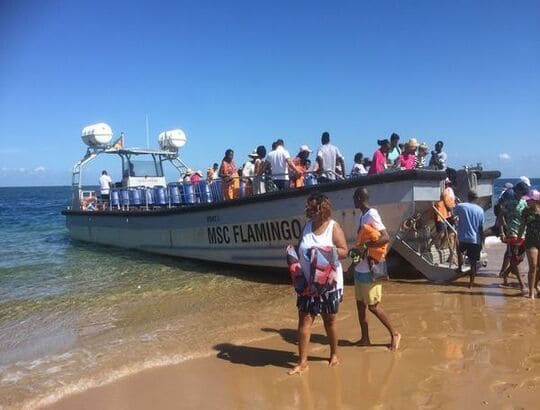 Your cruise Ship: MSC Orchestra
The MSC Orchestra is 92,409 tonnes, 2,550 passengers with 1,014 crew members. She is owned by MSC Cruises and is sister to the MSC Magnifica, MSC Poesia and MSC Musica. The Orchestra was in SA during 2019/2020 & replaced the MSC Musica during the 2021/2022 season. MSC Musica vs MSC Orchestra for a comparison of the two ships.
2 Main Restaurants (L'Ibiscus & Villa Borghese)
1 Buffet Restaurant (

La Piazzetta)

1 Speciality Restaurant - Shanghai

($/€)

1 Theatre
2 Lounges
16 Bars
Casino
SPA with treatments rooms
Boutiques
Card Room & Library
Children Playroom
Mini-Golf
What is included in your Cruise Fare
All meals in the two main dining rooms, the buffet and selected other eateries.
All shows in the theatre and other venues are included!
Speciality Restaurant ($/€) for a unique dining experience!
Shop 'til you drop in the duty-free shopping gallery ($/€)!
Get your reading on in the library & game room
Keep the little ones entertained with our award-winning kids club for all ages
Service fees /gratuities are included so you don't have to worry about a thing

Accommodation in well-appointed cabins - as a crusie vacation is all about spoiling yourself

Water, coffee and some juices are included in certain areas of the ship

Most on-board activities such as group games, competitions, quizzes, and crafts classes are included - something for everyone to enjoy

No entrance fee for the disco / nightclub - let's get this party started!

All evening shows are free to enjoy
All drinks beyond water, tea, coffee and selected juices in the buffet
Shore Excursions
SPA treatments & access to SPA area (Subject to experience)
Wifi (unless specified otherwise)
Casino, photos, shops
Service fees (please check - it is INCLUDED in some markets)
Aditional Kids activities
Number 1 holiday destination
for South African
WHAT A TREAT!


When I was younger, my parents would take me and my siblings on cruises. We always had so much fun! But as I got older, I stopped going on cruises with them. I guess I just thought it wasn't for me anymore. But when my friends asked me to come for a cruise from Durban to Portuguese Island I couldn't say no! And boy, was I in for a treat!

Phumzile Ntombela
Cruised in January 2020
SO PEACEFUL!


I had my heart set on exploring every inch of the island, but my husband was content lounging on the beach all day. I'm not one to sit still for very long, so I set off on my own while he napped. The island was exactly as I imagined – peaceful, quiet, and serene. The vegetation was dense, and I had to be careful where I stepped as there were hidden rocks and roots everywhere.

Nozi Hadebe
Cruised in November 2019
WE SAW DOLPHINS!


I was excited to go on the Portuguese Island cruise. Our cabins were so nice and the evening shows were amazing. We even saw dolphins when we were exercising in the gym. The cruise was a wonderful experience and I would recommend it to anyone.

Hayley Moosa
Cruised in March 2020
BEST FOOD EVER!


Portuguese Island is one of the most beautiful places on earth. The Orchestra is top-notch, and their food is simply amazing. I don't know what their secret is, but they do have some of the best food ever - I just ate so much. Plus, their staff members are excellent too.

David Kunene
Cruised in February 2020
LOTS OF FUN!


Portuguese island stopover was the highlight of our New Year cruise. We had so much fun dancing on the beach.

Joy Walker
Cruised in February 2020
Learn more about your cruise to Portuguese Islands - [FAQ]
No, you don't need to be vaccinated for a Portuguese Island, Mozambique Cruise. However, if you're not vaccinated, you will be required to take a PCR test before boarding the cruise ship. If you are vaccinated you will need an Antigen test. Both tests within 48 hours of departure.
Read more in the FAQ about what is required to embark on an MSC Cruise from South Africa
Why choose Hupla to book your cruise

Best Price guarantee
You always get the best deal

24/7 Support
7 days a week client support through Email & WhatsApp

Expert specialist
Get help to plan your cruise to the last detail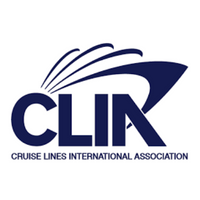 CLIA Registered
Hupla is a Cruise Line Registered Agency
Portuguese Island Cruise Specials
Get ready for the 2022/2023 season with some MSC Special Offers and MSC Cruise Deals on Portuguese Island.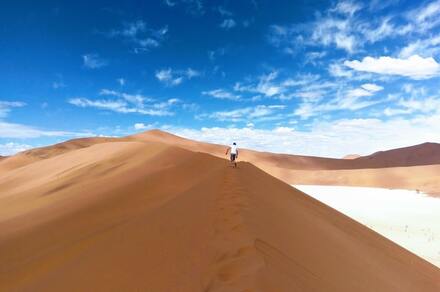 3 Nights to Portuguese Island
Durban, Portuguese Island, Durban

Get a quote
* Per person Sharing



Other South African Popular cruises
Cape Town Cruises
All MSC Cruises From Cape Town, South Africa for the 2022/2023 Season
Cruises to Pomene
All MSC 4 nights Cruises to Pomene, Mozambique for the 2022/2023 Season