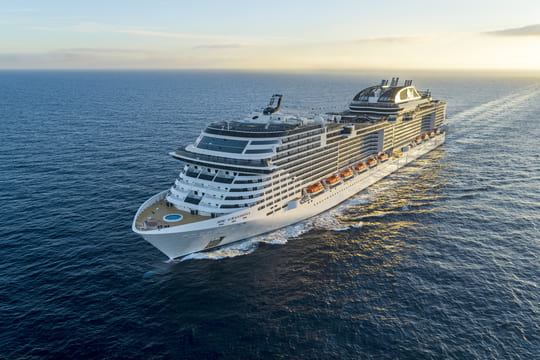 Launched in July 2006 - refurbished in 2019, MSC Musica was the first Musica class cruise ship launched by the MSC Cruises line. She was built by Aker Yards in France and carries 2,550 passengers (in double occupancy), 1,014 crew and is 92,409 tonnes.
The MSC Musica will be based in South Africa for the 2021/2022 Season from Nov to May cruise season - sailing to Portuguese Island, Pomene, Walvis Bay and Mauritius.
She is owned by MSC Cruises and is sister to MSC Orchestra, MSC Magnifica and MSC Poesia. With the elegance and class of any fine lady, the MSC Musica will not disappoint. There is a spectacular waterfall in the foyer, which spans three decks. Right in front of this is a transparent piano, poised on a suspended, crystal floor.
The plush Teatro La Scala, seating over 1200 people, will enable you to settle in and enjoy a show. Kaito Sushi Bar is the ship's speciality Japanese restaurant. As with all of the cruise line's ships, you will find a self-service buffet on deck 13.
There are numerous categories, with the price depending on the grade, size and location you choose.
MSC Musica features 18 suites with a private balcony and a couch; 809 balcony cabins; 81 family cabins; 69 ocean view cabins; 104 obstructed ocean view cabins; 275 inside cabins and 17 wheelchair accessible cabins.
All cabins come with a queen-size bed that can be converted to two single beds on request, bedside tables, a mini bar, a flat-screen TV, safe, hairdryer, a private bathroom with shower & toilet, and a spaciously sized closet.
More on MSC Musica Cabins
What is included in all MSC Musica cabins
Private Air Conditioning

Spacious wardrobe

Bathroom with Showers or Bathtub

Interactive TV
Telephone (€)

Mini-Bar (€)

Wi-Fi Connection (€)

Safe deposit box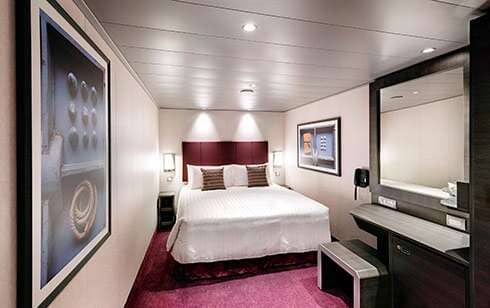 275 Interior Cabins (≈14 m2)
Double bed can convert into two singles
Available in Bella and Fantastica Experiences
Cabins available on Deck 05 (Grazioso), Deck 08 (Forte), Deck 09 (Intermezzo), Deck 10 (Minuetto), Deck 11 (Adagio), Deck 12 (Virtuoso), Deck 14 (Capriccio) and Deck 15 (Cantata)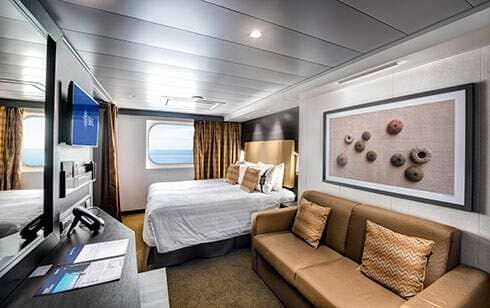 69 Ocean View Cabins (from ≈16 m2 to ≈18 m2)
Double bed can convert into two singles
Available on Bella and Fantastica Experiences
Available on Deck 05 (Grazioso) and Deck 8 (Forte)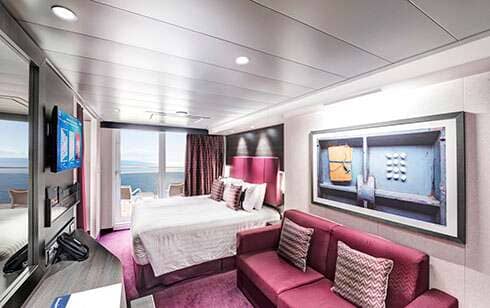 81 Family Cabins
These family cabins are comprised of two connecting balcony cabins. Each have their own door to the passageway, but there are interleading doors between the cabins. There is a bathroom in each cabin.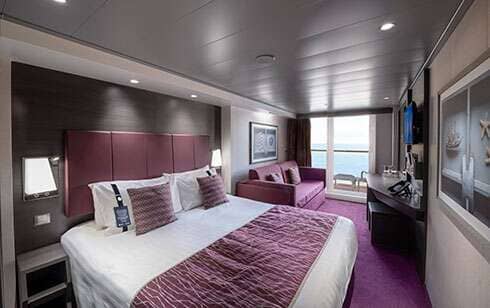 809 Balcony Cabins (from ≈17 m2)
Double bed can convert into two singles
Available in Bella, Fantastica and Aurea Experiences
The Balcony Cabins are available on Deck 08 (Forte), Deck 09 (Intermezzo), Deck 10 (Minuetto), Deck 11 (Adagio), Deck 12 (Virtuoso), Deck 14 (Capriccio) and Deck 15 (Cantata)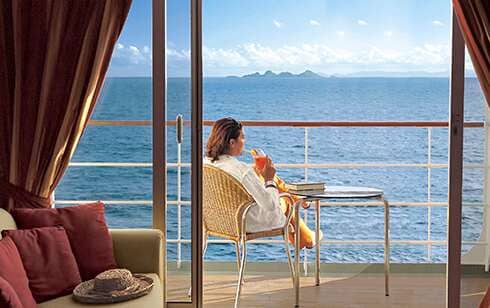 18 Suites (from ≈27 m2 to from ≈31 m2)
Double bed can convert into two singles
Available in Aurea Experience
Available on Deck 15 (Cantata)
Facilities for guests with reduced mobility onboard MSC Musica
MSC Musica features 17 cabins for guests with reduced mobility or disabilities (only single beds).
These cabins are distributed throughout the ship and most of them are close to the elevator. 12 interior, 2 ocean views and 3 balconies.
Specifications of cabins and public areas
Restaurants on MSC Musica
MSC Musica has a choice of 4 restaurants. There are 2 main dining rooms, both of which are complimentary. These are L'Oleandro on deck 5, which is open for breakfast, lunch and dinner, and Belle Époque on deck 6, which is only open for dinner. Breakfast and lunch are both open seating, but dinner in both restaurants are at fixed times and you have an assigned table for the duration of the cruise.
The third complimentary dining area is the Gli Archi Buffet on deck 13. This has both indoor and outdoor seating.
Vegetarian and vegan options are available at every meal without special requests. If you have special dietary requirements, for example gluten-free, we advise you let MSC Cruises know directly, or via your travel agent.
The fourth dining option is the speciality restaurant Kaito Sushi Bar - this is extra.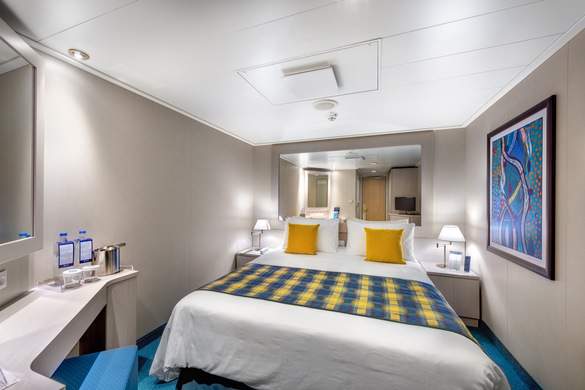 Belle Époque is the second main dining room. Located on deck 6 and with a capacity of 714, this restaurant is only open for dinner. Tables seat between 2 and 6 people and are pre-assigned to guests, along with their dining time. There are two dinner seatings with the first being at around 6:15pm and the second at 8:30pm.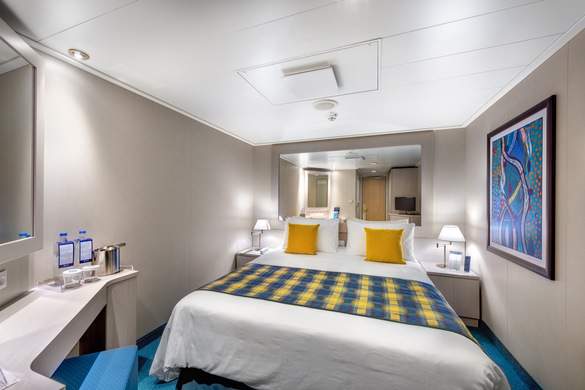 Situated on deck 7, close to the card room and library, Kaito Sushi Bar seats 54. This Japanese restaurant is styled in a typically pared-back fashion. There is an a la carte menu where you can expect choices of freshly prepared Japanese specialities such as noodles, sashimi, nigiri, teppanyaki, tempura, soup and a selection of desserts. Katio Sushi bar is a great alternative to the main restaurants.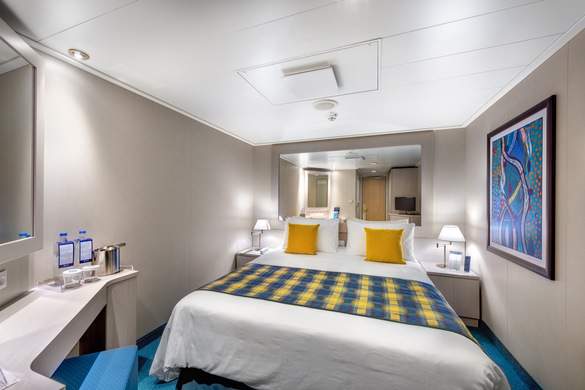 L'Oleandro is the lower main restaurant on the ship. There are tables that seat from two to eight people and there is the capacity to seat 720 overall. Breakfast (7 to 10 am) is a buffet combined with a la carte, as is lunch (noon to around 2pm). These meals are open seating. If L'Oleandro is your assigned restaurant for dinner, you will have been allocated a specific dining time with a set table. The two dinner seatings are 18:15 & 20:30, but these times vary depending on where the ship is sailing.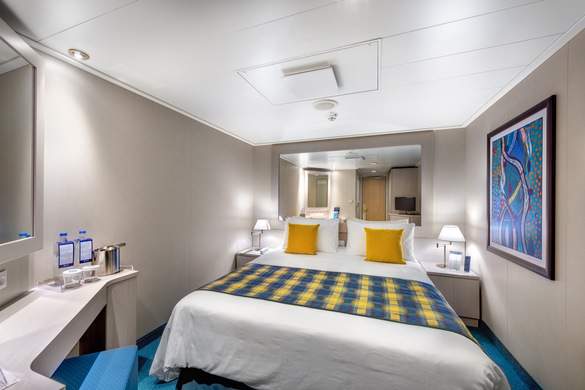 Gli Archi & Il Giardino is the buffet and pizzeria on deck 13. There is an indoor and outdoor seating area, making it convenient for those on the pool deck to pop on a t-shirt and shorts and head over for a bite to eat.
Try the freshly prepared pizza, they are mouth watering.
Open for all mealtimes - breakfast, lunch and dinner - you can expect to find a variety of hot a cold foods on offer. Breakfast includes tea, coffee and juice at no extra cost. The rest of the day, you can expect to pay for speciality coffees and other drinks. There is a complimentary self-service tea, coffee and water station open 24 hours in the buffet area.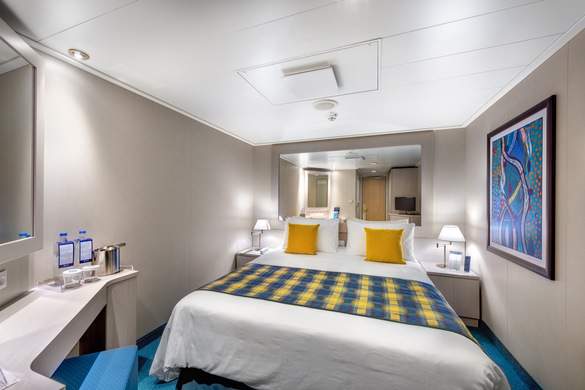 Enjoy a free of charge continental breakfast through room service. You can expect pastries, fruit, tea or coffee - complete your order and hang it on the doorknob outside your cabin before 2am.
For any other orders, there is a fee levied. The menu has choices of sandwiches, salads, soup, pizza and dessert.
Bars and Lounges on MSC Musica
MSC Musica offers 13 different lounges and bars for every mood. From L'Enoteca Wine Bar (Deck 7) where you can try a wine tasting from the wide selection of vino available to the Laguna Bar where you can indulge in delicious gelato, on to the Blue Velvet Bar - perfect for that end of day cocktail.
Guests can listen to different styles of music throughout the ship, from jazz, rock, and pop to classical. There are plenty of areas for either kicking back and listening to some mellow songs or for getting onto the dance floor and shaking those hips!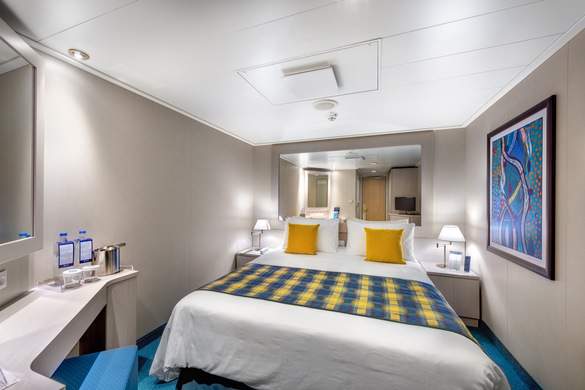 Located on deck 5, close to the guest services / reception area, Bar Della Cascata is perfectly situated for an afternoon coffee or an evening drink, including those pre-dinner cocktails before heading into L'Oleandro for a meal. There is seating for 142 passengers and an assortment of bar stools, banquettes and chairs to choose from.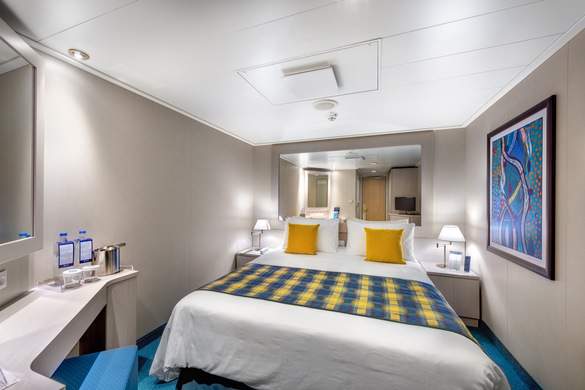 With decor appropriately matching its name, the Blue Velvet Bar is located on deck 6, conveniently next to the shopping area. Have a coffee before taking your time browsing the selection of goods and clothing on offer.
In the evenings, enjoy some live music and get yourself out on the dance floor.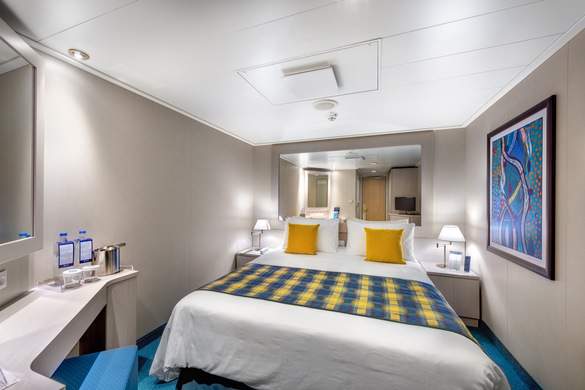 The Crystal Lounge is one of the two show lounges on the ship. With a seating capacity of up to 336, there is room enough for passengers to watch shows, play bingo, enjoy the music or get out on the dance floor. It is situated on deck 7 and has its own bar to service the area.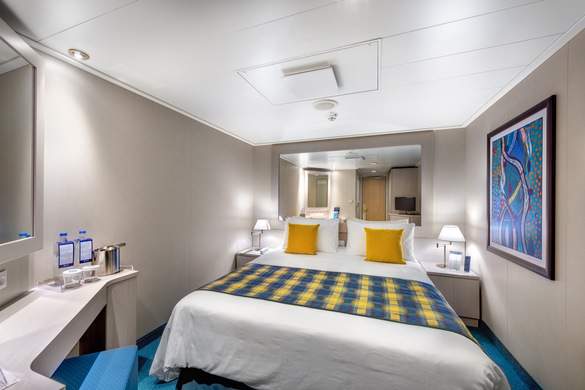 Havana Club is the cigar and smoking room on the MSC Musica. The room has comfy leather couches and chairs and its own bar. Settle back and enjoy your cigar at a leisurely pace, perhaps accompanied by a whisky from the selection available.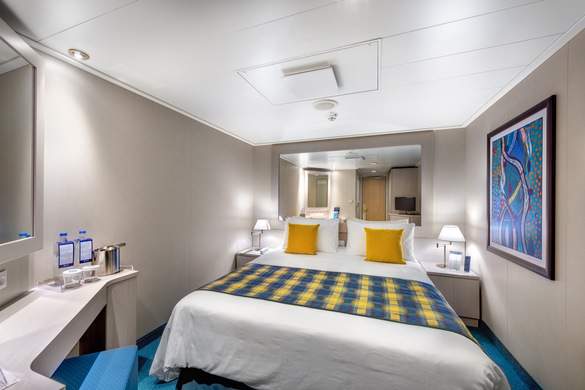 Il Tucano Lounge is located just outside of Teatro La Scala on deck 6. Seating up to 477 people, this is one of 2 show lounges on the ship. It has its own bar and there is live music and a dance floor. There will also be entertainment such as bingo, general knowledge quizzes and other games involving the audience.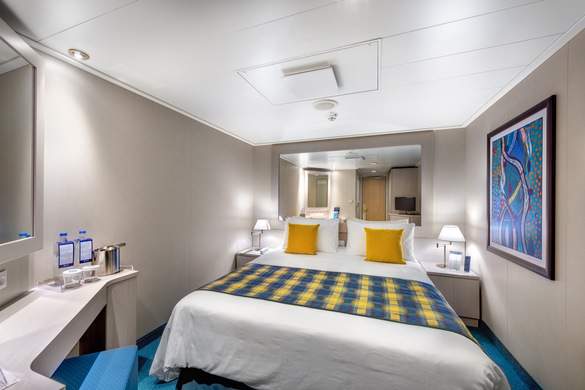 L'Enoteca Wine Bar is the place to partake in wine tastings with one of the onboard sommeliers. It is also a place to relax with a glass and enjoy the piano music. Situated on deck 7, there is seating for up to 135 people.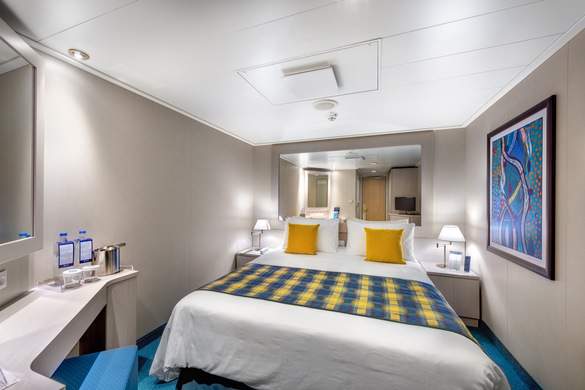 Situated on the opposite side of the ship to the Golden Bar, the Diamond Bar seats 45 and is a great place for a cocktail before heading into dinner at Belle Époque.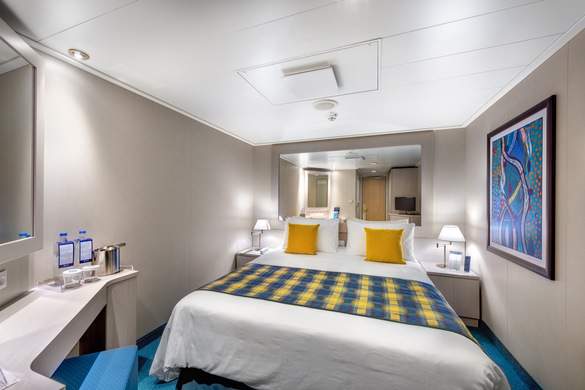 A more intimate space seating 45 people, the Golden Bar is situated just outside the Belle Époque restaurant - perfectly positioned for a pre-dinner drink.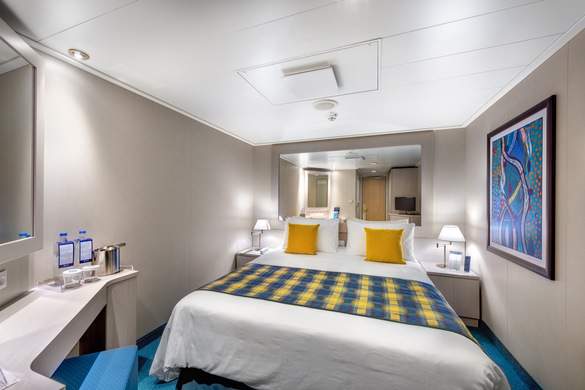 The Blue Marlin Bar is an outdoor bar next to the Copacabana pool area on deck 13. With a wide selection of cocktails, both alcoholic and non-alcoholic, there are plenty of options for people to kick back and relax on a sun lounger with drink in hand.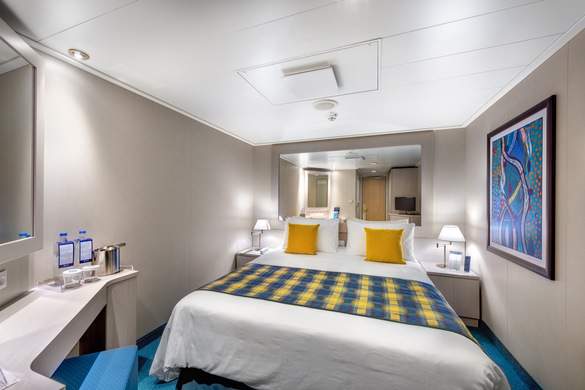 You will definitely want to stop by the Laguna Pool bar. With not only a wide variety of drinks available, it is the place where you get your delicious gelato (Italian ice-cream). There are heaps of different flavours from vanilla to chocolate to coffee, as well as a few sorbets. Don't miss out on this scrumptious pit-stop.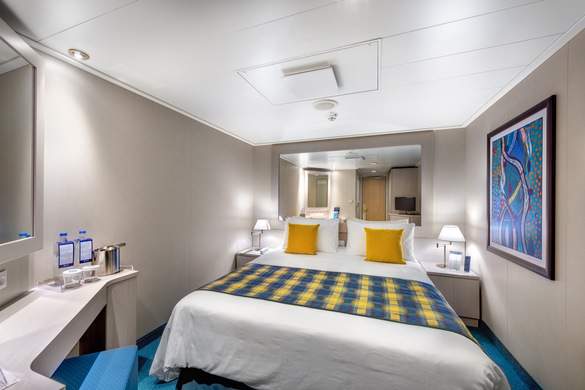 Seating up to 214 people, the Q32 disco is the place to party the night away. It has its own bar and a live DJ. Situated on deck 14, the floor to ceiling windows give some of the best views out over the ocean - best enjoyed during the day with a cup of coffee, before heading back out to sun by the pool!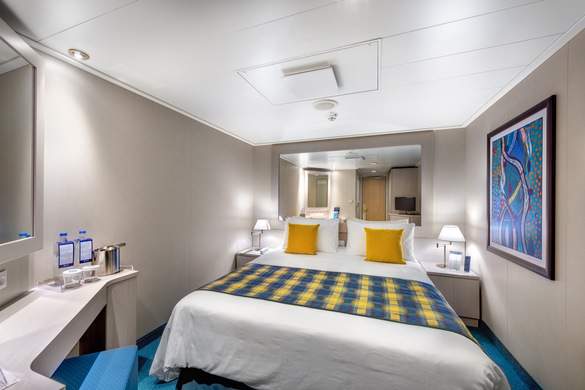 The Sanremo Casino is found on deck 7 close to the theatre. If you are playing in the casino, you can smoke here. It also has its own bar with a waiter service. You can expect poker, roulette, blackjack and slot machines. There is usually at least one tournament per cruise and keep an eye out for promotions.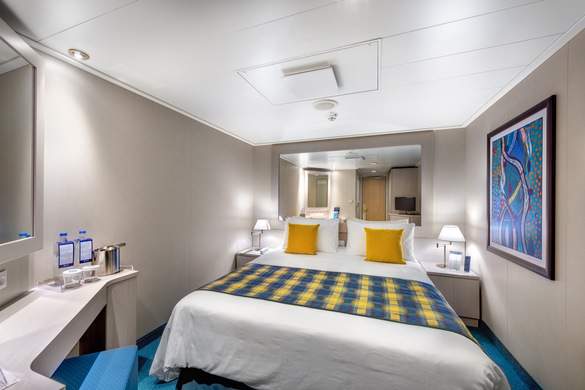 The MSC Aurea bar is on deck 13 and found, unsurprisingly, in the spa area. Serving a variety of coffees, tea, juice, energy drinks and wellness cocktails, it is a great place to imbibe something healthy and enjoy the tranquility of the spa.
MSC Musica Activities & Entertainment
MSC Musica has a diverse range of entertainment that will not disappoint. Think live music, theatre productions, deck games, bingo, dancing and more. You can be busy from morning to night and all the way through to morning again!

There are a great variety of nationalities on the MSC ships, so the entertainment team bears this in mind. You can expect less focus on spoken shows and a heavy emphasis on a feast for the eyes - cabarets, acrobatics, concerts and magicians!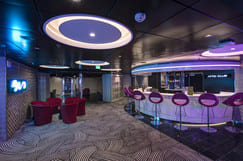 Teatro La Scala
Deck 6 & 7 | Seats 1,123
MSC Musica's theatre - Stunning Teatro La Scala - is styled in lush red and gold and is home to outstanding shows on a daily basis. Expect the shows to be between 30 and 45 minutes in length.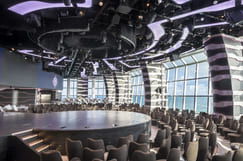 Crystal Lounge
Deck 7 | Seats 298
One of two show lounges, the Crystal Lounge has a cabaret style to it. There are a number of tables with chairs for sitting and enjoying the shows. There is seating for up to 298 people and the area has its own bar.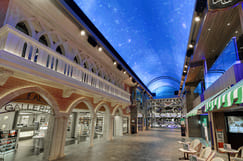 Il Tucano Lounge
Deck 6 | Seats 467
Il Tucano is MSC Musica's second show lounge. It hosts smaller acts as well as live music. Late afternoon will often see dance classes here and often karaoke evenings or games involving the audience. The lounge has its own bar and can seat up to 467 people.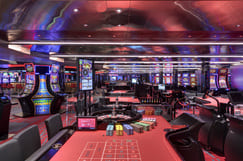 Q32 Disco
Deck 14 | Seats 214
Party the night away in the ship's nightclub. Q32 Disco is situated at the stern of the ship on deck 14. There is seating for up to 214 people, but you will probably not use this with the amazing live DJ spinning the decks. The disco has its own bar.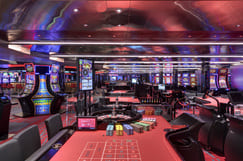 Sanremo Casino
Deck 7 | Seats 196
The Sanremo Casino is close to the theatre. You can expect poker, roulette, blackjack and slot machines.
MSC Cruises' family and kids experience is built around dedicated children areas relative to their ages: Chicco Baby Club (1-3 years), Mini Club (3-6 years), Junior Club (7-11 years), Young Club (12-14 years) and Teen Club (15-17 years). Each of these clubs have specific activities targeted to the relevant age group.
Whilst not having all the most up-to-date gadgets and gizmos like the newer ships in MSC Cruises' fleet, the Musica still has more than enough on offer. There are the options of playing minigolf, shuffleboard, swimming, relaxing in the jacuzzis, as well as the versatile sports centre on deck 16. For the kids there are a number of play areas both indoor and outdoor - as well as a kids pool on deck 14.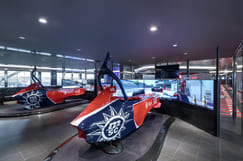 Shopping
Deck 6
Fashion, Jewellery, Logo Items, Alcohol and More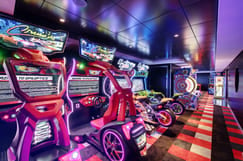 Virtual Games Arcade
Deck 14
Virtual Games Arcade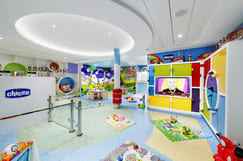 Baby Club Chicco
Deck 14
Dedicated Area for Babies by Chicco (under 3 years)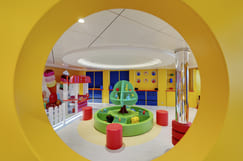 Space Trip Mini Club
Deck 14
Play Area (3-6 years)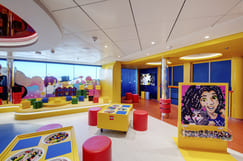 Junior Club Lego
Deck 14
Lego Play Area (7-11 years)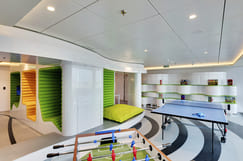 Young & Teen Club
Deck 14
Dedicated Area for Tweens and Teens (12-17 years)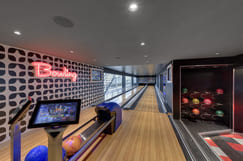 Pool Deck
Deck 13
Copacabana and La Spiaggia Pools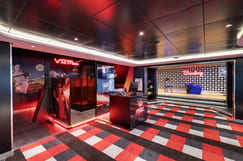 Whirlpools
Deck 13
Whirlpools / Jacuzzis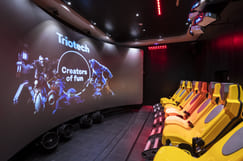 Shuffleboard
Decks 14 & 15
Deck Game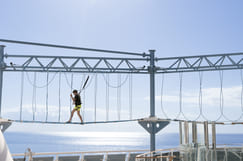 Card Room
Deck 7 | Seats 28
Card and Games Room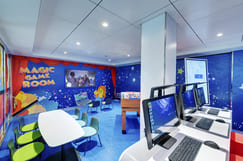 Library
Deck 7 | Seats 12
Library and Reading Room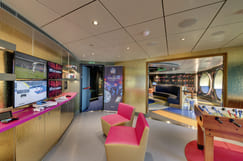 Cyber Cafe
Deck 7 | 18 Workstations
Internet Point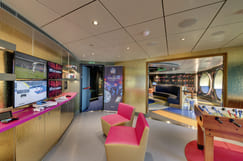 Photo Gallery and Shop
Deck 7
Gallery and Photo Purchases
Sport & Wellness on MSC Musica
Treat yourself to some R&R at MSC Musica's Aurea spa. There are a number of treatments or packages to choose from, including massages, waxing, thalassotherapy, botox and so much more. There is also a steam bath, sauna, whirlpool, relaxation area and bar.
Step into Jean Louis David hair salon for anything from a trim to a colour to a brand new style.
Take in a fantastic view through the panoramic windows while running on the treadmill or cycling on a stationary bike.
If you prefer to be outdoors, enjoy an early morning power walk around the track whilst taking in the splendour of the sunrise and the fresh sea air. Be cautious if there has been raining as it can be extremely slippery.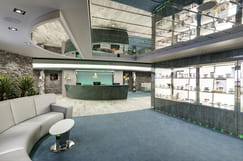 MSC Aurea Spa
Deck 13
Spa and Wellness
Jean Louis David
Deck 7
Hair Salon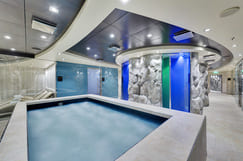 Thermal Area
Deck 13
Sauna, Whirlpool, Steam Room and Relaxation Room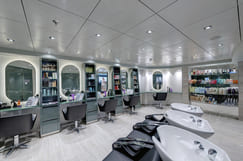 Gymnasium
Deck 13
Fitness and Exercise Area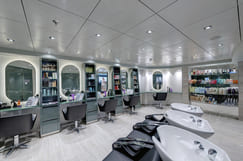 Power Walking Track
Deck 14
Walking Track of 240m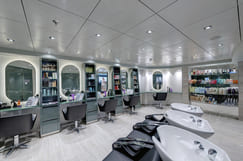 Top 16 Exclusive Solarium
Deck 16
Solarium and Jacuzzi - Adults Only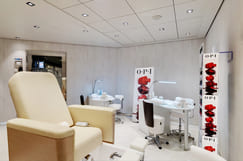 Minigolf
Deck 15
9-hole Minigolf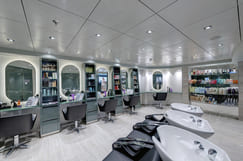 Sport Centre
Deck 16
Basketball, Tennis, Volleyball, Soccer
Services found on MSC Musica
MSC Musica offers a 26 seat Business Centre (Deck 6), a 3 bed Medical Centre (Deck 5), Excursion Deck (Deck 6) and a spectacular 3-deck waterfall with a suspended see-through piano in the atrium where the guest services / reception is located (Deck 5).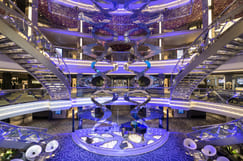 Waterfall Atrium
Deck 5
Piano, Guest Services, Reception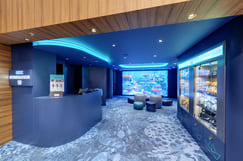 Sala Viola
Deck 6
Business Centre, seating 26, to Hold your Conference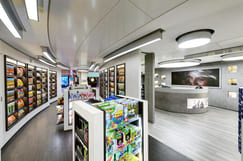 Medical Centre
Deck 5
Doctors and Nurses to Provide Medical Assistance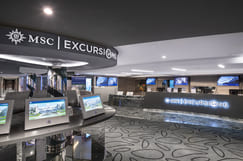 Excursions Desk
Deck 5
Excursion Desk will assist you to Plan and Book any of the Excursions
Deck 13 - Sun Deck and Minigolf
Includes & Excludes on MSC Musica
All meals in the two main dining rooms, the buffet and selected other eateries.

All shows in the theatre and other venues

Most daily activities, unless noted otherwise

Water, coffee, tea and selected juices during mealtime

Use of the gym, excluding the classes and extra gym amenities such as sauna, gym whirlpool etc
All drinks beyond water, tea, coffee and selected juices in the buffet

Shore excursions and spa treatments

Wifi (unless specified otherwise)

Casino, photos, shops

Service fees (Please check - it is INCLUDED in some markets)
When was MSC Musica refurbished?
The MSC Musica was built in 2006. The last drydock refurbishment carried out at the Chantier Naval de Marseille Shipyard, took place from 19 October through to 12 November 2019. It included scheduled general maintenance as well as upgrades to modern technology such as new scrubbers for exhaust gas cleaning systems (EGCSA). All cabins and public areas were also renovated during this time period providing additional value for customers booking their cruise vacations with MSC Cruises
The vessel's previous drydock was performed in November 2016.
Does MSC Musica have Yacht Club?
MSC Musica is part of the Musica class and does not include the MSC Yacht Club facilities. The Yacht Club first appeared on the Fantasia Class with the launch of MSC Fantasia in 2008.
Where to board MSC Musica in Durban?
All MSC Cruise departure from the N'Shed in Durban port.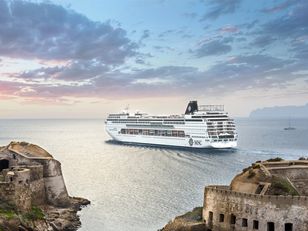 MSC Armonia
Renovated: 2014
Guest: 2,679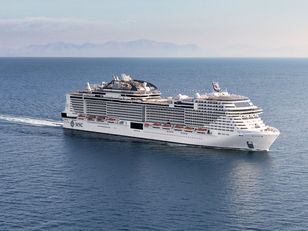 MSC Bellissima
Launched: 2019
Guest: 5,686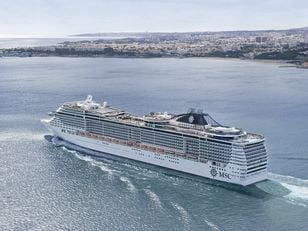 MSC Divina
Launched: 2012
Guest: 4,345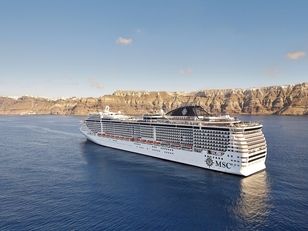 MSC Fantasia
Launched: 2008
Guest: 4,363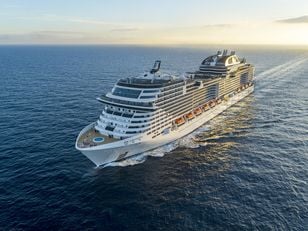 MSC Grandiosa
Launched: 2019
Guest: 6,334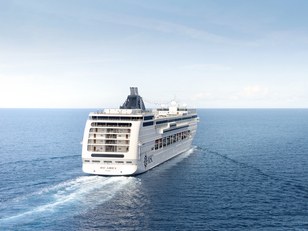 MSC Lirica
Refurbished: 2015
Guest: 2,679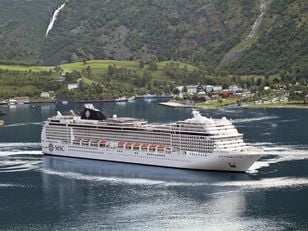 MSC Magnifica
Launched: 2010
Guest: 3,223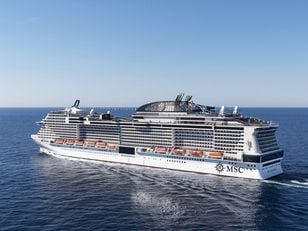 MSC Meraviglia
Launched: 2017
Guest: 5,655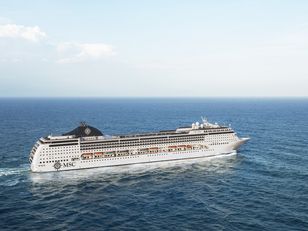 MSC Opera
Refurbished: 2015
Guest: 2,679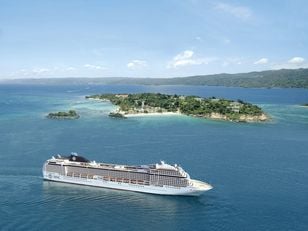 MSC Orchestra
Launched: 2007
Guest: 3,223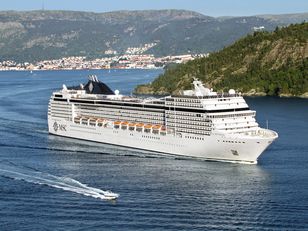 MSC Poesia
Launched: 2008
Guest: 3,223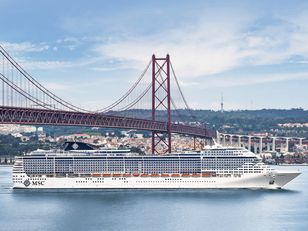 MSC Preziosa
Launched: 2013
Guest: 4,345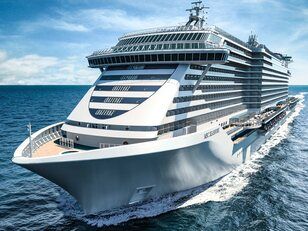 MSC Seashore
Launched: in 2021
Guest: 5,331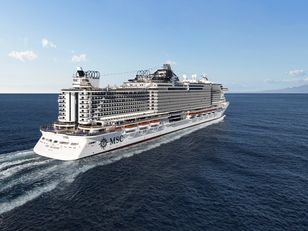 MSC Seaside
Launched: in 2017
Guest: 5,336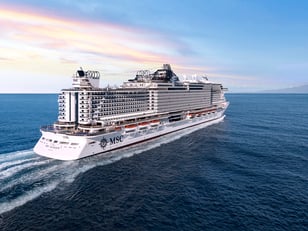 MSC Seaview
Launched: in 2018
Guest: 5,331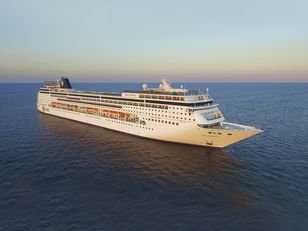 MSC Sinfonia
Refurbished: in 2015
Guest: 2,679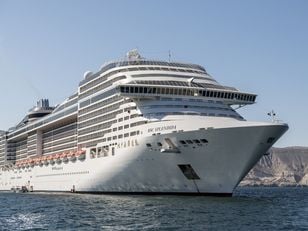 MSC Splendida
Launched: in 2009
Guest: 4,363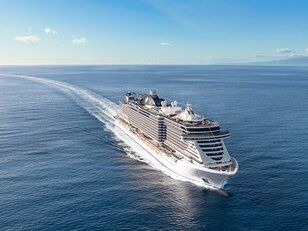 MSC Virtuosa
Launched: in 2021
Guest: 6,334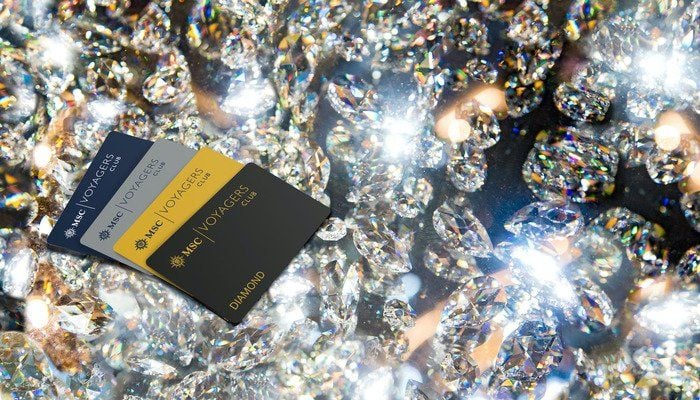 MSC Cruises
Everything you need to know about MSC Voyagers Club program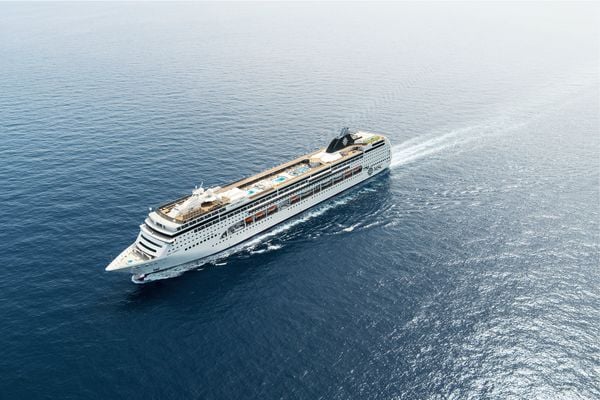 MSC Cruises
When was MSC Lirica Refurbished? Details of an extraordinary job