Complete Guide to MSC Sinfonia Cruise Ship with prices, cabin and more
MSC Sinfonia is an MSC Cruises cruise ship that first entered into service in 2002. In March of 2015, the ship underwent a refit that extended its length by 25 meters and added 194 new cabins. With a passenger capacity of 1,950, the MSC Sinfonia is perfect for those looking for a classic cruise experience.
The MSC Sinfonia pays homage to the symphonies of great composers with its modern design and comfortable amenities. The ship's interior is designed with clean lines and natural wood, brass, and marble accents that give each venue its own unique feel. MSC Sinfonia is the second MSC Cruises ship that will be in South Africa during the 2022/2023 season and will be based out of Cape Town.
40 "girls" (well actually ladies in their fifties) travelled on a 7 nights Northern Europe Cruise. We had a wonderful time on our MSC Sinfonia cruise! The food was excellent, the crew was friendly and helpful, and the ship was beautiful and spacious. We had plenty to do and never felt bored. We would definitely recommend this cruise to anyone!
Pearl Mokwena
Northern Europe
My group of ladies and I had planned to cruise to Mozambique on MSC Sinfonia but unfortunately, due to bad weather, our trip was cancelled. However, we were able to visit Port Elizabeth in South Africa and I have to say that being on the MSC Sinfonia was an incredible experience. The staff and crew were excellent, the entertainment was top-notch, and the food was wonderful. Our balcony suites were also amazing. I would definitely go on MSC Sinfonia again and tell all my friends about it.
Lynn Naudé
Northern Europe
We just returned from a week away on the MSC Sinfonia and it was fantastic. The waiters and waitresses were wonderful with our son Themba, spoiling him rotten. The cabins were lovely, quite small but they had everything you needed. They were cleaned twice daily and even had a mini bar. The staff were all so friendly and helpful, nothing was too much trouble for them.
Lebohang Bennett
South Africa
Cabins on MSC Sinfonia
The MSC Sinfonia cruise ship offers a variety of cabins to its passengers. There are a total of 351 inside cabins, 405 ocean view cabins, 94 balcony cabins and 130 suites on the ship.
The different cabin types offer different views and amenities to passengers. 5 Inside cabins are specially designed to accommodate passengers with disabilities or reduced mobility.
All cabins come with a variety of amenities including air conditioning, ensuite bathroom- hairdryer, minibar, safe and telephone. Some cabins also have additional amenities such as balconies (in select cabins) and connecting cabins.
Inside Cabin (no window)
351 Interior Cabins (≈13 m2)
A double bed can convert into two singles
Available in Bella and Fantastica Experiences
Note: 5 Inside cabins for guests with reduced mobility or disabilities (≈13 m2 to ≈21 m2)
Cabins are available on Deck 7 (Brahms), Deck 8 (Bach), Deck 9 (Tchaikovski) and Deck 10 (Sibelius).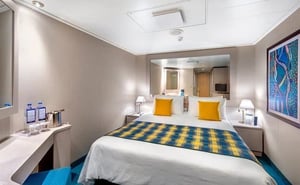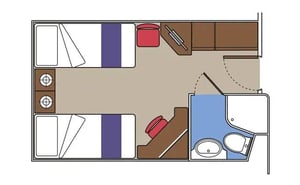 Outside Cabin (window)
405 Ocean View Cabins (from ≈13 m2 to ≈22 m2)
Double bed can convert into two singles
Available on Bella and Fantastica Experiences
Available on Deck 7 (Brahms), deck 8 (Bach), deck 9 (Tchaikovski) and deck 10 (Sibelius).
Two cabins on deck 9 (Tchaikovski) are 4 passengers sharing with 2 sleeping beds on the ground. Those premium Ocean View Cabins are 9006 & 9003
Note: 64 cabins are obstructed ocean view cabins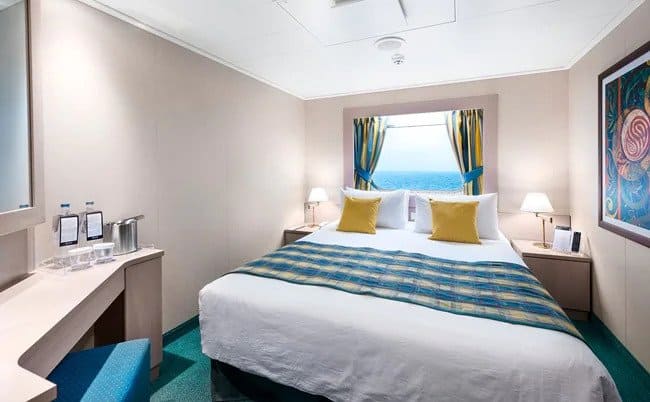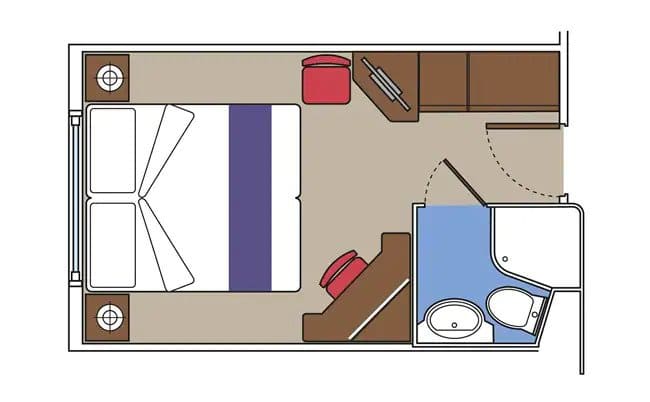 Balcony Cabin
94 Balcony Cabins (from ≈13 m2 with a balcony of ≈3.5m2)
Sitting area with Sofa
Bathroom with shower
Double bed can convert into two singles
Available in Bella, Fantastica and Aurea Experiences
Furnished with two chairs. We have sometimes had two deck chairs instead of the standard upright chairs. The balcony is accessible through a floor-to-ceiling- glass door.
The Balcony Cabins are available on Midship on Deck 9 (Tchaikovski) and Deck 10 (Sibelius)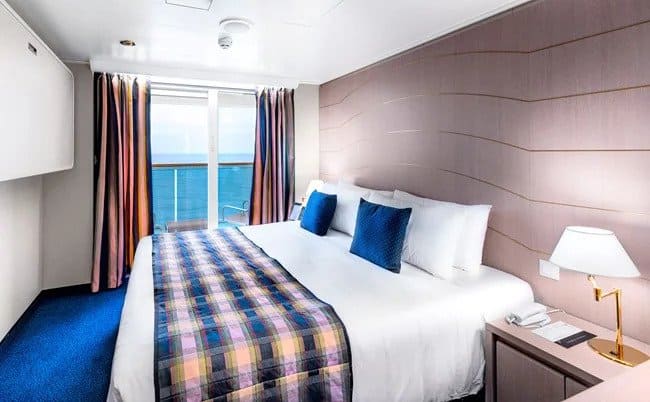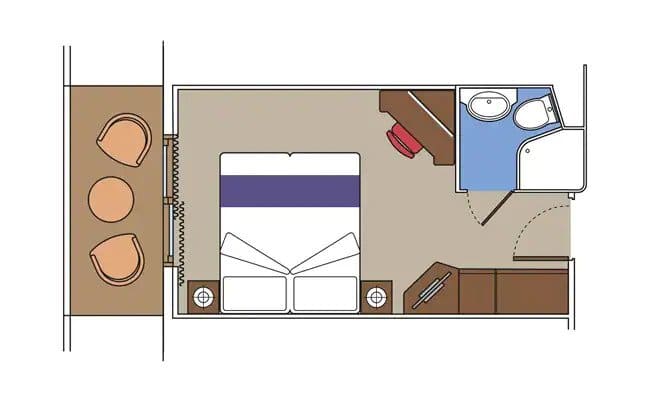 Suite
130 Suites (≈22 m2)
Double bed can convert into two singles
Available in Aurea Experience
Bathtub
The sofa can be transformed into a bed to accommodate 1 extra guest or two kids under 12.
Available on Decks 10 (Sibelius) and Deck 12 (Bizet)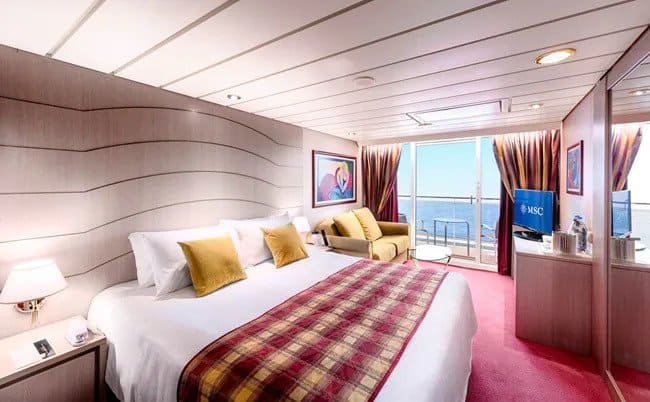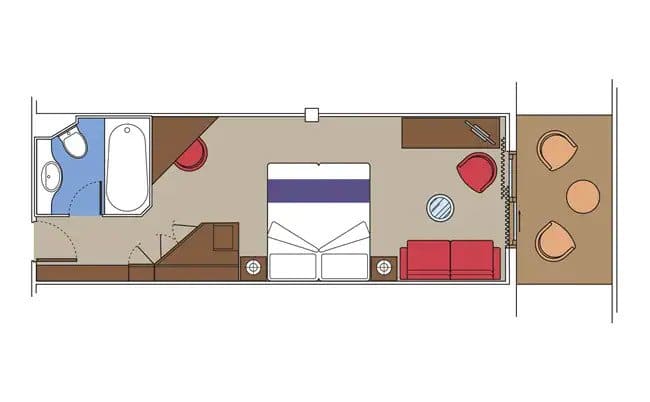 What is included in all MSC Lirica Cabins
Private Air Conditioning

Spacious wardrobe

Bathroom with Showers or Bathtub

Interactive TV

Telephone (€)

Mini-Bar (€)

Wi-Fi Connection (€)

Safe-deposit box

Hairdryer

Comfortable Double or Single Beds
Note: all the above cabin information may vary within the same cabin category.
The mini-bar is stocked with non-alcoholic drinks, alcoholic drinks and snacks, which are at an extra charge. The air-conditioning is individually thermostat-controlled and the air is 100% new.
All the power outlets (220v/110v) and USB ports are located on top of the desk - make sure you take a multi-plug if you have a lot of items to charge. The mattress is very firm, so if you like a softer mattress, you may find it too firm for you. Some cabins come with bunk beds or sofa beds for a 3rd/4th person.
The bathroom is functional but fairly small in all non-suite cabins. All showers and basins have shampoo/conditioner and body wash mounted to the wall, as well as a wire rack to hold toiletries.
The cabin size ranges from 13m2 to 22m2. Considering that the itineraries are designed around ports, you spend little time in your cabins, so this should be enough space.
The 5 accessible cabins (21m2) are conveniently located next to the elevator - they are all Interior cabins.
Restaurants onboard MSC Sinfonia
Il Galeone
Il Galeone is the main dining room. Deck 5 | Seats 1,039 | Breakfast / Lunch / Dinner
Il Covo
Il Covo is the second main dining room. Deck 6 | Seats 353 | only Dinner
La Terrazza Buffet
La Terrazza Buffet is the Self-Service Buffet on Deck 11 | Seats 285| 20 Hours a day
Room Service
From pizza to breakfast in bed, the room service is a great alternative to the restaurants | 24/7 ($)
Public Areas on MSC Sinfonia
The MSC Sinfonia offers passengers a wide range of public areas in which to relax and enjoy their voyage. These areas include the Teatro San Carlo, Ambassador Lounge, Cafe le Baroque, Manhattan Bar, Sinfonia Lounge & Library. The Sinfonia@Caffe is also available for those who need to stay connected while on board.
MSC Sinfonia underwent a refit, in 2015, that extended the vessel by 25 meters and added 194 new cabins. This was done in dry dock at the Fincantieri's shipyard in Palermo, Sicily.
Includes and Excludes in your Cruise Fare
All meals in the two main dining rooms, the buffet and selected other eateries.
All shows in the theatre and other venues
Duty-Free shopping gallery ($/€)
Library & game room
Kids club for all ages
Daily service charges/gratuities are included

Accommodation in well-appointed cabins

Water, coffee and some juices are included in certain areas of the ship

Most on-board activities such as group games, competitions, quizzes, and crafts classes are included

No entrance fee for the disco / nightclub

All evening shows are free to enjoy
All drinks beyond water, tea, coffee and selected juices in the buffet
Shore Excursions
SPA treatments & access to SPA area (Subject to experience)
Wifi (unless specified otherwise)
Casino, photos, shops
Service fees (please check - it is INCLUDED in some markets)
Aditional Kids activities
MSC Sinfonia South African Cruises
Get ready for the 2022/2023 season with some MSC Special Offers on MSC Sinfonia out of Cape Town, South Africa.
Other MSC Cruises Cruise Ships
Don't know where to start?
We love cruising and want to help you find the perfect cruise for you. So let us do all the work for you – we know everything there is to know about cruising!