Guide to Cruising in the Caribbean
Why Cruise the Caribbean?
The Caribbean is made up of over 7,000 islands, cays and reefs and was the first region to attract leisure-focused cruise liners.
Here are 10 reasons you should cruise the Caribbean:
Quick travel from Florida

Assortment of different places in a short amount of time

Diversity of cultural experiences

Romantic - great for honeymooners

Family-friendly - activities for everyone

Stunning water and beaches

Wide array of pastimes (fishing, snorkelling, diving, horse riding etc)

Great shopping bargains

English is spoken everywhere and USD widely accepted

No expensive flights to the island destinations.
Visiting the Caribbean on a cruise is a little like a mini visit to Europe, with a strong influence evident of the first colonialists in these countries.
If you are after a multitude of secret coves and smaller islands, cruising the Caribbean on a smaller ship is the way to go.
The Caribbean is a region that consists of the Caribbean Sea and over 7,000 islands. It is nestled east of Central America, north of South America and southeast of the Gulf of Mexico (USA).
Dividing the Caribbean sea is not an easy task. In most cases, a fictitious line between Florida (USA) and Cartagena (Colombia) is drawn.
Anything that is West toward the Gulf of Mexico is part of the Western Caribbean.
Anything that is East toward the Bahamas is The Eastern Caribbean. Jamaica is part of the Western Caribbean. Many cruise lines add a small region within the Eastern Caribbean, the Southern Caribbean.
Western Caribbean
The Western Caribbean is where most cruise guests will see Central America, including ports like Cozumel in Mexico or Belize. If you are seeking a unique combination of educational sightseeing and tropical beaches, the Western Caribbean is the answer.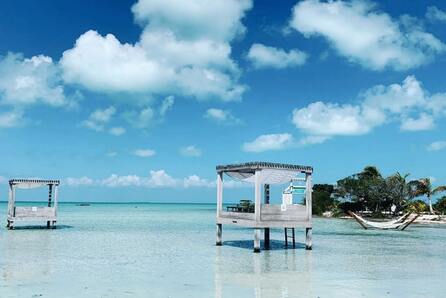 Eastern Caribbean
The majority of cruise lines offer itineraries in the Eastern Caribbean. The most popular destination in this region is The Bahamas, boasting more than 700 islands, where many of the bigger cruise companies have established a private island for their guests to visit.
We recommend the Eastern Caribbean for those who love the sun, pristine beaches and watersport activities. A thrill here is to find a desolated beach to just chill on.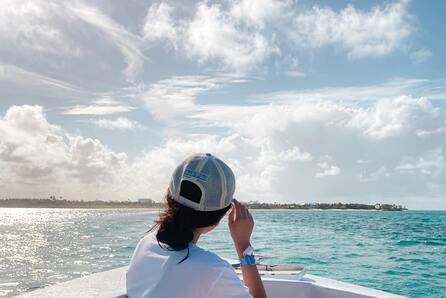 Southern Caribbean
The Southern Caribbean section is situated northwest of Venezuela, consisting of islands like Aruba, St. Kitts & Nevis, St. Lucia, Tobago and Trinidad. You may come across the cluster of islands referred to as the ABC Islands. These are the islands of Aruba, Bonaire and Curacao, just northwest of Caracas.
The Southern Caribbean is the perfect destination if you are looking for a family gateway, with a mix of unspoilt beaches, culture and unbelievable rainforests.
Despite the Southern Caribbean being a separate region, it is often included in the Eastern Caribbean.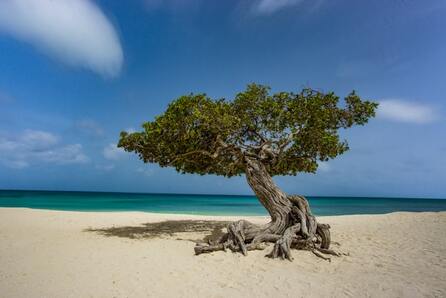 Caribbean History and Culture
The original inhabitants of the Caribbean were called the Arawaks and the Caribs. When the first Europeans (mainly British, French, Dutch and Spanish) arrived in the Caribbean, they thought that they had arrived in India by sailing west - hence the naming of the West Indies, a collection of countries and islands in the Eastern Caribbean.
What makes the Caribbean such a remarkable place to visit, is that you can have two islands only 25 km apart, that have their own language, currency, food and traditions. The islands' populations often reflect their colonial heritage, between their European colonisers and the arrivals from Asia, Africa and the Middle East.
The governments of these islands vary - some of them are sovereign governments, whilst some are territories, or overseas "departments", and depend on other nations. On all the islands though, the USD is widely accepted.
Best Time to Cruise the Caribbean
The best time to cruise the Caribbean is between December and April. The weather is amazing - sunny and hot, low humidity and pleasingly cool in the evening.
Unfortunately, it is the busy season and despite having a wide choice of cruises available, the prices are high and the ports and sights are often very busy.
From May to September, the humidity is higher and weather is stormy – normally short and heavy downpours rather than continuous days of rain. The upside is the destinations are quieter and prices are often cheaper.
June to October is the hurricane season. September and October are the cheapest months to cruise the Caribbean as it is when most of the major storms happen. But don't worry, a cruise ship can change course at any time and will avoid any of the big weather turbulence if it can do so, meaning you will not get stuck in a hurricane!
In the northern area of the Western Caribbean, the East Coast of Mexico enjoys hot, sunny and rainless days most of the year, with short showers falling from June to September.
In the Cayman Islands and Jamaica, the rainy season is between May and October. Most cruise lines will avoid this area from June to October due to the hurricanes that occur.
In the Eastern Caribbean (Bahamas / Bermuda / Barbados), the driest period is from December to May with some rainfall, storms being heavy but short-lived. The wettest months are from August to September.
Major Ports of Departure for a Caribbean Cruise
Most Caribbean cruises will leave from these 8 ports:
Miami, Florida, (USA)
Miami is one of the most well-known ports in the USA and the world. It is great to extend your trip by staying a couple of nights before or after your cruise.
Miami is the busiest cruise port in the world with over 5.6 million passengers in 2019.
Miami International Airport (MIA) is 16km (10 miles) from the Cruise Terminal.
Mainly: MSC | NCL | Regent Seven Seas | Oceania and 14 others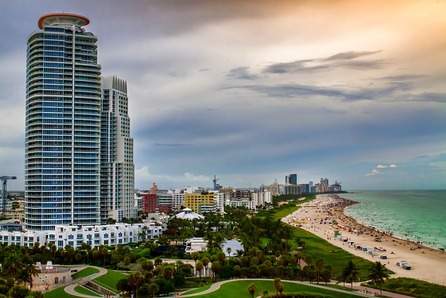 Port Canaveral, Florida, (USA)
Port Canaveral became the home port for Royal Caribbean's Oasis of the Sea, which is one of the largest ships in the world.
Port Canaveral is the second busiest cruise port in the world with over 4.5 million passengers in 2019.
Orlando International Airport (MCO) is 73km (45 miles) West of the Cruise Terminal.
Mainly: Royal Caribbean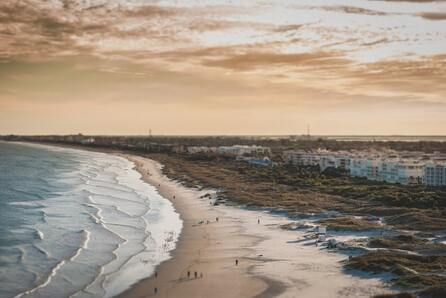 Fort Lauderdale, Florida, (USA)
Fort Lauderdale is also known as Port Everglades. It is the third busiest cruise port in the world with over 3.86 million travellers in 2019.
For a great stay before or after, Orlando is just a car ride away from the port. Most cruise operators transfer passengers from Miami International or Fort Lauderdale International (FLL) (10km | 6miles away).
Mainly Princess Cruises | Holland America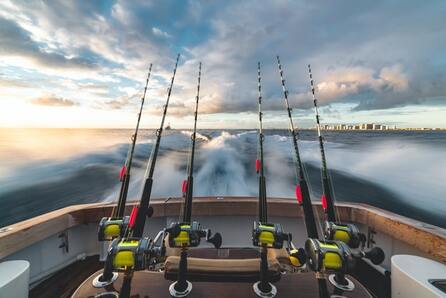 Bridgetown, Barbados
A popular port that provides a great welcome to the Caribbean.
The main airport is Grantley Adams International (BGI) about 15km (9.5 miles) east of the Cruise Terminal.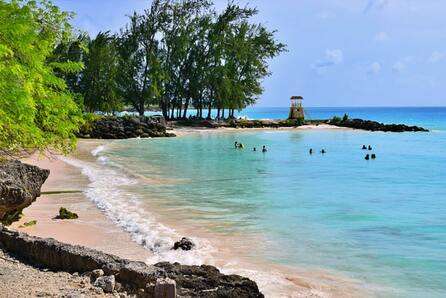 New York, USA
New York has always been the main port used for the Transatlantic Ocean Liners bridging Western Europe and the Americas. With the drop in Transatlantic sailing, New York has since lost its appeal.
However, for the last couple of years, an increasing number of cruise operators are offering regular cruises from New York.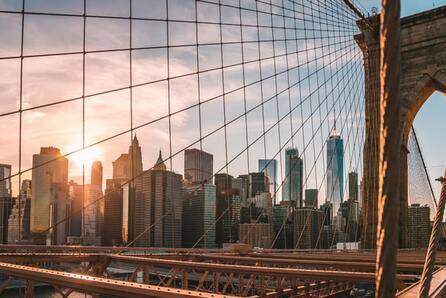 San Juan, Puerto Rico
San Juan is a gem of a departure port. Situated in the heart of the Caribbean, it requires no long travel to the other islands and is great for pre and post-cruise stays.
The Luis Munoz Marin Airport (SJU) is situated 16km (10miles) northeast from the port.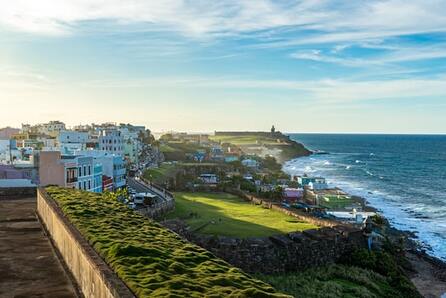 Tampa, Florida (USA)
Tampa is much more than the home of one of the most popular theme parks in Florida, Busch Gardens. It also boasts the Museum of Science and Industry and the Museum of Art - both worth a visit.
Tampa International Airpot (TPA) is 15km (9miles) northwest from the cruise terminal.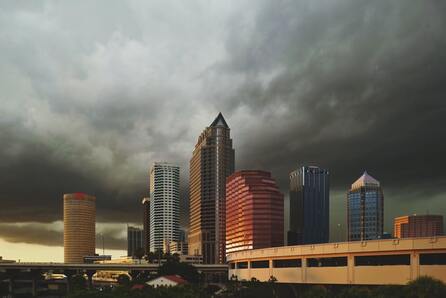 New Orleans, Louisiana (USA)
The New Orleans cruise terminal is 500 metres from the famous French Quarters and a great place to stay before or after your cruise.
The Orleans International Airport (MSY) is 20km (13miles) west of the Cruise Terminal.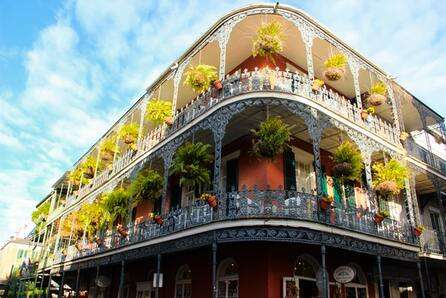 Galveston, Texas (USA)
The Victorian architecture and well-maintained beaches attract many Texans.
Galveston's Scholes International airport (GLS) is 5km (3miles) South West from the cruise terminal. However, most passengers normally travel via Houston (IAH) - 80km (50miles) away.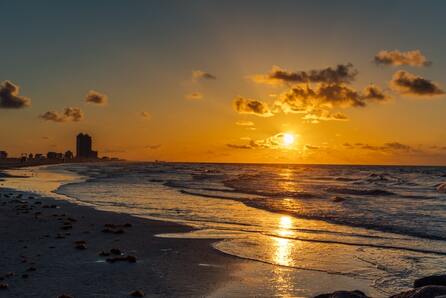 What Main Ports of Call Do Cruise Ships Visit in the Caribbean?
Caribbean ports list
Antigua, St Johns
Aruba, Oranjestad
Bahamas, Nassau
Bahamas, Princess Cay
Barbados, Bridgetown
Belize, Belize City
Bermuda, Hamilton
Bonair, Kralendijk
Br. Virgin Is, Road Town
Br. Virgin Is, Virgin Gorda
Colombia, Cartagena
Costa Rica, Puerto Limon
Cuba, Havana
Curaçao, Willemstad
Dominica, Roseau
Dominican Rep, Catalina Is.
Grand Cayman, George Town
Grenada, St Georges
Guadaloupe, Pointe-à-Pitre
Guatemala, Santo Tomas de Castille
Haiti, Labadee
Honduras, Isla de Roatan
Jamaica, Montego Bay
Jamaica, Ocho Rios
Martinique, Fort de France
Mexico, Calica
Mexico, Cancun
Mexico, Costa Maya
Mexico, Playa del Carmen
Panama, Colon
Puerto Rico, San Juan
St Barts, Gustavia
St Kitts, Basseterre
St Lucia, Castries
St Maarten, Philipsburg
Tobago, Scarborough
Trinidad, Port of Spain
Turks & Caicos Is
USA, Houston
USA, Key West
USA, Tampa
US Virgin Is, St Tomas
US Virgin Is, St Croix
US Virgin Is, St John
Venezuela, Margarita Is
What to Wear on a Caribbean Cruise?
When cruising the Caribbean your wardrobe essentials should be a few swimsuits, casual shoes (slops, water shoes), caftans, T-shirts, shorts, dresses, sunglasses, hats and cover-ups for the pool or beach.
Then, depending on your social life and which cruise line you will be adventuring on, a couple of extras are required: dress shoes, formal wear for fine dining, workout clothes, walking shoes, backpack, snorkelling equipment and so on.
What to wear in the Rainy Season – May to October – the temperatures in the Caribbean are still warm even when it's wet. So, pack beach attire and lightweight clothing. Most rain showers pass by in less than an hour, so it is easy to avoid them. Sun cream is a must - we all got burnt during the rainy season, even on a cloudy day.
What to wear for the Dry Season – December to May – the weather is hot, often with a little breeze in the evening. The skies are clear and the weather perfect for sun-tanning. Pack a swimsuit, a cover-up for the beach or the pool, light clothing like linen pants, flowy dresses and shorts. Don't forget the insect repellent, sunscreen and hat/cap.
You should not forget to pack your documents, toiletries and accessories. A Caribbean cruise is not something that you do every day, so make sure you prepare, wear comfortable clothing and enjoy!

Top Excursions in the Caribbean
Very few areas in the world offer a more diverse range of activities and ports of call than the Western Caribbean. Even if the Western Caribbean has half the number of ports of the Eastern Caribbean, the variety of cultures, history and geographical topographies is incredible.
On one 7 night cruise, you can enjoy the sun on a beach in the Bahamas, swim with the dolphins in Cozumel, cruise through the jungle and the Panama Canal, visit the Mayan temples near Playa del Carmen and river raft in Jamaica. All of it whilst enjoying state of the art entertainment, great food and peaceful accommodation onboard your ship.
Top Western Caribbean excursions:
White water rafting in Jamaica

Dunn's River Falls walk, Ocho Rios, Jamaica

Visit to the Mayan temple of Tulum near Cozumel

Sun-bathing on the soft sands of Grand Cayman
Snorkelling with turtles in the Cayman Islands

Cruising through the jungle and the Panama Canal

Local craft shopping in Limon

Strolling through coffee and banana plantations in Costa Rica
The Eastern Caribbean (including the Southern Caribbean) is the place where sun-tanning, watersport and shopping are the highlights. Most passengers will spend half of the day on an excursion and the other half enjoying the sandy beach and warm water or exploring the port. The appeal of an Eastern Caribbean cruise is that most ships spend a full day in port as the next port is just a stone's throw away.
Top Eastern Caribbean Excursions:
Snorkelling & diving in Isla de Roatan, Honduras

Shopping at Charlotte Amalie in St Thomas

Exploring the rainforest of Dominica
Horse-drawn carriage ride in Aruba

Catamaran Sailaway in St Kitts
Who will enjoy a Cruise in the Caribbean?
The Western Caribbean often appeals to travellers that have already cruised in the Eastern Caribbean or have spent some time on one of the Western Caribbean islands previously.
It is a bucket list region, with most passengers having the Panama Canal on the top of their list. There are often itineraries that attract slightly older passengers, as the ship normally spends one or two days at sea during a typical 7 night cruise.
For watersports enthusiasts and beach lovers, the Bahamas, Cayman Islands and Belize have some of the most pristine beaches in the Caribbean.
The culture and history lovers will enjoy a visit to the Mayan archaeological sites from Cozumel, Playa del Carmen or Cancun. We recommend when taking the Tulum trip to use the ship's shore excursion, as the entry is often restricted. We have seen countless passengers being delayed coming back to the ship. When the outing is organised by the cruise line, the ship will wait for passengers when they are delayed; if it is a privately arranged excursion, the ship will not wait.
An Eastern Caribbean cruise is the dream holiday for most. You will see as many islands as possible in one holiday, lay on countless beautiful beaches, have a shopping experience like no other, some spectacular diving (Isla de Roatan) and for those that like hiking, there are some great options such as Mount Nevis - a 1,000 m Volcano in St Kitts & Nevis.
The Eastern Caribbean attracts younger passengers, young couples on honeymoon and families, as these cruises represent excellent value for money when compared to land-based holidays.
Comparative Prices of a Caribbean Cruise
The average price of a 7 night cruise in the Caribbean, for a cruise on a mainstream cruise ship, is USD 700 per person, which will often exclude taxes of some USD 200.

On a luxury ship, the average price is USD 1,550 per person sharing. These ships are often smaller and can get into ports that the bigger liners cannot. They also often include some sort of beverages and cabins are bigger.
On an Ultra-Luxury ship, the average price is USD 3,200 per person sharing. These smaller ships are, indeed, ultra-luxurious. Crystal Cruises, Regent Seven Seas Cruises, Seabourn and Silversea Cruises provide all standard drinks. Regent will also add excursions to the mix.
The luxury and ultra-luxury ships will often offer 12-night cruises in smaller more intimate ports versus the mainstream liners.
Price based on a 7-Night Caribbean Cruises
Cruise-Only (No flights)
The below prices are based on a standard 7-night cruise out of Florida. Visiting the Western Caribbean.
Cruise Line
November
January
March
Standard Ships
Carnival Cruise
USD 509
USD 659
USD 329
Celebrity Cruises
USD 1,219
USD 979
USD 1,649
Holland America
USD 599
USD 699
USD 819
MSC Cruises
USD 839
USD 439
USD 439
Norwegian Cruise Line
USD 755
USD 720
USD 573
Princess Cruises
USD 699
USD 739
USD 899
Royal Caribbean International
USD 791
USD 1,021
USD 899
Luxury Ships
Azamara Cruises
USD 1,100
USD 900
USD 734
Disney Cruise
USD 1,649
USD 2,358
USD 880
Oceania Cruise
USD 1,399
USD 1,500
USD 1,155
Ultra-Luxury Ships
Crystal Cruises
USD 2,300
USD 2,300
USD 2,251
Regent Seven Seas Cruises
USD 3,399
USD 3,899
USD 2,735
Seabourn
USD 3,699
USD 3,499
USD 3,499
Silversea Cruises
USD 3,240
USD 3,200
USD 3,441
Windstar
USD 2,799
USD 2,399
USD 1,800
The above prices were correct on the afternoon of the 15th January 2021. These prices were all taken from the relevant cruise line websites.
For the few that did not have a 7-night cruise, the price was calculated by dividing the itinerary price by the number of nights x 7 nights.
Author: Alex Schwager | 25 December 2020 (Last Updated 12 March, 2021 15:37)
Hero image: by Alex Meier | instagram.com/alexmeier19
Don't forget to share this page!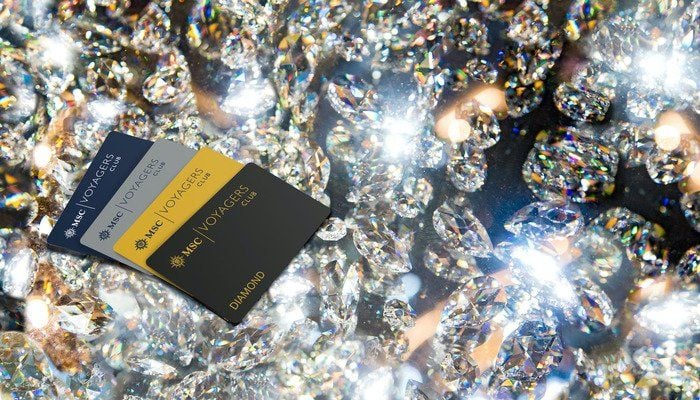 MSC Cruises
Everything you need to know about MSC Voyagers Club program
MSC Cruises Voyager Club is an excellent way for loyal cruisers to get rewarded. The line has revamped its program in May 2022, focusing on offering...