List of Aurora Expedition Ships
From the start, Aurora Expeditions was destined to be different. Co-founders Greg and Margaret Mortimer had a passion for adventure, exploring wild places and sharing the experience with friends and in 1991, Aurora Expeditions, named in honour of Sir Douglas Mawson's ship, was born.
Their aim was simple – to take small groups of travellers on voyages of discovery to regions that inspired them, thereby creating lifelong ambassadors for the preservation and protection of these sacred places. More than two decades later, that pioneering spirit burns just as brightly, as does the cruise line's preference for small-group, personal expeditions.

Now let's take a look at the ships that make up the Aurora Expeditions fleet!
Greg Mortimer
Generate an introduction to introduce Greg Mortimer the first ship custom build ship for Aurora Expeditions In 2019, Aurora Expeditions launched their first custom-built ship, the Greg Mortimer. Named in honour of the company's founder, this innovative vessel is designed for comfort and features expansive observation decks to bring you closer to the environment.
Launched: 2019 | Occupancy: 132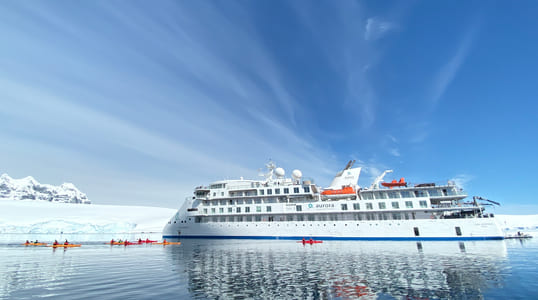 Sylvia Earle
In 2022, Aurora Expeditions will launch their second custom-built ship, the Sylvia Earle. Named in honour of the highly accomplished marine biologist, oceanographer and explorer, this vessel pays tribute to Dr. Earle's long-standing conservation efforts for marine protected areas and ocean wildlife.
Planned: 2022 | Occupancy: 132