Cruises are currently sailing from Europe and Asia, with cruise lines announcing new starting dates almost every day.
Everyone knows that the passenger experience on a cruise within the next year or two will be very different to what it was before the pandemic.
Part of the long list of recommendations that the Healthy Sail Panel, (experts shared between Royal Caribbean and Norwegian Cruise Lines), on how to improve safety on board, reads:
"To prevent the spread of SARS-CoV-2, cruise operators should require guests and crew to wear cloth face coverings/face masks in accordance with US Centers for Disease Control and Prevention recommendations."
In this post, we have looked at the cruise companies that are currently sailing and the ones that have issued plans of returning to sailing.
Do you have to wear a mask on a cruise?
Passengers and crew on a cruise will have to wear masks when social distancing is not possible. During embarkation / disembarkation, when walking around the ship, in the elevator, on the stairs and in any other public areas. When eating or drinking, masks are not mandatory. Cruise lines will provide masks to their guests during their cruise.
There are a couple of cruise lines that have started cruising, the most popular being Royal Caribbean and MSC Cruises, and have made wearing masks mandatory.
For the rest of the cruise industry, the wearing of masks is all part of the health and safety protocols for returning to sailing.
CDC requirements for adults
On 1 February 2021, the US Centers for Disease Control and Prevention (CDC) issued an order that requires that all passengers will have to wear a mask when the cruise industry restarts in the US.
This order is not specific to cruising but stipulates that every passenger is to wear a face mask on all public conveyances travelling in the US. This will therefore apply to cruise ships when restarting operations.
The order was signed by Dr. Martin Cetron, director at the Centers for Disease Control and Prevention, and further stated: "Requiring masks on our transportation systems will protect Americans and provide confidence that we can once again travel safely even during this pandemic".
There are some exceptions to that regulation - children under the age of two are exempt; masks can be taken off while drinking, eating and taking medication; those with a disability that cannot wear a mask safely are also exempt.
European Union requirements for adults
In early July 2020, the European Centre for Disease Control released its guidelines for ships safely returning to operation.
The European Union requires that all crew and passengers wear masks when physical distancing is not possible. These guidelines are valid for embarkation and disembarkation as well as when inside the ships' elevators and all corridors getting to and from the cabin.
It further states that a mask should be worn for passengers visiting the medical centre, on all bus tours and if it is necessary when boarding a lifeboat.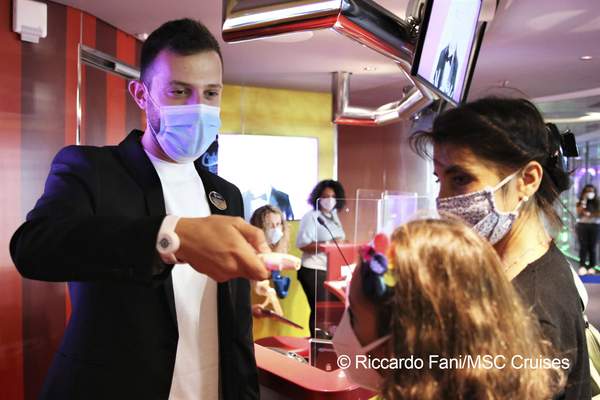 Do children have to wear masks on a cruise?
Each cruise company has specific onboard health and safety protocols. All of them are very similar to each other. However, depending on the child's age, they may not need to wear one, but the age limit for no mask differs greatly based on the clients' country of origin.
Onboard a cruise, the policy varies for each line: Royal Caribbean, children under the age of 6 are not required to wear masks - it is the only cruise line that has published their child mask policy as of today.
Do children have to wear masks on a shore excursion?
Onshore, the mask policy is dictated by each country. So every time a child goes ashore, the family will have to obey the protocols of the country that they are visiting.
In their 1 December 2020 interim guidance, the World Health Organisation (WHO) have stipulated that children under the age of 5 years old should not wear a mask. For children between 6 and 11, the environment should be analysed and children over 12 are subject to the same protocols are adults.
The European Union, in their mask protocols published on 15 February 2021, are following the WHO guidelines on masks for children.
On the contrary, the CDC has published a guideline recommending all children from the age of 2 should wear masks in public.
As for cruises that will be commencing in the UK, it is even more complex. Children under the age of 11 in Wales & England, under 13 in Northern Ireland and under 5 in Scotland, don't have to wear a mask.
Are there exceptions to me wearing a mask?
As per both the US & the EU CDC guidelines, the only exceptions where masks are not required would be the following:
When social distancing is possible
When drinking, eating or taking medication
If you are communicating with hearing impaired
When verifying identity
Children - specific to each cruise company & country
Can I go without a mask if I have a medical condition?
A cruise ship is a well-oiled machine; protocols and procedures keep the entire experience smooth for both crew and passengers. Unfortunately, with the protocols, all passengers have to wear masks onboard a ship, so any passengers that cannot wear a mask for health reasons will be denied boarding.
If you have a medical condition that is severe enough to forbid you from wearing face masks, cruising might not be the right holiday for you. The onboard medical facilities, despite being great for common medical emergencies, will not cater for anything out of the ordinary.
Unpopular idea or not?
It is very interesting to read the various forums on the matter of wearing a mask. On The RCCL Blog some Royal Caribbean passengers, like Unwin, stated "To us, it is more important to cruise than to worry about the mask".
But some others like Wanderer say "Absolutely not! There is nothing enjoyable about wearing a mask".
Generally, the feeling is that, apart from a few, most cruise passengers are willing to follow the mask policy on a cruise as long as they can enjoy the same experience as before the pandemic.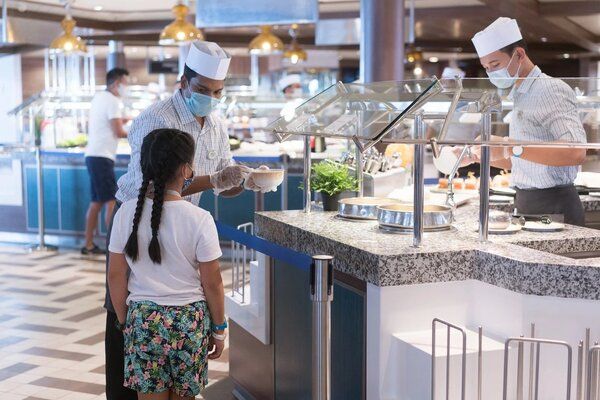 Credit: Provided by RCCL
Mask use is only part of the health protocols
Cruise lines are presently following the European Centre for Disease Control guidelines as most cruise lines starting at the moment are all doing so in Europe or England. The US CDC has not yet issued full guidelines to the cruise industry.
On top of wearing face masks, here are the main other prevention measures in place:
Limited people in and around the pool – sets of deck chairs will be separated in clusters, will be sanitised after each use and shall be used by passengers travelling together. The guideline also suggests limiting the number of passengers on the pool deck, in the pool and in the whirlpools.
Embarkation – As much as possible, the process will switch to digital embarkation. For those distributing bracelets and cruise cards during check-in, the ships have implemented social distancing and added a screen between the check-in staff & the passengers. Vessels have also allocated time slots for passengers to get to the terminal to enhance social distancing.
Denial of boarding – Any passenger that has Covid-like symptoms will be denied boarding. During embarkation for the cruise lines that are currently sailing, the ship will do a PCR test during embarkation to ensure that the traveller is Covid "safe".
Capacity Restriction – Two main points here. The first one is that the cruise lines have to keep available separate accommodation for isolation purposes - 5% for crew and 5% for passengers. For example, on a ship that can carry 4'000 passengers at double occupancy, 5% would be 200 passengers. In the case of an outbreak, all of those passengers would have to be isolated in single cabins. That would mean 200 cabins need to be empty – which is 10% of the ship's occupancy.
Secondly, it is very likely that the cruise lines will limit the capacity well beyond the above. At the moment, it seems that the ships that have resumed cruising are sailing at a capacity of between 60% and 70%.
Fewer ports – shorter cruises – the EU guidelines recommend that cruise ships sail shorter cruises, between 3 and 7 nights, also limiting the number of ports. The ships currently sailing have also limited the distance between ports, to always have a port where a "decent" hospital is close by, in the very unlikely event of an outbreak.
Shore excursions – the guidelines stipulate that there needs to be a limit to the number of passengers that are gathering together on shore excursions.
Fewer cabin amenities – All non-essential amenities will be removed from cabins.
Buffet – the buffet area will remain open, but all food will be plated by a crew member. Some tables will also be closed to allow social distancing. All plates, cutlery and napkins will be handed out by a crew member and all passengers will get their temperature checked before entering the area.
Fitness centre – reduced capacity and equipment is sanitized after each use. On some of the ships, the sauna and steam rooms are closed.
Ventilation – all ships that are currently cruising inject 100% new air into the ventilation system. The air will then go through a range of filtration systems before being pumped through the ship. Ventilation runs continuously throughout the whole ship, including the cabins, as those are pressurized for fire safety purposes.
Testing onboard – most of the cruise lines sailing have a regimented testing protocol. The majority of them will ask for a clean PCR test before boarding; some of the lines will include an antigen swab test during the embarkation process and temperature checks are performed throughout the duration of the cruise. The crew are tested regularly as well.
Medical capability – the medical facilities onboard have been enhanced - most of them have added a ventilator to their equipment. The cruise lines have also made advance arrangements with quarantine and isolation facilities on shore.
What is the mask policy on the cruise lines?
Do I have to wear face masks on an MSC Cruise?
On MSC Cruises, face masks are mandatory for all crew and passengers. They have to be worn when social distancing is not possible. MSC Cruises provides guests with masks in their cabin.
MSC Cruises resumed sailing with MSC Grandiosa on 24 January 2021. They were the first major cruise line to do so in 2021 and have so far carried about 50'000 passengers.
We expect the MSC Cruises mask policy to be the same protocols in Asia and in the US when they resume sailing.
Masks are compulsory on MSC Cruises in the following circumstances:
Embarkation and Disembarkation
When taking part in any of the activities
Walking in the corridors to and from the cabins
Walking around the ship
The main change is in the buffet area. The crew will dish up the food for you or, in some instances, they will pre-plate some of the food. You still have to choose and collect your own dishes, as it remains a self-service restaurant.
Across the ship, you will find QR codes instead of a menu. MSC will not charge you for the wifi onboard when browsing through the menu or activities on the ship.
MSC has a range of health screening procedures aboard its ships. Part of these is the MSC For Me wristband, antigen swab test at embarkation, temperature checks during the cruise and an option of purchasing a swab RT-PCR or an antigen test before disembarkation for peace of mind.
Do you have to wear a mask on a Royal Caribbean cruise?
Royal started cruising in Singapore on 18 December 2020 with the Quantum of the Seas.
All passengers are required to wear face masks on Royal Caribbean ships in all public areas regardless of social distancing. The exception is restaurants and bars where guests are permitted to drink and eat without face masks if social distancing is observed.
Adults passengers & crew members will have to be fully vaccinated against Covid 19 to travel on Royal. Children vary from departure port to departure port.
The crew members will be wearing masks at all times.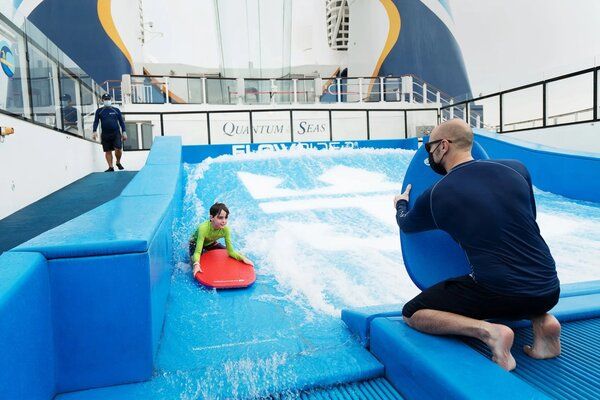 Credit: Provided by RCCL
Do you have to wear a mask on a Norwegian Cruise Line?
Norwegian Cruise Line Holdings (NCL) has not resumed sailing yet - they are planning to restart on the 25 July with the Norwegian Jade.
All crew and passengers on Norwegian Cruise Line will have to wear a mask when social distancing is not possible. Face masks will not be required outdoors when social distancing is feasible. The crew will have to wear a mask anytime they engage with guests or other crew members. All crew and Guests will have to be fully vaccinated.
NCL has partnered with Royal and released a guideline going into great detail about the steps that are being taken towards them resuming sailing.
Do the crew have to wear masks on a cruise ship?
All crew members interacting with fellow crew members or passengers will be required to wear a mask and follow social distancing guidelines. On the cruise ships that are currently sailing, you will find a lot of the bar staff, waiters, housekeepers and crew at the desk with face shields.
At least with face shields, you can see the smile the crew member is giving you! And some of them have mentioned that the shield is more comfortable than the mask.
What will the ship do if I don't want to wear my mask on the cruise?
A ship is different from a hotel ashore in many ways. One of them is that you have agreed to terms and conditions when you bought your ticket. These T&C's will allow the ship to disembark you if you refuse to comply with any regulations on board and the wearing of masks is one of them.
The ship also has the right to not allow you to board in the first place if you refuse to follow the mask policy or refuse to comply with any of the health and safety protocols established on board.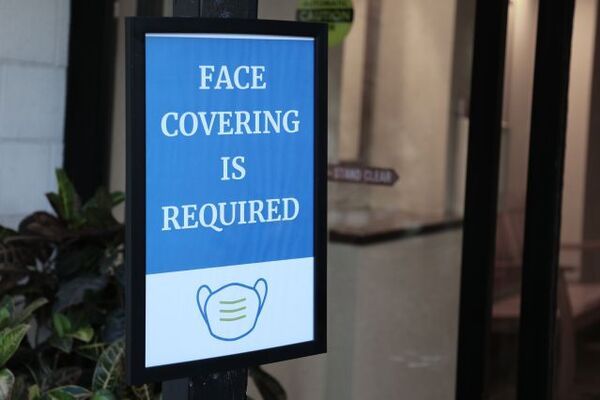 Where on my cruise do I not need to wear a mask?
Basically, if social distancing is possible, then masks are not mandatory.
This includes:
In your cabin
On a deck chair
When sitting in one of the theatres watching a show
Masks will also not be mandatory when eating or drinking at any of the venues onboard your ship.
Masks will have to be worn in any instance where close contact cannot be avoided. For example, in the elevators, on the stairs and walking around the ship.
Will cruise ships provide masks?
Cruise lines will (or are) providing passengers with masks. MSC Cruises and Royal Caribbean are providing masks in the cabin on your embarkation day.
We would strongly recommend you bring your own masks, especially if they are reusable, to lower the impact on the environment.
How long will this last?
We don't expect mask-wearing to be dropped in the foreseeable future. We will have to wait for each country's health and safety regulators to drop the wearing of masks on land to see the cruise lines dropping them at sea.
So, at the moment, any guess is a good guess, but hopefully, the rest of the cruise industry will return to sailing earlier than later.
The cruise industry is always at the forefront of technology in the hospitality industry and in health and safety protocols. Considering that disposable masks have to be changed on a regular basis, some would say every 2 to 4 hours, the cost of providing crew members with masks is already a massive bill.
The cruise industry will make sure they will eliminate masks as soon as it is safe to do so.
Initially published on 21 March 2021, updated on 30 April 2021