Ahoy, cruise enthusiasts! Have you ever wondered what it would be like to work on one of the world's most magnificent cruise ships, like those from MSC Cruises or Princess Cruises? It's time to embark on an exciting journey as we explore the vast array of cruise ship job opportunities that await you on board these floating cities.
Whether you're a seasoned professional or a job seeker with no experience, there's a place for you in the vibrant and diverse world of cruise ship.
This guide is designed specifically for those of you who may have little knowledge about life and work on cruise ships, but are eager to dive into the ocean of possibilities.
So, grab your valid passport and let's set sail together to uncover the secrets of building a successful career at sea.
How to get a Job on a cruise ship:

1. The Pros & Con of working onboard
2. Exploring job opportunities
3. Life on board
4. Minimum requirements
5. Where to apply
Unraveling the Mysteries of Cruise Ships
A Floating Paradise
Cruise ships are much more than just a mode of transportation. They are floating paradises designed to provide guests with the ultimate vacation experience, combining travel, leisure, and entertainment.
From dazzling Broadway-style shows to gourmet dining experiences, these ships offer a world of indulgence and adventure, all while sailing through some of the most breathtaking destinations on the planet.
The Majestic Size and Scale of Modern Cruise Ships
Modern cruise ships are truly awe-inspiring, both in terms of their size and the sheer number of people they can accommodate.
Some of the largest cruise ships in the world can carry over 6,000 passengers and 2,000 crew members, making them floating cities in their own right. With multiple decks filled with a vast array of amenities and facilities, these ships offer endless opportunities for both passengers and crew to create unforgettable memories.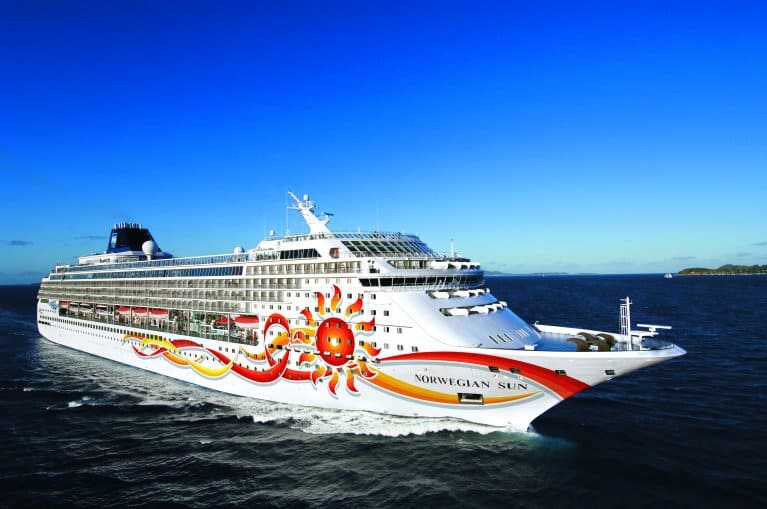 Norwegian Sun sailing off the coast of Tortola in the British Virgin Islands. NORWEGIAN CRUISE LINE
The Pros and Cons of Working on a Cruise Ship
Smooth Sailing: The Benefits of Cruise Ship Life
Working on a cruise ship comes with a boatload of perks that are hard to resist. As a crew member, you'll enjoy:
Travel opportunities: Sail to exotic destinations and explore the world, all while getting paid for it.
Meeting new people: Forge lasting friendships with crew members from diverse cultural backgrounds and make connections with passengers from around the globe.
Free accommodations and meals: Say goodbye to rent and grocery bills, as your room and board are provided by the cruise line.
Unique experiences: Engage in a variety of onboard activities, events, and entertainment programs that are exclusive to cruise ship life.
Navigating the Storms: The Challenges of Cruise Ship Work
While the benefits of working on a cruise ship are certainly alluring, it's important to acknowledge the potential drawbacks that come with this unique lifestyle:
Long hours:

Be prepared to work long, sometimes irregular hours. Cruise ships operate 24/7, and your work schedule may be demanding. - When I worked on ships our weekly hours where about 65 hours / week.

Strict regulations:

Cruise lines have strict rules and regulations in place for the safety and well-being of both passengers and crew. Adapting to these guidelines is essential.

Limited time off:

While you'll have the opportunity to explore ports of call, your time ashore may be limited due to work responsibilities. - Never a full days, only a couple of hours here and there

Being away from family:

Extended periods at sea mean spending significant time away from loved ones, which can be challenging for some individuals.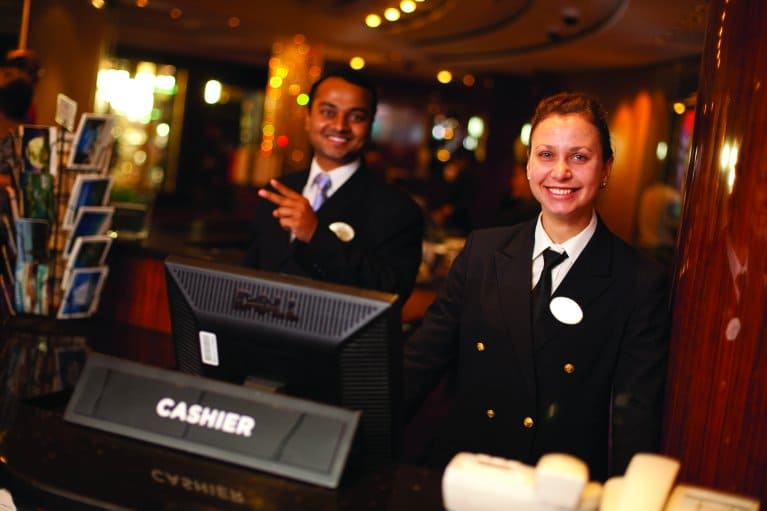 Crew members onboard a Norwegian Cruise Ship
All Hands on Deck: Exploring Job Opportunities Onboard
Navigating the Departments of a Cruise Ship
Cruise ships are like floating cities, complete with various departments working together to ensure smooth sailing and an unforgettable experience for passengers. Here's a brief overview of the different departments on a cruise ship and their core functions:
Deck Department: Responsible for navigating the ship, maintaining its safety and security, and overseeing deck operations. Key roles include the captain, officers, deckhands, and security personnel.
Engineering Department: Ensures that all technical and mechanical systems on the ship are functioning properly, including propulsion, power generation, and HVAC systems. Key roles include the chief engineer, officers, and various technicians.
Hotel Department: Manages all aspects of the ship's accommodations, food and beverage services, and guest services. They are the customers facing crew. Key roles include the hotel director, front office manager, housekeeping manager, and food and beverage manager.
Entertainment Department: Curates and delivers the onboard entertainment program, including shows, activities, and events. Key roles include the cruise director, entertainment staff, and performers such as singers, dancers, and musicians.
Medical Department: Provides medical care to passengers and crew, ensuring everyone's health and well-being. Key roles include the ship's doctor and nurses.
Shore Excursions Department: Organizes and manages off-ship activities and tours for passengers at each port of call. Key roles include the shore excursions manager and tour guides.
Each department plays a vital role in creating a seamless and enjoyable cruise experience for passengers while ensuring the efficient operation of the ship.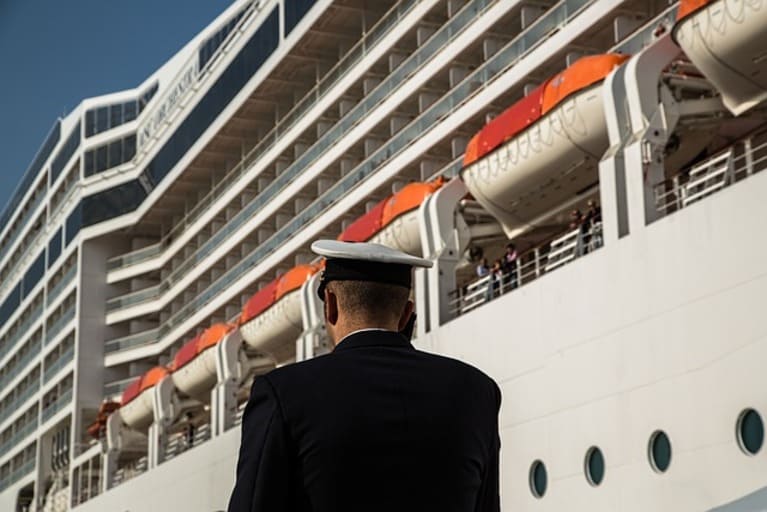 Officer in front of MSC Orchestra.
Diving into Entry-Level Positions: No Experience Required
If you're just starting your voyage into the world of cruise ship jobs, fear not! There are plenty of entry-level positions that don't require previous experience or qualifications, allowing you to embark on a rewarding career at sea. Some of these roles include:
Galley cleaner: Keep the ship's kitchens spick and span.
Pot washer: Play a crucial role in maintaining cleanliness by washing dishes and kitchen utensils.
Bar utility: Ensure the bars are well-stocked and clean, ready for passengers to enjoy their favorite beverages.
Deckhand: Keep the deck areas pristine and assist with various tasks like stacking deckchairs.
Ordinary seaman: Tackle general cleaning and maintenance duties, making sure the ship is shipshape.
Entertainment team member: Bring the fun and excitement to passengers by assisting with shows, activities, and events.
Waiter: Provide top-notch service to guests in the ship's dining venues.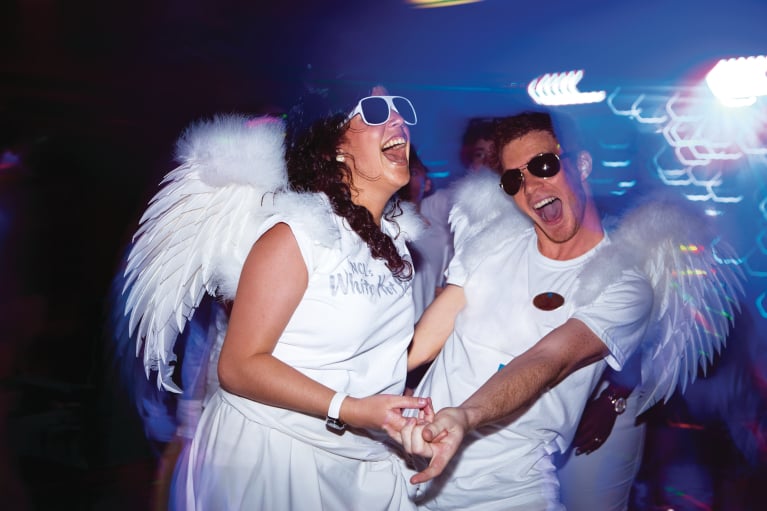 Entertainment crew onboard Norwegian Cruise having fun at a white party.
Navigating Specialized Roles: Expertise Required
For those with specific skills and experience, there are several specialized roles onboard that may pique your interest. These positions typically require qualifications, training, or prior experience in a similar field. Examples include:
Doctor: Provide medical care to passengers and crew, ensuring everyone stays healthy and safe.
Captain: Take the helm and steer the ship, overseeing all aspects of the vessel's operation and safety.
Cruise director: Lead the entertainment program, engage with passengers, and manage the onboard entertainment team.
SPA therapist: Offer rejuvenating treatments and therapies to guests, ensuring their relaxation and well-being during their cruise.
Casino dealer: Run exciting casino games for passengers while maintaining a professional and engaging atmosphere.
With these additional specialized roles, you can see that the cruise ship industry offers diverse opportunities for those with a wide range of expertise, making it an attractive career choice for many.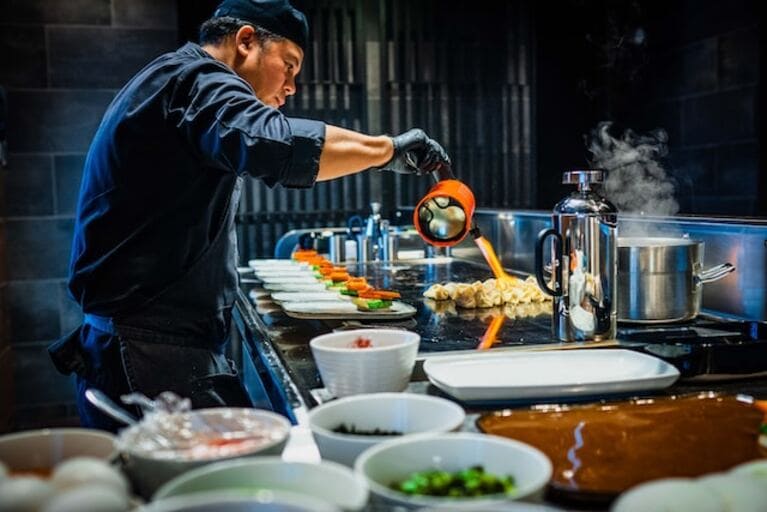 Chef onboard Scenic Eclipse preparing some Dim Sum
Charting a Course for Long-Term Career Growth
Cruise ship offers incredible long-term career opportunities. One inspiring example is that of a Cruise Hotel Director, who started their journey as a humble waiter. Over the years, they advanced through various positions, gaining valuable experience and skills along the way. Eventually, they were promoted to the prestigious role of Hotel Director, overseeing all aspects of the ship's hotel operations.
This success story is a testament to the growth and advancement possibilities that await you in the world of cruise ship jobs. With dedication, hard work, and a passion for excellence, the sky (or should we say, the sea) is the limit!
Image suggestion: A photo of a Cruise Hotel Director smiling proudly, surrounded by their team.
Anchoring Down: Life on Board
Crew Quarters, Meals, and Recreation: Your Home Away from Home
As a cruise ship crew member, you'll find that life on board is a unique experience, with accommodations designed specifically for staff (not always so comfortable).
While crew cabins might be smaller than passenger staterooms, they are equipped with all the essentials you'll need, including a bed, storage space, and a private or shared bathroom.
Meals for crew members are usually served in a dedicated crew mess, offering a variety of cuisines to cater to diverse tastes. You'll never go hungry, and you might even discover some new favorite dishes!
In your downtime, you can take advantage of recreational facilities available for crew members, such as gyms, lounges, and sometimes even crew-only swimming pools. These spaces provide a perfect opportunity to unwind after a long day of work.
Socializing at Sea: Building Friendships and Embracing Cultures
Working on a cruise ship offers a fantastic opportunity to make friends from all around the world. With crew members hailing from various countries and backgrounds, you'll have the chance to learn about different cultures and expand your global perspective.
Social events and gatherings are often organized for crew members, providing the perfect setting to forge lasting connections and share memorable experiences. Your fellow crew members will become your family at sea, making your time onboard all the more enjoyable.
Adapting to Life at Sea: Embracing the Unique Work Environment
Life on a cruise ship is undoubtedly different from working on land. Adapting to this unique environment is essential for a successful and fulfilling experience.
Be prepared for the potential challenges of living at sea, such as coping with limited personal space, adjusting to irregular work hours, and dealing with the occasional bout of seasickness.
Embrace the adventure and remember that the rewards – travel, friendships, and personal growth – are well worth any temporary inconveniences.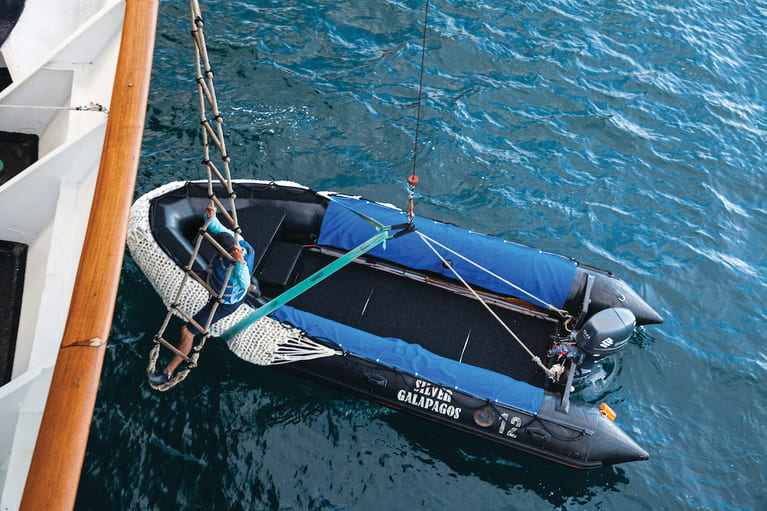 Excursion crew preparing the zodiac on Silver Galapagos. SILVERSEA CRUISES
Setting Sail: Meeting the Minimum Requirements for Cruise Ship Jobs
Before you can embark on your cruise ship career, there are some essential requirements you'll need to meet. These basic criteria ensure that you're prepared for life on board and can contribute effectively to the ship's operations:
Age: Be at least 18 or 21 years old, depending on the cruise line's requirements.
Language fluency: Be proficient in English, or another language specified by the cruise line, to communicate effectively with passengers and fellow crew members.
Valid passport: Ensure your passport is up to date and has enough validity remaining for the duration of your contract.
Visa or work permit: Obtain any required visas or work permits for the countries the ship will visit - the cruise line or agent will assist you with that.
Basic safety training certificate: Complete mandatory safety training courses, such as the Standards of Training, Certification, and Watchkeeping (STCW) certification.
Medical examination: Pass a comprehensive medical examination to confirm that you're fit for duty.
Criminal background check: Clear a criminal background check to guarantee the safety and security of passengers and crew.
Hard worker and people skills: you will be required to work long hours and interact a lot with guests. You will have to be comfortable with people.
By meeting these requirements, you'll be well on your way to starting an exciting and rewarding career on the high seas. No to worry, the successful candidate will get help from the cruise business before the start of their employment in order to get ready for their new careers.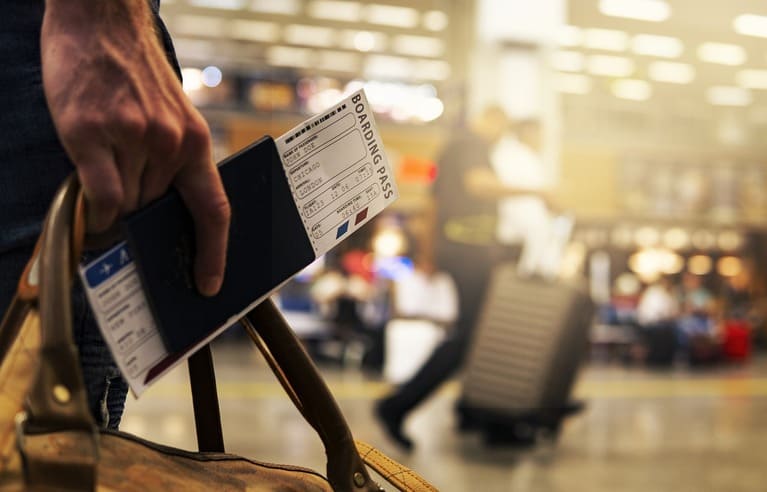 Boarding pass with passport in the hand of a crew member waiting for a flight.
Sailing Through Salaries: How Much Do Cruise Ship Jobs Pay?
Setting Sail with Entry-Level Pay
As you embark on your cruise ship career, it's important to understand the salary expectations for various roles. Entry-level positions, such as galley cleaners, pot washers, and deckhands, typically have lower salaries, starting around $500 per month. However, these roles often come with free accommodations, meals, and the opportunity to travel the world, which can offset the lower pay.
Anchoring Down Higher Pay with Specialized Roles
As you gain experience and move into specialized roles, your earning potential increases. For example, cruise ship doctors can earn over $10,000 per month, while other specialized roles like captains and entertainment directors also command higher salaries.
With dedication and hard work, you can climb the ranks and reap the rewards.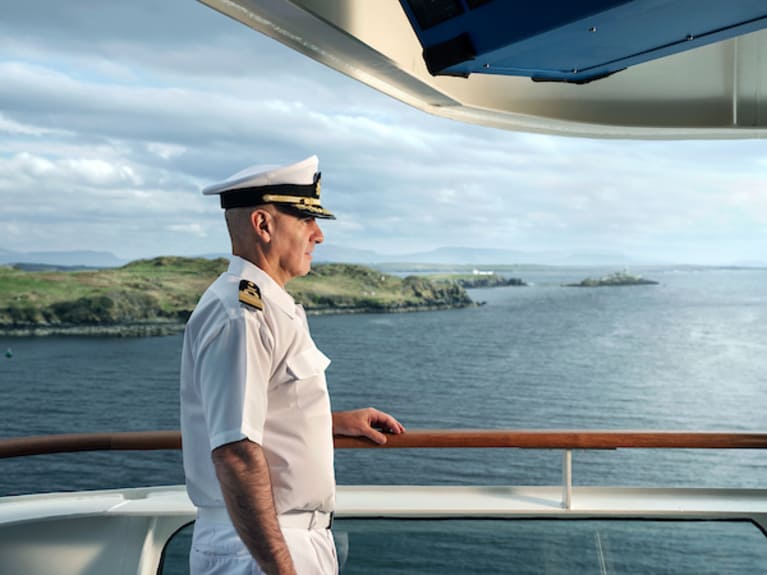 Captain onboard Silver Muse. Silversea Cruises
Cruise line Job Portals:
For South Africa, for all beauty related job (Beauty & Massage Therapists, Fitness Instructor, hairdressers, assistant SPA manager and SPA manager) the SA Cew team can help you finding the right position. They can help all cruise job seekers with CV, STCW and VISA application, and the best is they are an amazing team.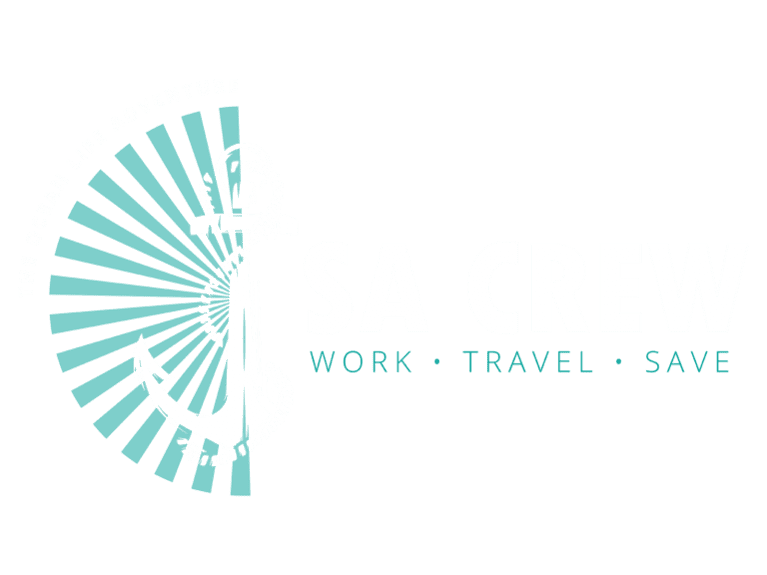 Be aware of SCAM
Some fraudulent recruiters may pose as legitimate companies, promising high-paying positions and benefits, but their actual goal is to swindle money or personal information from unsuspecting job seekers.
To avoid being scammed, do your research and verify the legitimacy of the company and the job posting. Look for official websites, check online reviews, and contact the company directly to confirm the job's details and requirements.
Conclusion
In conclusion, dear aspiring seafarer, we've navigated the vast ocean of cruise ship job opportunities, from entry-level positions for those just starting out, to specialized roles for seasoned professionals.
We've explored the ups and downs of life on board, revealing the perks (travel and new friends) and the challenges (limited time off and long hours) that come with the territory.
And, of course, we've charted a course through the essential requirements needed to embark on this fantastic voyage.
So, as you stand at the helm of your own career adventure, remember that the cruise ship life is a unique, rewarding, and sometimes challenging experience.
But with the right attitude and a willingness to learn, you too can set sail toward a fulfilling and exciting career at sea. Anchors aweigh, future cruise ship star!