The MSC Yacht Club experience is the ultimate luxury. As MSC Cruises state the "Ship within a Ship", brings together upmarket luxury cabins with dedicated facilities for MSC Yacht Club Guests.
The luxury cruises experience features a fine dining private restaurant, dedicated concierge, own personal butler, beautiful MSC Yacht Club Suite, free mini-bar, private swimming pool and personalized shore excursions.
And one of our favourite MSC Yacht club venues, the Top Sail Lounge, where you can enjoy complimentary drinks overlooking the sea while listening to amazing live music.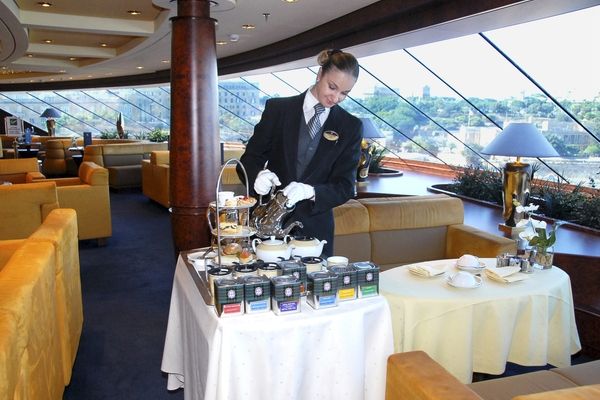 MSC Yacht Club Top Sail Lounge onboard MSC Fantasia
MSC Yacht Club Suites
MSC Yacht club suites are divided into 4 main cabin categories.
All of those suites have standards MSC Yacht Club perks, such as complimentary mini-bar, access to private venues, exclusive sun deck. And a range of in-cabin perks, pillow menu, memory foam mattress, MSC ZOE (selected ships).
Interior Suite
Interior suites are in the inside of the ship, spacious 21m2 (226 sq ft), approximately double as a standard Interior cabin.
Includes a wardrobe, large bathroom, a sitting area and a coffee station.
Ony onboard: MSC Bellissimia, MSC Grandiosa, MSC Meraviglia, MSC Seashore, MSC Seaside, MSC Seaview, MSC Virtuosa, MSC World Europa
Deluxe Suite
The Deluxe Suites are larger than Interior Suites, between 24m2 &28m2 (258 & 301 sq ft).
All Deluxe Suites have a lounge area and access to a private balcony with seating.
Available onboard the entire MSC Cruises fleet.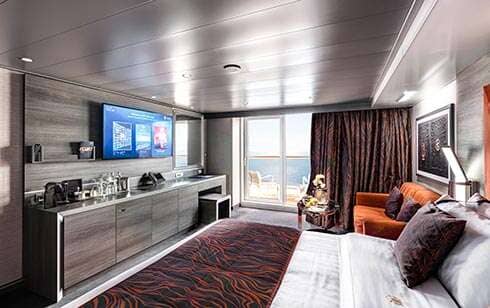 IMG A typical MSC Yacht Club Deluxe Suite
Duplex Suites
The Duplex Suites features 46m2 (500 sqft) of interior space over two levels and a 23m2 (250 sqft) private balcony.
Only available on MSC Bellissima, MSC Grandiosa, MSC Meraviglia, MSC Virtuosa and MSC World Europa
MSC Yacht Club Duplex Suite on MSC Seashore
Duplex with Whirlpool
On MSC World Europa, MSC Cruises added a Duplex Suite with Whirlpool. Similar to the Duplex suite but adding a whirlpool on the private balcony.
Deluxe Grand Suite
The MSC Yacht Club Deluxe Grand Suite is similar to the Deluxe Suite with an additional living space of 5 to 10sq.m. depending on the ship.
Only available on MSC Divina, MSC Fantasia, MSC Preziosa, MSC Seashore and MSC Splendida
Executive & Family Suite
The Family Suite has a completely separate lounge/living area. It doesn't have a private balcony but a panoramic sealed window. The living space is between 40 & 50 sq.m.
Only available on MSC Preziosa, MSC Splendida, MSC Divina and MSC Fantasia.
Royal Suite
The Royal Suite is the second biggest suite in the MSC Cruises fleet. With a livable space of 62m2 (670 ft2) including a separate lounge. A private balcony with a whirlpool and dining table.
Available onboard the entire MSC Cruises fleet.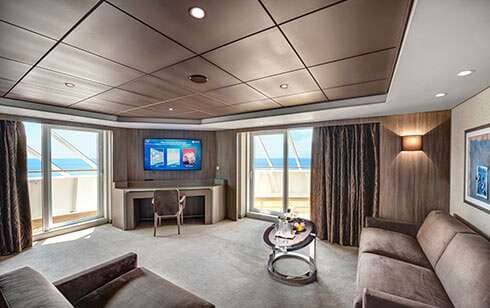 Owner's Suite
The new owner's suite is even bigger than the Royal Suite. With a living space of 104 m2 (1,200 ft2) and a huge balcony. On top of the Royal suite setup, the Owner's Suite offers its own bar and an inside dining area.
Only available on MSC Seashore and MSC World Europa
Exclusive Space
MSC Yacht Club members have access to specific dedicated private facilities, within the ship.
A dedicated restaurant, lounge, sun deck and pool are all part of those.
IMG MSC Yacht Club exclusive deck.
The Top Sail Lounge offers high tea, complimentary drinks, gourmet finger food and dessert. It also offers live music every evening with a spectacular view of the sea in front of the ship.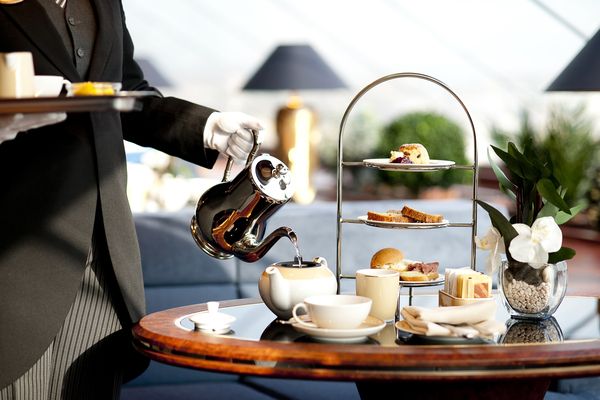 IMG Le Muse, MSC Yacht Club Amazing restaurants on board MSC Divina.
The MSC Yacht Club restaurant offers gourmet fine dining and a great selection of drinks. You can enjoy a meal anytime during restaurants hours.
Part of the MSC Yacht club perks is complimentary access to a dedicated pool area, with a bar & grill, whirlpool and sundeck.
Part of the perks is also free access to MSC Aurea Spa Thermal Suite. The Spa has dedicated health and beauty treatments rooms for Yacht Club clients.
MSC Yacht club offers a real luxury experience with peace & quiet, privacy and dedicated service.
Personalized Service
One of the biggest perks of the Yacht club is the personalized service.
The dedicated concierge can help you design your own private excursions or simply book shows and specialty restaurants for your convenience.
The personal butler will escort you to and from the ship, help you unpack, and look after your room service.
All MSC's Yacht Club perks
The list of exclusive features that are included when guests purchase a cabin within the MSC Yacht Club category.
General perks onboard
Free internet package (2 devices browse package)

Complimentary access to MSC Aurea Spa Thermal Suite

MSC For Me Wristband (when available)

Complimentary drinks package valid on the entire ship & Ocean Cay

Extra MSC Voyagers Club points
Before your board
Priority boarding

Priority check-in & out

Priority disembarkation for shore excursions

Private lounge in most terminals

Butler service in the terminal facility to help with the proceedings
Private venues; Restaurants & bar
Unlimited drinks in the Yacht Club area

Access to the Elegant Top Sail Lounge

Exclusive access to the MSC Yacht Club restaurant (Private dining room with gourmet cuisine)
One Pool Deck
Exclusive pool area

Pool bar

Hot Tubs

Sun deck
Form the reception desk:
Personal advice & Tailor-made excursions

24 hours butler service

Private shopping experience
In-Cabin extra features
24 hours room service

Egyptian cotton sheets bedding

Complimentary mini-bar

Slippers & Bathrobes
What is our preferred perks included in the Yacht Club?
Here is a snapshot of what we prefer about the Yacht club experience.
Priority Boarding
It is great not to have to wait in any queue when boarding or disembarking the ship. The priority embarkation, check-in and check-out make the experience seamless.
Privacy and fewer people
A lot of the comments we get is the resistance to cruise on big ships due to the crowd. Been part of the MSC Yacht Club Members take care of this.
The Yacht Club is a great way to combine the advantage of a large resort ship (entertainment & speciality restaurants) with the perks of privacy of a small luxury ship (like the one pool, private restaurant and dedicated butler service)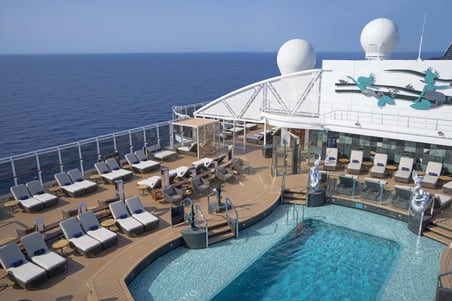 IMG: One Pool, with grill bar and chairs
Private experiences
From the concierge tailoring your private excursions in any of the cruise destinations to the 24 hours butler service.
MSC Yach club really brings the travellers to experience what luxury cruise is all about.
You can even have your own private jewellery shopping experience in the comfort of your own suite.
Which MSC Cruises ships have MSC Yacht Club?
The Lirica class and Musica class are the only classes and ships that do not have MSC Yacht Club. MSC Yacht Club is available on:
Fantasia class ships; MSC Preziosa, MSC Divina, MSC Splendida and Fantasia

Seaside Class cruise ships; MSC Seaview and MSC Seaside

Meraviglia Class ships; MSC Bellissima and MSC Meraviglia

Meraviglia Plus Class ships; MSC Grandiosa and MSC Virtuosa

Seaside Evo Class cruise ship; MSC Seashore

World Class ship; MSC World Europa

MSC Seaview in Northern Europe
So is the MSC Yacht Club Worth it?
MSC Yacht Club is absolutely worth it. For the extra fee, you get a full luxury cruise experience, with complimentary drinks, a private pool, a butler and concierge service.
So if you like getting pampered while cruising on a large ship, this is definitely the option for you.

Balinese massage in the MSC Aurea Spa
FAQ
How do you become an MSC Yacht Club member?
MSC Yacht club is not a "club" as such, but as MSC Cruises advertise it a "ship within a ship". A set of cabin categories that have exclusive access to a private area within the ship.
Does MSC Yacht Club include drinks?
Guest booked in any of the Yacht Club cabins will enjoy unlimited drinks in any of the Yacht Club areas and your mini-bar.
In addition, the experience comes with a drink package that let cruisers enjoy free drinks on board the ship, including in the speciality restaurants.
Which beach is exclusive to MSC Yacht Club guests on Ocean Cay MSC Marine Reserve?
MSC Cruises is one of the few cruise lines that extend the onboard perks to its exclusive island.
Ocean House Beach is reserved for Yacht Club members, with its own beach, restaurant and bar. It replicates the onboard experience.
You can also rent a Beachfront or Ocean View cabanas that will give you even more comfort.