MSC dominates is the leader in the South African cruise market with at least one ship arriving every year for the season starting in October and ending in April. The cruises sail the South African coastline – visiting destinations like Cape Town, Walvis Bay, Luderitz, in the Atlantic Ocean; Durban, Port Elizabeth, Pomene, Portuguese Islands, Maputo, Mauritius, and Reunion in the Indian Ocean.
MSC Cruise is often the first exposure many South Africans will have to the cruising lifestyle... and everyone is hooked. They return to enjoy the newest itineraries offered by MSC Cruise from South Africa to Mozambique or an adventurous cruise in the Med or Caribbean!
For first-timers, cruising can be overwhelming ... but these tips will be helpful.

Booking Tips
Get the latest MSC cruise deals and offers when you sign up for our newsletter.
Don't overpay for a cruise. MSC Cruise always offers great deals, so you should never pay full price for one of their cruises!
Children sail almost free! Children aged 17 and under sail free on local South African itineraries. On international cruises, children under 12 will sail free, while those from 12 to 17 receive reduced rates. When children travel free, you'll only pay taxes and port charges with these deals.
Book a balcony cabin to enjoy peace, quiet, and an unobstructed view of the ocean.
If you want a more peaceful cabin experience, book a cabin in the middle of the vessel. You will be less prone to motion sickness and most of these cabins are also quieter as they are situated further from public areas.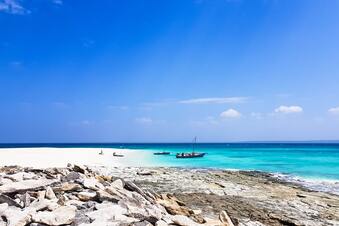 Packing Tips
On a Mozambique cruise, you are leaving South Africa and entering a foreign country. Even if it is by sea, the same rules apply as if you were flying internationally.
When packing for your cruise holiday, it can be tempting to bring as much clothing and accessories as you can. However, this is not always the best idea because space in your cabin is often at a premium.
Remember that most of your time will likely be spent in beachwear whilst onboard so there's no need to pack an extensive wardrobe!
Like airline policy, MSC allows passengers to check in one bag on a cruise of four nights or less.
Your valuables should be packed in your carry-on luggage, not checked-in. These include airline tickets, travel documents, cruise documentation, eyewear, camera, laptop, and medication that you need on hand. All other items are better left at home or to make more space for souvenirs!
You will only receive your suitcase later in the afternoon of the embarkation day. It will also be left outside your cabin for collection by the ship crew by the latest 2 am on the morning of disembarkation. Make sure that you have enough space in your carry-on for the clothes you need the first afternoon and the items you require at night, for example, your pajamas, toiletries, etc.
If you are traveling with children (under 18), pack their individual Unabridged Birth Certificate.
A camera or a mobile phone with a great camera is a must to pack for your cruise. Don't forget to take some extra memory cards and batteries for your charger.
The cruise ship will provide basic body wash and shampoo in your cabin. You will still need to pack your toothbrush, day/night cream, makeup ... and all the other toiletries that you require.
A good sunscreen is essential for days on deck and on the beach! Remember to reapply often, especially if you've been swimming. The sun can be intense and unrelenting all day long while out at sea so it's important that your skin stays hydrated no matter what the time of year or how much water you may have splashed yourself with. Don't let a bad burn ruin an otherwise dream holiday getaway in paradise!
If you're worried about seasickness, pack motion sickness tablets or wrist bands. Tablets such as Stugeron are recommended and should be taken one day before departure to ensure the medication is in your system; be aware that they can cause drowsiness!
Ensure that you have all of your medication, as even if there is a doctor on board, the cruise line can not guarantee that the medical centre has what you need. Over the counter medication may be found in the onboard shops.
When cruising, it is always best to dress in layers as you will find yourself switching from the heat outside to cooler areas indoors. In terms of clothing, essential items are t-shirts, shorts, casual skirts, sundresses and blouses.
Most of the itineraries will feature some theme parties. A standard South African to Portuguese Island four-night cruise will feature; sail away party on the first afternoon; a gala cocktail on the second night and a tropical party on the third night and finally the fourth night with a general disco vibe. Details of the parties and themes are available on your daily program.

For those enjoying sports during their cruise, pack your own gym cloth and enjoy the fitness centre. Facilities include treadmills, weights, stretching mats and a variety of different classes.
One of the most important items you'll need on your cruise is a swimsuit which you will use every day. You will want to enjoy the pool as soon as you get onboard so pack your swimming costume in your hand luggage and not in your checked luggage.
Choosing the right shoes for your vacation should be a breeze if you follow these three tips.
First, pack sandals or flip flops to wear while relaxing at the beach and around town during the daytime.

Second, bring sneakers (or other comfortable walking shoes) in case you want to go on an excursion that requires more than just strolling along a boardwalk or the ship.

And lastly, don't forget formal footwear such as heels or flats so you'll have something appropriate for dinner out with friends after long hours of sunning yourself by the pool!
On a cruise to Mozambique, you will normally only have one formal night which will be on the second night. Formal outfits should be either a cocktail dress or formal gown for ladies and for the men, tuxedo, dinner jacket or dark suit and tie. It is optional to dress up or not, but it does make things so much more special.
You will find the suggested evening dress code in the bottom left corner of the daily program. You have 4 options:
Theme party: an outfit for the theme - eg white party / tropical party

Casual: ladies - dress, sport "chic" or trouser suit, gents - t-shirt, jeans or trousers

Informal: ladies - informal dress or trousers & blouse, gents - jacket and trousers (no jeans)

Elegant: ladies - dressy outfit, formal gown or cocktail dress. Gents - tuxedo, dinner jacket or dark suit with tie.

No bikinis, bathrobes, bare feet or tank tops are allowed at indoor restaurants onboard
On some longer cruises, such as grand voyages you will need more than one elegant evening outfit. Ask your travel agent or MSC if you are not sure.
A couple more packing items that you should consider:
A good book for relaxing with at the beach, on deck or on your balcony

Empty soft bag to take to the beach

Bring a lanyard for your cruise card

Don't bring towels, you will find some in your cabin that you can take to the beach with you.
And don't forget to pack some underwear and socks...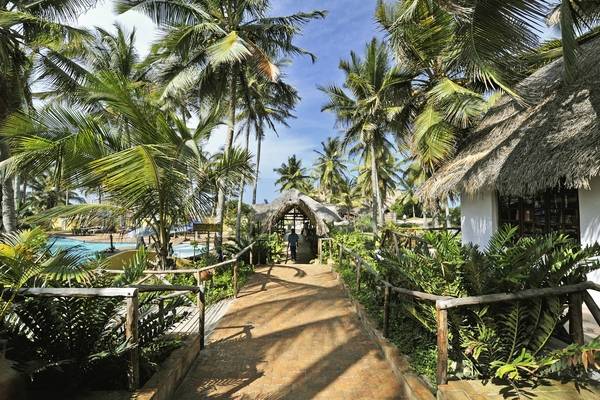 Transport to the port tips
Flying into Durban? Book an MSC shuttle beforehand! Buses depart every 45 minutes to an hour, until 3 hours before departure. The process is efficient and the meeting point is opposite the Mug & Bean at Durban King Shaka Airport.
If you are driving to the Durban cruise terminal, parking is available but limited to 300 parking bays. The cost is R150 per day per car.
If you are getting dropped off, be ready to sit in the car in a long queue. With over 2,500 passengers arriving at the cruise terminal at the same time, so be prepared for some congestion.
Note: with the new COVID-19 protocols, MSC Cruise has announced that all passengers will be allocated strict embarkation times.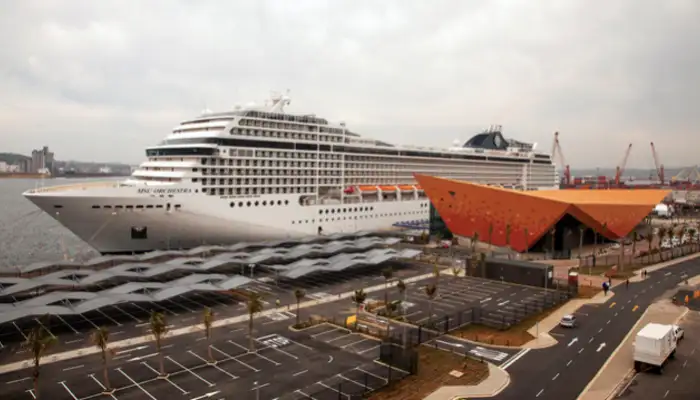 Checking Process
Make sure you get to the port during your allocated time slot, not before and not after!
During the checking process, you will go through a swap test to check your COVID-19 status.
Only when the test comes back negative, will you be allowed to board.
At checking, you will also get your cruise card, then proceed to a security check and immigration.
Make sure you keep your passport with you in your carry-on luggage.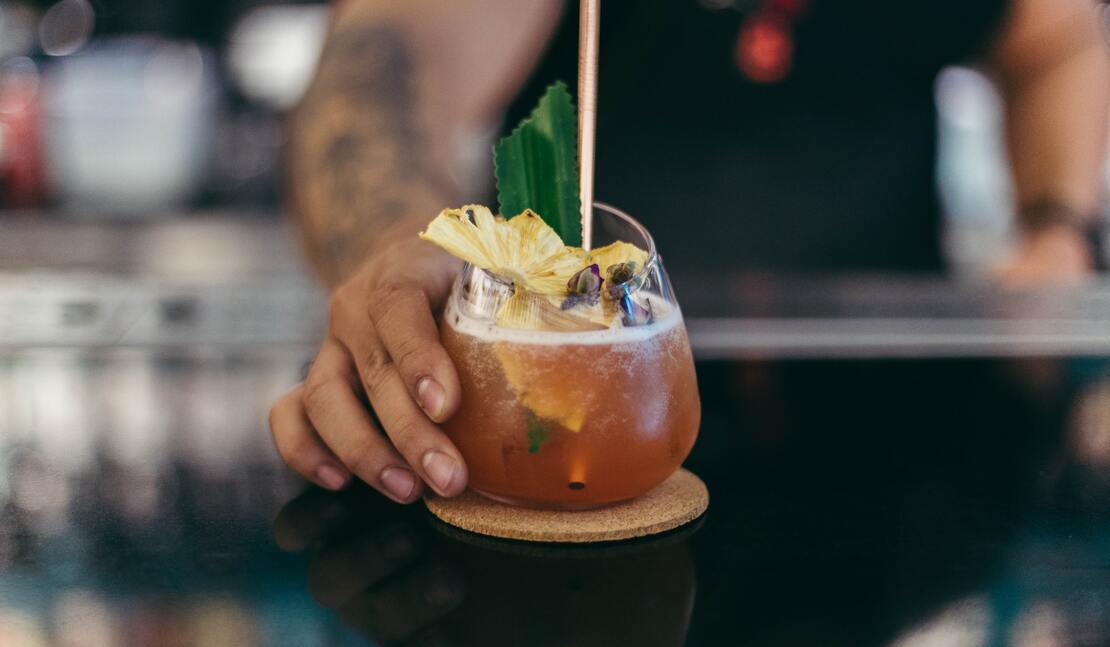 On-Board tips
All major cruise ships are designed the same, with two hallways, on each side of the vessel surrounded by cabins.
Each hallway covers the entire length of the ship from back to front with elevators and stairs.
As soon as you board, study a map of the vessel and start locating your cabin and the various areas where you will be spending time.
The crew will let you know when your cabin is ready. This may take some time after you arrive on board to allow for cleaning.
The next milestone on board will be the safety drill. This must take place before the vessel leaves the port. You will find your muster station on your cruise card as well as behind your cabin door. You will need to bring your life jacket to the drill(you will find it in the cupboard).
You should keep your cruise card with you at all times, as it is the only means to get on and off the ship as well as paying for all your spending onboard.
A sunrise onboard is one of the most beautiful events that Mother Nature has to offer. Take a stroll in the early morning on the top deck and you will be amazed at the view of the sun rising over the sea.
Keep an eye out for specials in the daily program. Every day, the various ships departments will advertise promotions or sales. On the second day of our last cruise, the SPA offered 40% off on most of the treatments. The shops will also offer special prices during the entire cruise, with pop-up stands. Watch out for them.
Stay connected while sailing by signing up for one of the various internet packages. Ensure you turn off your data connection or switch your phone to airplane mode after boarding. You don't want those background apps running and eating through your data allowance!
After boarding your cruise, head to the kiosk (Cruise Card Activation Point) to link your credit card, debit card or prepaid card for all onboard expenses.
Avoid a situation where you run out of money or where you have completely exhausted your funds. Ensure that you always keep a good eye on your cruise card balance.
The evening theatre shows are great. With the new COVID-19 updated regulations, you will have to book your show beforehand to avoid an excess of passengers for the same time.
Grab a drink or an ice cream and enjoy the afternoon entertainment around the pool, it is a lot of fun!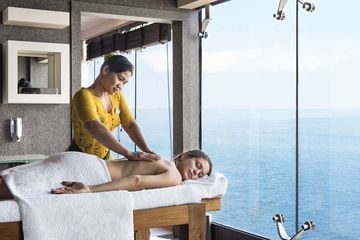 A couple more onboard tips:
Spend 5 minutes reading the daily program. Most questions are well addressed.

Insert your keycard in the designated slot. This will switch the light on in your room

All cabins have a hairdryer inside the drawer under your mirror.

The bar will always have a cocktail special of the day (+- $4.00). This is a great way to sharpen your cocktail knowledge.
Treat yourselves to an exotic cocktail in the evening before dinner, chilling whilst you enjoy wonderful singers in the various piano bars.
Food & Drink tips
A must-do is to order breakfast, at least once, from your room every day by filling out the form located in your room and hanging it on your door handle before 2:00 am.
When ordering in-room breakfast you have the choice:
Choose your time slot - in 15 minutes increments from 07:30 to 10:00

Choices of hot beverages - coffee, hot chocolate and tea

Milk - hot or cold milk

Juices - Orange or Tropical fruit juice

Yoghurt - Fruit, plain and low-fat

Spreads - Honey, Jams & marmalades, Butter or Margarine

Cereals - Muesli, Rice Crispies or Corn Flakes

Selection of Pastries - Croissant, Pain au chocolate, Danish, chocolate Muffin

Bread - white, rye bread, wholemeal bread, toasted white bread
It is free, so why not enjoy it!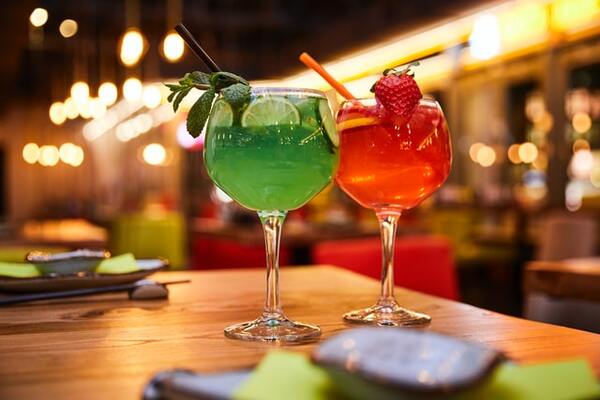 In order to stay hydrated while on vacation, consume plenty of water and avoid alcoholic beverages altogether or limit yourself to just one drink per day. Alcohol dehydrates your body much faster than plain old H2O so be sure not to overdo it! A bad hangover can ruin your trip! Having a ball in the sun all day sounds amazing but have much more fun by staying sober and hydrated.
Filtered tap water is freely available at the buffet all day.
Consider buying pre-purchased drinks voucher packages for your cruise. You can save at least 15% on the price of your drinks.
If you are travelling with children you can give them each a booklet to use themselves. The standard alcohol package gives you 18 vouchers that can be used for any drinks up to (add the price here), which means you can drink anything on this voucher from cold drinks to cocktails. This does not mean you get to consume as much as you want for the cruise -but it is a good deal if you like cocktails!
There is a large variety of food available onboard, from Indian curry (prepared by Indian chefs), pizza, pasta and any European dish you can imagine.
You are never limited in your order, so if you want three starters and 2 desserts, why not. The waiters prefer it when people order their full choice all at once, as it makes their life much easier.
In the morning and at lunch, the buffet area is often packed. One of the main restaurants will be open for both breakfast and lunch - so if you prefer a calm atmosphere, the same buffet is available here.
If you get hungry between meals, you can snack onboard 20 hours a day. In the morning the various bars will give you pastries and from midday pizza and burgers are available.
Tendering Tip
When you get to Portuguese Island or Pomene, you will be taken to shore on a tender boat.
The tender will run as soon as the crew are ready (can vary from 06:30 to 09:00), with the last transfer from the ship to shore around midday. The first transfer from the island to the vessel starts for Portuguese Island around 12:30 and Pomene around 13:30.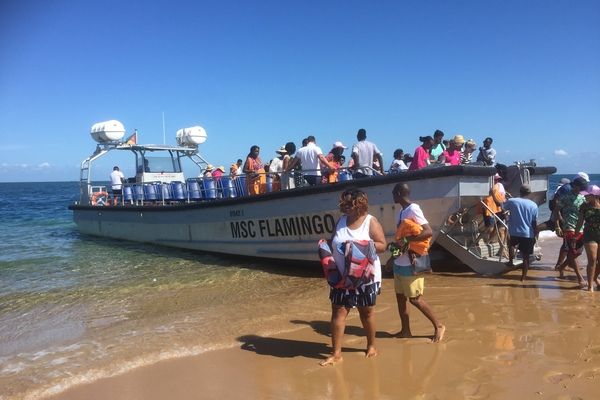 You will find the latest times for the tender transfer in the Daily Program the night before. The transfers are subject to change by the ships at any time depending on weather and tide.
The tender ticket will be distributed in the morning at one of the lounges 30 minutes to an hour before the first tender starts. Fill in the indemnity form that will be distributed in your cabin beforehand to save time.
Note: for the updated COVID related protocols for the tendering process, please refer to - Hupla page
Portuguese Island tips
Portuguese Island is a stunning remote Island, in the Bay of Maputo just off Inhaca.
As it is a remote Island, the only items available will be what the ship provides and a local market, where you can buy Mozambican artifacts.
When you get off your tender, walk left, away from the main beach, for about 10 minutes and you will enjoy the beach for yourself.
Lunch is served on the Island (you can eat on board if you wish) around midday and you can also enjoy a range of cocktails and drinks.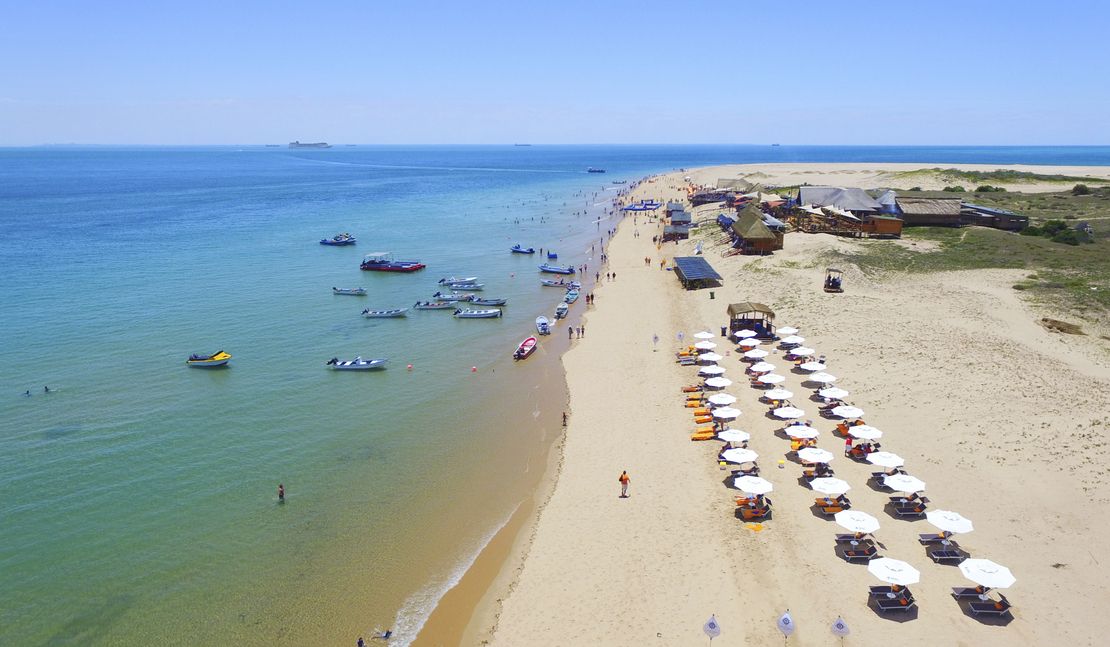 For those seeking some comfort, you can rent a Beach lounge for the day, or upgrade to Exclusive Beach Lounge, which gives you access to an exclusive area with some complimentary drinks and it will include a priority Disembarkation voucher ( the prices are all per person).
The excursion desk offers a range of excursions that you can enjoy around the Island. The most popular ones are the Inhaca Island Eco tour, a simple Transfer to Inhaca, or a Seafood Lunch at Calor Tropical Restaurant in the heart of the Inhaca Village.
You can also rent Masks & Snorkel gear, Stand up Paddle Boards, floating mats, and Sea Kayaks.
Additional FAQ for Portuguese Island:
The drinks vouchers can be used on Portuguese Island

No cash is accepted. All purchases will be charged to your cruise card (excluding the market)

You will find towels in your room to be used on the Island.
Pomene tips
The tender transfer to Pomene is slightly longer than the one on Portuguese Island and is rougher. This is because the ship anchors deeper in the ocean than for Portuguese Island.
Pomene is a Presque Presque-isle. When you disembark the tender boat, you are free to explore the island.
All activities are held around the pool area, including the restaurant and some of the bars.

Similar to Portugues Island, you will walk through a local craft market before getting to the main area. Please note that the vendors only accept cash. Purchasing a few items is a great way to support the extremely impoverished locals.
The two most popular excursions on Pomene are:
Pomene Hotel Ruins transfer - you will get to visit the old Pomene Hotel ruins (circa 1974) and enjoy the blowholes.

Quadbiking to the old Hotel is a great way to enjoy Pomene Island.
MSC Cruises also offers other types of excursions on Pomene; a visit to Mangrove Nature reserve; deep-sea fishing experiences and snorkeling. For the more adventurous, the estuary tubing is perfect. You can enjoy a ride onboard a tube in the estuary of Pomene.
You can rent stand-up paddleboard, pedalo, kayak, and snorkel gears to maximize your time in the warm water.
Disembarkation tips
The ship will get to Durban harbour around 06:00, depending on the weather.
From there, local South African authorities will clear the vessel, and then passengers will begin to disembark.
If you have very light suitcases and want to disembark at your own convenience, with your own suitcases, the option of "Self Assist" disembarkation is available. Inform the reception the night before, if you would like this option. Note that there are a limited amount of Self Assist spots available.
What is the procedure for normal disembarkation:
Settling your Bill
Payment by credit card - a copy of your bill will be dropped off in your cabin. If you have no issues with the statement nothing further needs to be done on your side. On the day of disembarkation, all items purchased will be charged to your credit card.

Payment by cash or debit card - in order to pay for your onboard expenses, make sure to load your account with cash. This can be done at the Activation Points Kiosk on deck 7. It is also there that you will get your cashback if you have not used it all. No need to go to the reception.

Note: all amounts that you get back will be in USD. When you register your credit card, the bank will hold $150 (ZAR 2500) on your card. Make sure you have at least that amount on your card otherwise it will decline. What you have not spent will be released within 15 to 20 working days.
The night before:
Check if the disembarkation time (according to your coloured luggage) suits you. If not, ask the front desk if they can give you another colour.

Write your name and surname on the coloured luggage labels that are provided in your cabin.

Detach the end of the luggage label where you have the number and stick it to the back of your cruise card.

Detach the round sticker and stick it to your clothing to show the staff that you have the right dis-embarkation colour code.

The night before departure, leave your suitcase outside your cabin, before 24h00.
Don't forget to keep all essential items with you, especially your passport, cruise card, and medicine.
On the morning of disembarkation
You will have to be out of your cabin by 7:00 am

You can drop your hand luggage on deck 6 from 06:00 - check with lounge/bar in the daily program.

If you require any help to disembark, you can wait on deck 5 in a designated area where an MSC crew member will assist you.

Enjoy breakfast and coffee until your luggage tag colour is called.

If Security have confiscated any of your items, pick them up on deck 5 before you leave

Then step off the ship - don't forget your cruise card

Go through immigration with your passport

Collect your suitcases in the designated area
Notes: Breakfast in the cabin is not available on disembarkation day. The main restaurant normally serves breakfast from 06:00 to 08:00. The self-service restaurant is open from 05:00.
We hope this article has been helpful for you and that we've answered some of your questions for your upcoming MSC holiday. If not, feel free to reach out directly with any other questions you may have or visit our FAQ.
Some of the most Frequently Asked Questions:
How do I know when I have to leave the ship and where to go?
On the daily program that will be dropped with you the night before, you will get a table with the relevant colour, meeting time and your meeting point. The announcement of which colour is ready for disembarkation will only be made in the waiting area.
Do I need a luggage label on my hand luggage?
No. You are carrying this on yourself, and you don't need a label on your hand luggage.
Which MSC Ship is coming to South Africa?
For the 2021/2022 season, after the cancellation of the MSC Lirica, the MSC Musica will be the only MSC ship that will sail in the Indian Ocean during the 2021/2022 South African season.
Are gratuities included on MSC Cruise?
Yes, on local cruises all gratuities charges are included in the price for the duration of your cruise. You are welcome to give extra if you wish. to . A kind gesture, if you are happy with the service of a specific crew member, is to mention them by name in the comment questionnaire after the cruise as they might get some time off with a good review.