MSC Cruises exclusive private island opened to tourists in 2020. The cruise line has made a conscious effort to develop the private island in the most eco-friendly way. The island is part of the Bimini island chain on the western side of the Bahamas. It is just 65-miles from Miami.
Ocean Cay Island features some amazing activities mostly around water sports where you can swim among tropical fish, enjoy lying in the sun on Sunset Beach - one of 8 beaches - or drink a cocktail with your feet in the sand. What more could you want on a cruise vacation?
Ocean Cay is MSC's the Third "private" resort/island after the Portuguese Island and Pomene in Mozambique.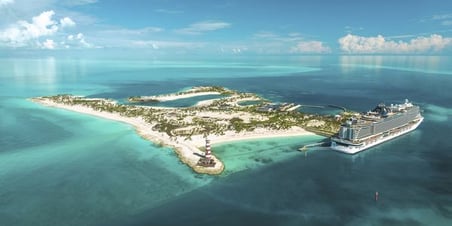 How big is Ocean Cay MSC Marine Reserve?
The Island covers 95 acres (38.5 hectares) with 1.5 miles of pristine beachfront. It is comparable to RCI's Coco Cay private island experience, which covers 125 acres on the former Little Stirrup Cay in Berry Island archipelago.
It's one of the world's largest island developments by any cruise company and is the only marine reserve experience on its own private island.

How can I visit Ocean Cay?
Only MSC Cruises' guests can visit Ocean Cay MSC Marine Reserve as it is a privately owned island.
How much does a day at Ocean Cay cost?
A day at Ocean Cay is included in the price of your MSC Cruises itinerary. The experience and the includes are the same as onboard - most "standards" are included and drinks are not unless you have a drinks package.
For those seeking something extra, beach chairs, private bungalows, cabanas, snorkelling equipment, and paddles for paddleboarding can be rented for a fee.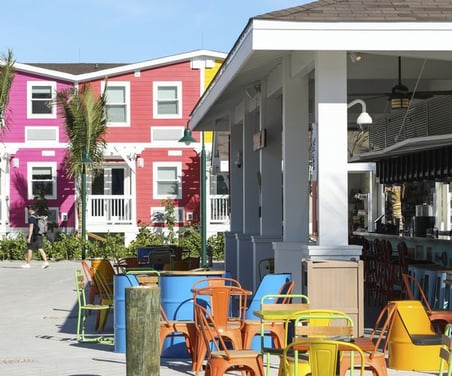 Food and drink on Ocean Cay
There are currently four areas serving food and drinks to cruise passengers. In the evening you can book a Sunset Evening Beach Party for a picnic to dine under the stars.
For those passengers that are wanting to stay on board, the ship will still be operating but with limited facilities. The onboard casino will still remain open throughout the day as it is still in international waters.
Evening entertainment
Nightlife includes themed shows and fire pits on the beach and a Sunset Champagne Cruise. There is also a Luna Libre Party and picnic.
If you can escape the main areas, look towards the dark sky for a glimpse of a "green flash" as the sun dips below the cloudless horizon. You can see the density of the stars in the unpolluted skies above the desert island resort. You'll be amazed at the number of stars you see when on Ocean Cay MSC Marine Reserve.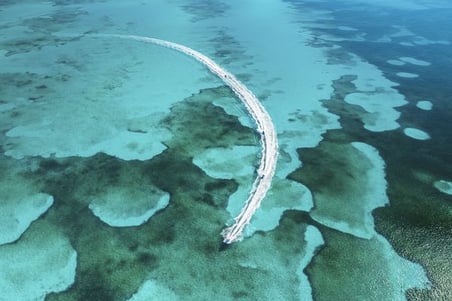 Ocean Cay is actually a marine reserve.
MSC took charge of Ocean Cay and undertook an amazing rehabilitation project to restore its once pristine waters.
The team of marine biologists and scientists revitalized the stripped ocean beds, encouraging endangered corals to thrive.
The restoration has attracted marine life, colorful fish, and other species back to the area.
MSC still retains the services of a team of experts and biologists to maintain their services on the island.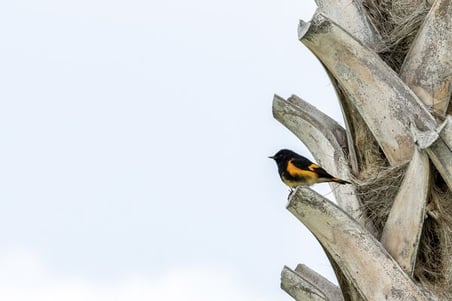 What about Yacht Club Guests?
Yacht Club Guests will not be disappointed - they have a designated private beach with a club called Ocean House.
The setup includes a special food truck, a shaded outdoor area, an indoor bar, and a custom lunch menu.
Climb the Lighthouse ($)
There are three levels and 165 steps to climb the spiral staircase inside the red and white lighthouse.
There's an amazing viewing platform with far-reaching, 360-degree views of the island.
Your guide will provide some interesting facts about the island during the 30-minute tour. It's a fun experience that you will never forget!

Excursions from MSC Ocean Cay
Ocean Cay offers boat trips, fishing charters, and romantic sunset cruises. You can book excursions ahead of time online or at the Guest Services desk onboard.
All activities can be arranged with a fee being charged to your stateroom account.
Bahamian cultural experiences
The Bahamas has its own indigenous culture, skills, and crafts. Dancers wear painted masks and colorful costumes to perform their cultural dances.
Music comes from familiar instruments like cowbells and drums made from goatskin leather. Watch the colorful Junkanoo Parade, browse shops in the authentic Bahamian Village for handmade souvenirs, and take a bit of time to watch live local music.
Which MSC ships will call at Ocean Cay?
During 2022/2023 cruise season, four MSC ships will spend a full day at Ocean Cay.
Visiting ships will stay docked all day at the pier from arrival to midnight. The ships are MSC Meraviglia, MSC Seaside, MSC Divina and MSC Armonia.
The cruise itineraries stopping at Ocean Cay MSC Marine Reserve are cruises between 3 and 11 nights long, with most being part of a 7-night cruise.
Why not say "I do!"
Staff will organize legal paperwork and you can choose from one of the all-inclusive wedding packages. Couples can also renew their vows in a specially built Wedding Cabana on Ocean Cay overlooking the sea.
Spa treatments at Ocean Cay
The Spa has private cabanas for treatments in the fresh sea air, where you can enjoy massages and other therapies.
It also has fitness regimes and relaxation classes to help you chill out on the island.
A lot of loungers and cabins
Every beach has enough loungers for everyone and then some. Cabanas are available for rent and offer shade, comfortable seating, and a ceiling fan. Even when the island was at its busiest in the middle of the day, there were still some available for use.
There are massage cabanas on the spa portion of the island, where you can get a 30-minute or longer massage while breathing in the ocean air. The spa has ambient music playing to help with that relaxation.
The rest of the island has more upbeat music playing through the speakers that are all around the island, about 20 feet apart from each other.
Access to food and beverages
MSC brought in food trucks to make food more accessible to guests. Food trucks are in addition to the Seakers Food Court.
The food trucks have hotdogs, hamburgers, and fries, as well as other specialty items. There are also bars throughout the island, including at the base of the lighthouse.
Anything that is not included in your cruise can be purchased with your MSC cruise card.
Calm and spacious lagoons
Ocean Cay offers a gigantic swimming area that is never deeper than 9 feet, therefore perfect for families. The Seakers Family Cove is the smaller lagoon that is specifically for children of all ages.
The calm waters in the lagoons are serene, even when waves are crashing into the south end of the island.
There is no pool on Ocean Cay, but this is a testament to the design of the lagoon at the base of the island's blueprint.
2 miles of beaches
Lighthouse Bay and Bimini Beach are the main beaches on the island. South Beach offers water sports rentals in Ocean Cay Lagoon. North Beach is a longer walk than South Beach, so it's less crowded than other beaches.
MSC offers electric trams throughout the island so you can exercise your feet at the beach on your cruise.

What about families?
Seakers Family Cove is the dedicated family-friendly beach on the island. With a kid's restaurant, family-friendly facilities, and a play area, Seakers Cove is where families with kids should head.
Family Lagoon Beach is a special lagoon area with shallow water for safely splashing and playing in the sun. For lovers of ice cream, the Smiling Fish will delight you, with a range of flavours.
Watersports ($)
A day at Ocean Cay is all about watersports. You can enjoy sea kayaking, scenic boat trips, deep-sea fishing, glass-bottom boat rides, stand-up paddleboarding or inflatable raft tours for above water activities.
For below water, scuba diving and snorkeling will delight anyone seeking beautiful marine life.

FAQ on Ocean Cay MSC Marine Reserve
Where is MSC Ocean Cay private island?
Ocean Cay MSC Marine reserve is located in the Western Bahamas part of the Bimini group of islands, located about 80km (50miles) from Florida.
Bimini Island was famous as Ernest Hemingway's retreat, who first visited the Caribbean island in 1935.
Is Ocean Cay MSC Marine Reserve open to the public?
This small inhabited island in the Caribbean was bought by MSC Cruises in 2015. MSC negotiated with the Bahamas Government to build an exclusive cruise port in the Caribbean. The cruise destination was developed by MSC only for MSC Cruises guests on their Caribbean itineraries.
Is Ocean Cay man-made?
Ocean Cay Island was built by the Dillingham Corporations in the 1960s by dredging and used to mine Aragonite sand. The island was rehabilitated into a private cruise destination and marine reserve by MSC Cruises in 2019 at a cost of USD 200 million.
Does Ocean Cay Staff live on the Island?
MSC Cruises have built a staff village on the Island. Ocean Cay Staff stays on the island for the full length of their contract.
Can you stay in Ocean Cay Bahamas?
MSC Cruises' private island doesn't have any overnight sleeping facilities for guests as they are brought in by ship. When they are finished enjoying the island, guests go back to the ship to spend the night on board.