Complete Guide to MSC Lirica Cruise Ship with prices, cabin and more
One of the MSC ships refurbished in the 2015 Renaissance Programme, the MSC Lirica offers traditional cruise ship comfort, with wood, marble and brass finishes throughout the vessel.
Built-in March 2003 by Les Chantiers de L'Atlantique (France) and refurbished in 2015, she carries 1,984 Passengers (in double occupancy), 721 crew and is 65,875 tons.
Her space ratio is 33.3 and passenger/crew ratio is 2.7, which are considered as good for a mid-size ship.
She is owned by MSC Cruises and is sister to MSC Opera, MSC Sinfonia and MSC Armonia.
There is plenty of space to spread out and find a spot in the sun to enjoy a cocktail or a quiet coffee. Cool down in the pool or Doremi Spray Park before heading to the Broadway Theatre to enjoy a show.
Our family had a wonderful time on this cruise and we would highly recommend it to anyone looking for a relaxing, fun getaway. The ship was beautiful and had everything we needed. The staff was incredibly friendly and helpful, and the food was delicious. We can't wait to go on another cruise with MSC Lirica!
Bella M
December 2020 from Dubai
Cabins on MSC Lirica
MSC Lirica features 132 suites with a private balcony and a couch; 94 balcony cabins; 2 family cabins; 401 ocean view cabins; 350 inside cabins and 4 wheelchair-accessible cabins.
All cabins come with a queen-size bed that can be converted to two single beds on request, bedside tables, a flat-screen TV, a safe, hairdryer, a private bathroom with shower & toilet, and a spaciously sized closet.
Inside Cabin (no window)
350 Interior Cabins (≈13 m2)
A double bed can convert into two singles
Available in Bella and Fantastica Experiences
Cabins are available on Deck 7 (Scarlatti), Deck 8 (Paganini), Deck 9 (Albinoni) and Deck 10 (Bellini).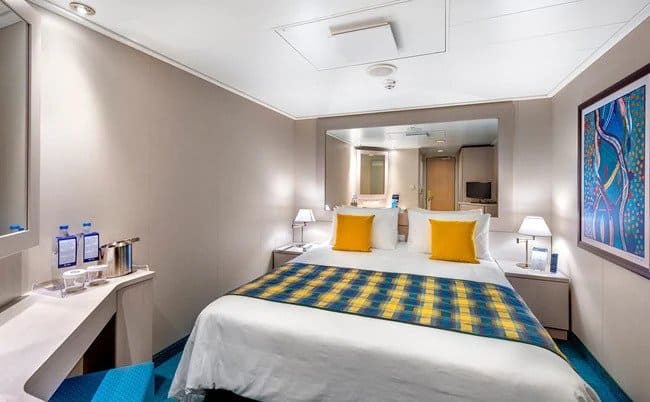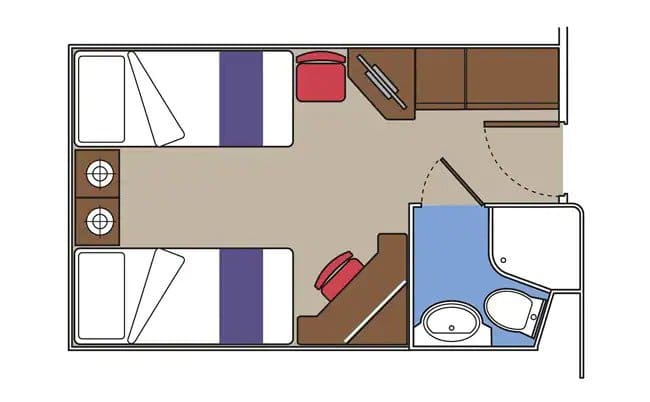 Outside Cabin (window)
401 Ocean View Cabins (from ≈13 m2 to ≈16 m2)
Double bed can convert into two singles
Available on Bella and Fantastica Experiences
Available on Deck 7 (Scarlatti), deck 8 (Paganini), deck 9 (Albinoni) and deck 10 (Bellini).
Note: 65 cabins are obstructed ocean view cabins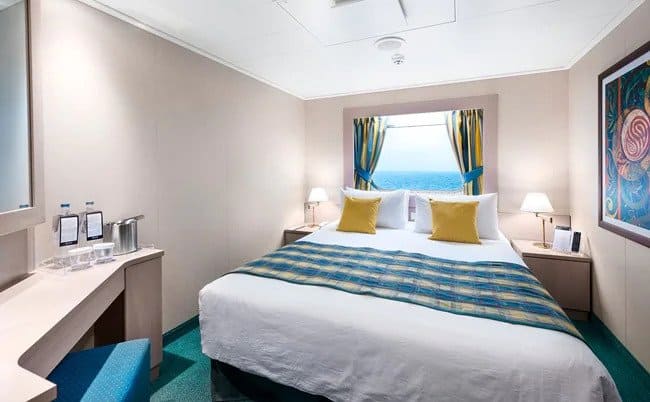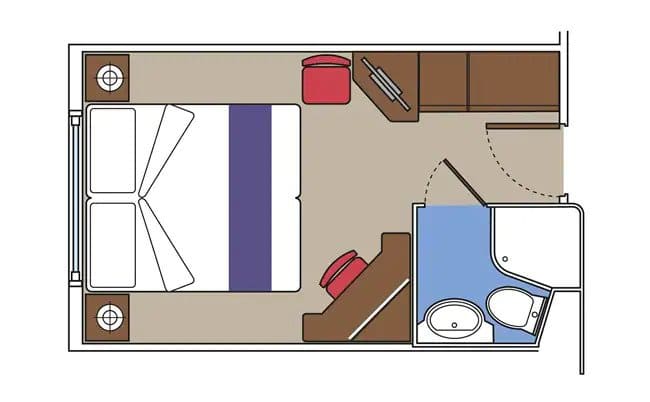 Balcony Cabin
94 Balcony Cabins (from ≈17 m2)
Double bed can convert into two singles
Available in Bella, Fantastica and Aurea Experiences
Furnished with two chairs. We have sometimes had two deck chairs instead of the standard upright chairs. The balcony is accessible through a floor-to-ceiling- glass door.
The Balcony Cabins are available on Midship on Deck 9 (Albinoni) and Deck 10 (Bellini)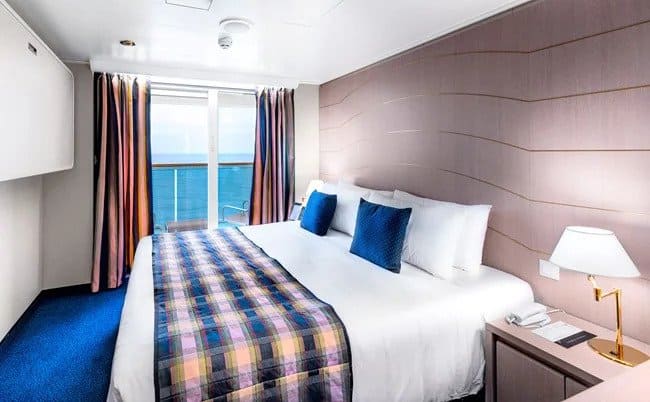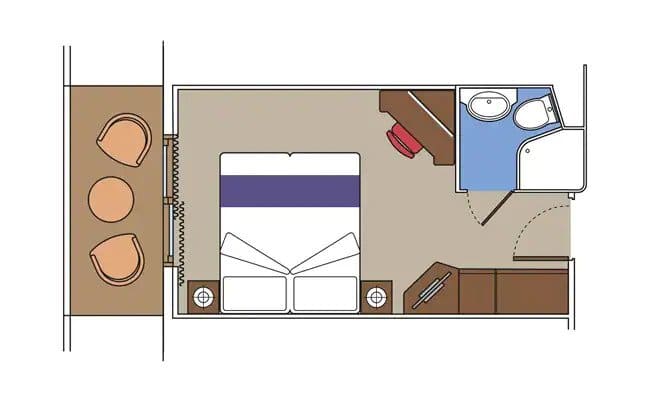 Suite
130 Suites (from ≈27 m2 to from ≈31 m2)
Double bed can convert into two singles
Available in Aurea Experience
Bathtub
The sofa can be transformed into a bed to accommodate 1 extra guest or two kids under 12.
Available on Decks 10 (Bellini) and Deck 12 (Rossini)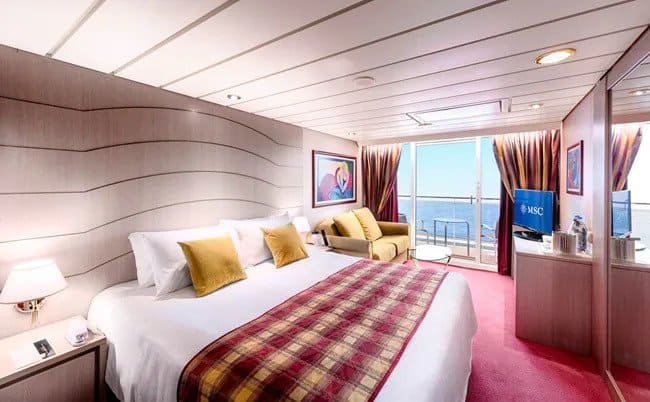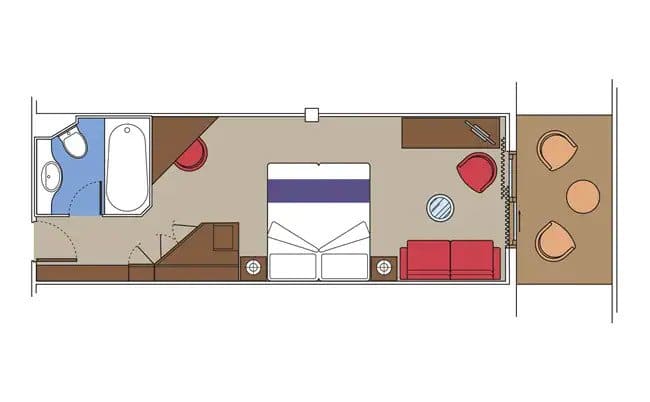 What is included in all MSC Lirica Cabins
Private Air Conditioning

Spacious wardrobe

Bathroom with Showers or Bathtub

Interactive TV

Telephone (€)

Mini-Bar (€)

Wi-Fi Connection (€)

Safe-deposit box
The mini-bar is stocked with non-alcoholic drinks, alcoholic drinks and snacks, which are at an extra charge. The air-conditioning is individually thermostat-controlled and the air is 100% new.

All the power outlets (220v/110v) and USB ports are located on top of the desk - make sure you take a multi-plug if you have a lot of items to charge. The mattress is very firm, so if you like a softer mattress, you may find it too firm for you. Some cabins come with bunk beds or sofa beds for a 3rd/4th person.

The bathroom is functional but fairly small in all non-suite cabins. All showers and basins have shampoo/conditioner and body wash mounted to the wall, as well as a wire rack to hold toiletries.
The cabin size ranges from 13m2 to 24m2. Considering that the itineraries are designed around ports, you spend little time in your cabins, so this should be enough space.
For groups or families, the ship has 18 inter-leading suites, 10 inter-leading balcony cabins and 2 designated family cabins that offer a separate sitting area with a pull-down bunk bed.
The 4 accessible cabins (21m2) are conveniently located next to the elevator (except for 9149 which is mid-ship).
Restaurants onboard MSC Lirica
La Bussola
La Bussola is the main dining room. Deck 5 | Seats 950 | Breakfast / Lunch / Dinner
L'Ippocampo
L'Ippocampo is the second main dining room. Deck 6 | Seats 406 | only Dinner
Le Bistrot Buffet
Le Bistrot Buffet is the Self-Service Buffet on Deck 11 | Seats 324| 20 Hours a day
Kaito Sushi Bar
Kaito Sushi Bar is a Japanese & Asia Speciality Restaurant on Deck 12 | Seats 40 | only Dinner ($)
La Pergola
La Pergola is the Outdoor Pizzeria & Grill on Deck 11 | Seats 262| 20 Hours a day
Room Service
From pizza to breakfast in bed, the room service is a great alternative to the restaurants | 24/7 ($)
Public Areas on MSC Musica
Whilst not having all of the newest gadgets and gizmos like MSC's newer ships, the Lirica still offers more than enough. There are options for playing minigolf or shuffleboard; there is a swim-up bar with plenty space to lounge about in their jacuzzi spa pool (not including outdoor hot tubs) ; plus kids can enjoy both indoor play areas AND an external kid's entertainment area on Deck 11!
The MSC Lirica offers 13 decks with 9 accessible by passengers. The ship has a maximum occupancy of 2,679 guests - 1,984 on double occupancy. She has 990 cabins with 357 inside, 409 ocean view, 94 balcony cabins and 130 suites.
Includes and Excludes in your Cruise Fare
All meals in the two main dining rooms, the buffet and selected other eateries.
All shows in the theatre and other venues
1 Speciality Restaurant - Kaito Sushi Bar ($/€)
Duty-Free shopping gallery ($/€)
Library & game room
Kids club for all ages
Daily service charges/gratuities are included

Accommodation in well-appointed cabins

Water, coffee and some juices are included in certain areas of the ship

Most on-board activities such as group games, competitions, quizzes, and crafts classes are included

No entrance fee for the disco / nightclub

All evening shows are free to enjoy
All drinks beyond water, tea, coffee and selected juices in the buffet
Shore Excursions
SPA treatments & access to SPA area (Subject to experience)
Wifi (unless specified otherwise)
Casino, photos, shops
Service fees (please check - it is INCLUDED in some markets)
Aditional Kids activities
Other MSC Cruises Cruise Ships
MSC Orchestra
Passengers: 2,550
Crew: 1,054
Deck: 16
Refurbished: 2021
MSC Sinfonia
Passengers: 1,950
Crew: 721
Deck: 13
Refurbished: 2015
MSC Opera
Passengers: 2,147
Crew: 728
Deck: 13
Refurbished: 2022
Don't know where to start?
We love cruising and want to help you find the perfect cruise for you. So let us do all the work for you – we know everything there is to know about cruising!