Have you ever missed a flight or know someone that has? It has happened to the best of us!
A late arrival on a flight usually means you can get the next one, but missing a cruise ship is a different kettle of fish.
You are lucky if you miss your vessel in Europe, as it is fairly easy to get to the next port of call, which is often within the European Union.
If you miss the vessel in Asia, the Caribbean or South America, it will be a real mission to re-join the ship.
Passengers missing their cruise ship is unfortunately much more common than you think.
The rule is always that the ship will NOT wait for you if you are late. The only exception is if you are taking an excursion provided by the ship. In this case, the ship might wait for you.
All excursions booked through a third party will often allow for some extra time for delays and unexpected hiccups. We strongly recommend booking your daily excursions through the cruise line.
The cost to rejoin the ship in the next port of call is often huge, but to make matters worse, is not guaranteed. Local law may prohibit you reuniting with your cruise at certain ports. (See the article the Passenger Vessel Service Act).
For these reasons, everyone involved in the cruise business, from travel agents, cruise bloggers to cruise lines, will advise any cruise traveller to get to your departure port at least a day in advance, even if you're travelling by car.
It might seem like overkill, but the consequences of missing your cruise can be much more costly than a hotel room.
When in a port, travellers should always make time for the unexpected and check the "all on-board" time of the ship.
Mistakes happen, so we have outlined some practical tips for you to get the upper hand if it happens to you.
Related: Ultimate Guide to Choosing your Perfect Cruise Holiday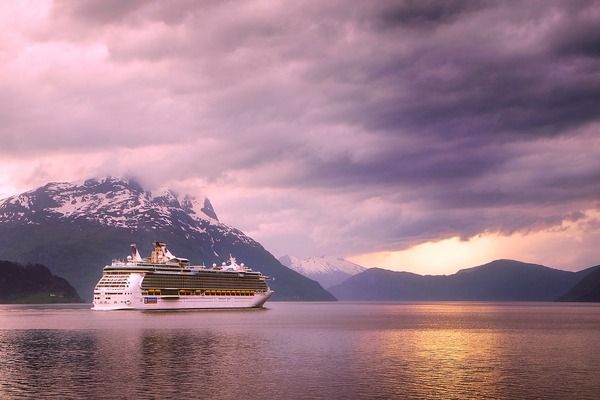 Independence of the Seas in Norway, by David Mark
Why Travel Insurance is Non-negotiable
When you travel and are in a medical emergency, the cost will often be in a foreign currency and in most case not covered by your "standard" medical aid policy. A Global Practitioner in the UK will cost GBP 150.-, an ambulance ride in Switzerland is USD 1,100 and airlifting is CHF 5,000.- .
Many people consider travel insurance to be unimportant, thinking that they have never had a problem to date, so why pay for it now? "These unplanned events don't happen to me!" – until they do. And when something does happen, whether it is a bag going AWOL, your flight being cancelled or missing your cruise departure, you will wish you had taken out a policy.
We strongly advise that you have good travel insurance. There are free ones, such as those that you get from your bank when you use their card to pay for your travel, but this tends to give you very basic cover.
Whilst it is very dry reading, you do need to check what a policy covers, including what it will cover if you miss your ship.
Will they pay for flights to get you to the next port? What happens if you miss your ship due to your negligence – eg: not leaving enough time to get to the harbour? They may not cover you in this instance.
Another thing to consider is if the policy covers you for missing a day or two of your cruise.
Will the insurance reimburse you for missing a day or two of your cruise?
Some policies have trip interruption cover, which is available to you if you miss connections.
Be careful to read the fine print though, there are often restrictions on when this is applicable. These may include weather related delays, mechanical failures or breakdowns, how long you were delayed (3 hours, 6 hours or more), as well as restrictions on how much they will pay out for claim.
In the event that you can claim for a missed connection, the insurance would cover the cost of getting to the ship at the next port, as well as meals, accommodation and the cost of phone calls while you are on your way, as long as they are considered to be reasonable.
Whilst traffic delays that affect you, if you choose to drive, are generally not covered, being directly involved in an accident that is reported, can be covered by some policies.
At the end of the day, plan properly and don't depend on travel insurance if you can possibly help it.
Related: 12 Easy Tips to Avoid Stress on Your Cruise Embarkation Day
Tips to Avoid Missing your Cruise Ship
1. The all aboard can be a lot earlier than the departure time
Just as it is with flights, cruise ships are on a tight schedule, much tighter than most realise.
If the ship is delayed in port it might not reach the next port of call on time for the start of the planned excursions.
In some windy ports, a delay of even 30 minutes means that the ship might not sail. It will lose the window where the gusts are weak and will only get another option the next day.
Be very mindful of the fact that if you are late, you may well watch the ship sailing off - it WON'T wait for you. The captain, in some exceptional cases, if time permits, will allow a late departure. This often only happens if the late passenger is travelling on a cruise line booked activity.
In this case, the cruise line will help you reach the next port – if the destination law allows for it.
Some tips to avoid being late:
The time to be aboard the ship and the time in port might not always be the same. Double-check that your watch is aligned to the ship's time.
The daily program will always give you the expected time you should be on-board when in port. We still recommend, when exiting the ship, to check the times displayed by the gangway.
Why not set up an alarm on your cell phone – on airplane mode to avoid extra charges? Allow yourself plenty of time to get back on-board.
Most cruise lines will request the passengers to be on-board one hour before departure.
You can read the unfortunate story of Kevin Rohrer – on Elliott Advocacy. He got stranded in Cuba due to not double-checking the all aboard time.

2. Choose the right operator for your excursions
Most of the travellers that miss their vessel have either gone exploring the port on their own or booked an excursion through a less reliable operator.
If you book an official cruise line excursion, the ship might wait for you. If not, they will take the financial & logistical burden to transport you where you need to be next.
In Ocho Rios, Jamaica, we waited 8 hours for 158 passengers that got stranded on an official excursion. We ended up arriving 5 hours late at the next port!
In the event that your private excursion is running behind schedule, inform the ship - they might wait for you. Especially if you are with a large number of fellow passengers – but it is not guaranteed.
To avoid missing the ship, schedule to be back on-board an hour or two before the all aboard time, especially if you are using a private operator or wandering around the port on your own.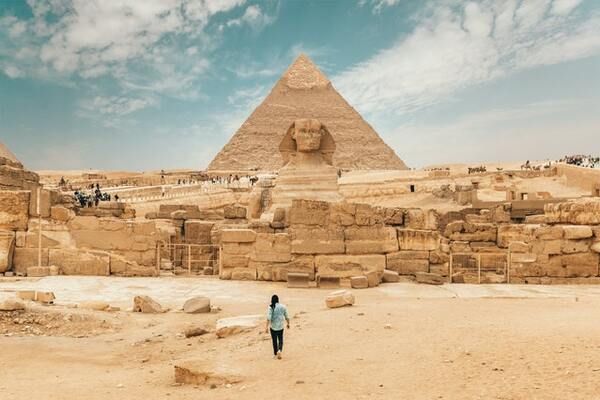 Great Sphinx of Giza by Spencer Davis
3. Keep some of your documents
Take ashore a copy (preferably) or the original of the following:
Passport displaying the visas for all the ports you are visiting;
Driver's licence (both sides);
Travel insurance details;
Credit cards (both sides);
Phone number of the ship & port agent details (this can often be found on the daily program);
Emergency contact details of the cruise ship or the cruise line;
Emergency contact details of your embassy in the port you are visiting;
Emergency contact details of your travel agent.
This information will be essential to helping you out if you miss your cruise ship.
Note: carry a secret pouch where you can stick all of these, a wallet or a backpack can easily be lost or forgotten.
What to do if You Miss Your Cruise Ship Departure in a Port of Call
In case you are expecting to be late, call the ship and let them know where you are and how long you will be. The port agent will then wait for you on the pier.
1. Look for the port agent
When a passenger has missed the ship, the on-board crew will give the traveller's passport to the port agent (if the passport is in the crew's possession).
The crew will not go into the cabin and offload any of the traveller's items.
You can count on the agent to help you get in touch with the ship and guide you with your travel arrangements.
2. Inform the Relevant People
If you can not find the cruise line representative, get hold of the ship yourself.
If you booked through a travel agent get hold of them via their emergency number as they can also assist you.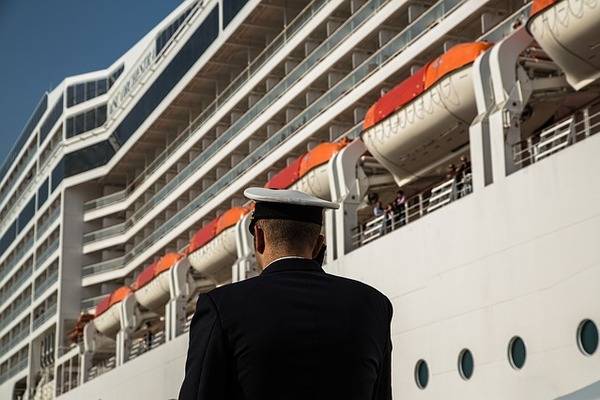 3. If you don't have travel documents
If you find yourselves without proper travel documents, you have not found the local port agent and you don't speak any of the local languages, call your closest consulate or embassy.
They will help you to figure out the next steps. Either by helping you to reach your ship or to return home.
4. Establish if you can join the vessel in the next port of call
Even if it logistically is possible to get to your vessel at the next port of call, the local law can prohibit you from doing so.
Some countries, including the USA, have established Cabotage laws. These restrict the number of ports a foreign-flagged vessel can embark or disembark passengers. These laws are designed to protect the local shipping industries.
In the US, The Passenger Vessel Service Act mentions that a foreign registered vessel cannot transport passengers from one US port to another US port, either directly or indirectly, unless the arrival & departure port is the same or the cruise ship has stopped in a distant foreign port.
For example: a Bahamas-flagged ship can operate a voyage from Vancouver, Canada to Anchorage, Alaska with no restriction as it starts in Canada. The itinerary for this example is Vancouver, Ketchikan, Juneau, Anchorage.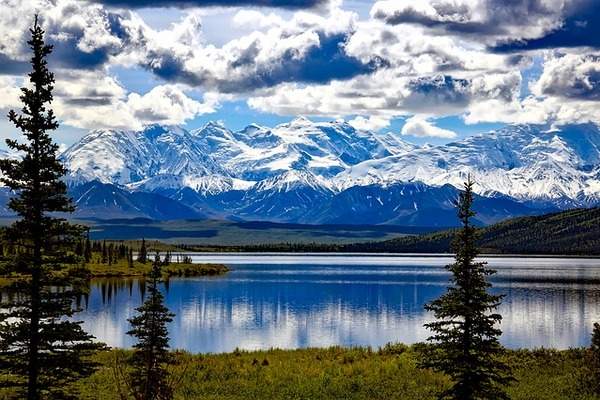 Delani National Park, Alaska by David Mark
If a passenger misses the departure in Vancouver, they will not be allowed on-board at all, as the rest of the ports are all in the US.
Someone boarding later and disembarking in Anchorage would be travelling between two US ports, which is in violation of the act. The cruise line might allow the embarkation if the passenger agrees to pay the USD 778 per person penalty fee.
In Europe, the EC Regulation 3577/92 abolished the cabotage restrictions, allowing the cruise lines to start and end itineraries in different European Union ports without problems.
In Southern Africa, no cabotage is applied.
5. Travel arrangements to join a port of call or travel home
Now that you have established a plan of action and what the rest of your journey will now look like, time to re-book your trip.
You will be responsible for all the costs associated with your new travel arrangements. The cruise lines will generally not offer any refund for travellers that have missed all or part of their cruise.
Note: Make sure you carry your credit card and your passport – in a safe place - when you are in port. This will be very helpful if you miss the ship.
6. Enjoy the port!
Your game plan is done, so now it is time to relax - you are still on holiday! If you have time to kill, why not enjoy the port?
What Happens if You Miss the First Departure for the Cruise?
The procedure is the same as if you miss your cruise ship in a port of call:
Look for the cruise line representative.
Inform the cruise of your decision to join the next port or to go home.
Arrange your trip to join the ship in the next port of call.
Relax and make certain you don't miss the next one.
The pros, in this case, are you have all your luggage, passports and credit cards with you. And you don't have to rely on the ship to have disembarked your critical belongings before the ship left.
Bottom Line
It will be difficult to salvage your journey if you are late in any of the ports or on your embarkation day.
My advice is to make sure you have the right all aboard time in the port of call and don't push your luck.
When it comes to your embarkation day, arrive a day earlier, the USD 100 that the hotel night will cost you is worth the peace of mind.
And please don't book your return flight the morning of your return to the port - rather for much later in the afternoon / evening or the next day. Murphy and bad weather are always around the corner.
Originally published Feb 9, 2021, updated February 24 2021