The secret to a perfect cruise holiday? Finding both the right ship, as well as the right destination(s) is key!
Choosing the best cruise option on the right ship can be daunting for any traveller, even the more seasoned one.
With over 70 cruise companies operating roughly 350 ocean-bound cruise ships, in 2,000 destinations, for more than 27 million passengers in 2018, the choice is overwhelming.
It's like navigating an obstacle course! Think of when you decide to buy a car. You start with the basics and slowly add optional extras until eventually, you select the model that perfectly suits your requirements.
Shopping for the perfect cruise vacation largely requires you to evaluate options and make decisions based on optional extras, as these can make the world of difference to your holiday experience.
In this blog, we will provide an all-encompassing breakdown on everything you should evaluate in order to choose your first cruise.
Let's start with some general information about the cruise industry, after which we will give you 11 steps to choose your perfect cruise!
Once you have experienced your first cruise, you will no doubt share the addiction that often grips fellow travellers. Cruising is a fabulous way to discover the world.
Steps to choose your perfect cruise holidays?
What is a cruise holiday?

History of the cruise industry
List of mainstream cruise lines
What to expect on a cruise
The 11 steps to choosing your perfect cruise
What is a cruise holiday?
A cruise holiday is an optimal way of visiting multiple countries in a short period of time. You sleep in the same bed every night, whilst the ship is sailing from port to port.
It is (mostly) a prepaid, hassle-free holiday. The cruise ship offers everything on board, from top-class entertainment to great food.
Anytime your ship docks at any of the beautiful destinations en route, you can simply select one of the many tours or excursions on offer.
The history of the cruise industry
It is believed that in 1818, the Black Ball Line in New York was the first shipping company to offer regularly scheduled services between England and the United States, and the first to show real concern for the comfort of their passengers.
Most of the early passenger ships were, in fact, transporting mail to the remote colonies.
It all changed in the early 1840's, when the first ship under the Cunard name, Britannia, left Liverpool for a 14-day transatlantic crossing, taking more passengers than parcels, and with an emphasis on safety, rather than speed. Britannia even had a cow on board to supply fresh milk to the passengers. The industry was changing.
In 1844, pleasure cruising was created when P&O Cruises, known as the Peninsular and Orient Steam Navigation Company, began advertising tours from Southampton to Gibraltar, Malta & Athens.
In 1938, the first non-stop flight from the US to Europe marked the end of the transatlantic ocean liner and the beginning of a new era, promoting destinations rather than transport.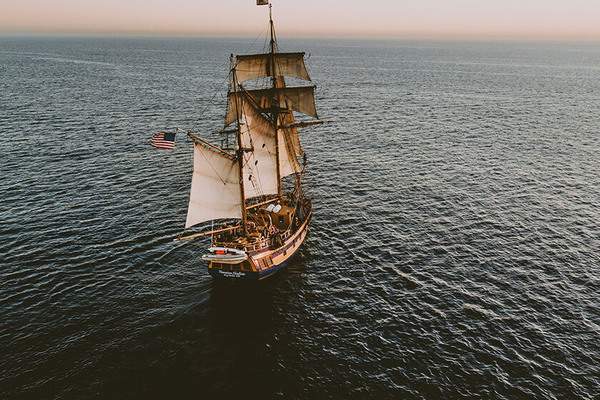 Photo by Austin Neill on Unsplash
List of the mainstream cruise lines
Each of the cruise companies below, offers a unique holiday in terms of entertainment, atmosphere, dining, and service.
Each company has specific destinations and ports that they are specialists in. Princess Cruises, for example, is very strong in Alaska, whilst MSC Cruises is the only company that has a ship based in Southern Africa for 6 months of the year.
List of Mainstream Cruise lines
Carnival Cruise Line
Celebrity Cruises
Costa Cruises
Cunard Line
Disney Cruise Line
Holland America Line
Princess Cruises
Royal Caribbean International
Read our post on the 9 Major Cruise lines for more information.
What to expect on a cruise?
Let's continue this Guide to Cruising and look at the various steps of your cruise:
Embarkation

Your first steps onboard

Muster drill

Mobile phones and Wi-fi onboard


Drinks onboard
Embarkation procedure
Once you have arrived at your port of departure to embark on your cruise, by air, road or rail, the following will happen:
In a few instances (and this is rare), the cruise company may have a representative at the relevant arrival terminal holding a sign with the company's name on it, and they will assist you with your luggage.
Should this be the case, the next time you will see your luggage is in your cabin - but give the luggage a chance to reach your cabin.
Usually, you will have to drop off your luggage at a dedicated zone in the passenger terminal.
Tip: Make sure that on all your luggage your cabin number is clearly displayed, as this eliminates confusion regarding delivery to your cabin. (Labels for suitcases are usually provided with your cruise ticket.)
Remember that your luggage may take several hours to get to your cabin, so keep essentials with you.
Note: Do not take alcoholic drinks on board certain cruise lines (eg: MSC Cruises) as they will be confiscated.
Related: Be Ready for Your Embarkation Day
Next, you will proceed to the check-in desks. if you have suite-grade cabins or have booked priority boarding, you may have access to a dedicated desk or even lounge.
When your check-in is complete, you will proceed through security screening, just as you do at an airport, and then you will proceed to immigration control.
If you have not met the photographic team by now, be ready for a photoshoot. If you don't want your picture to be taken, you will have a lot more photo opportunities during your cruise.
A few more steps and … Welcome Aboard!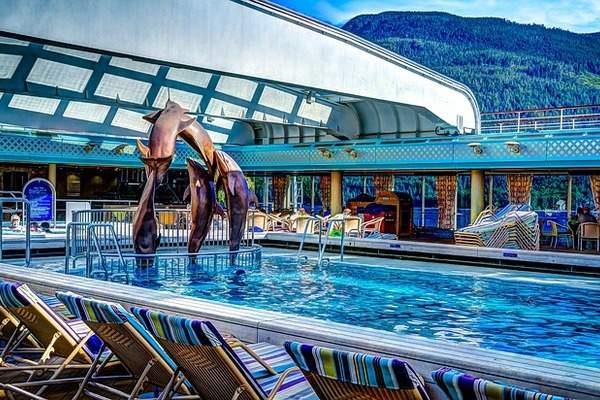 Your first steps onboard
We recommend that you go straight to your cabin. Check to see if it is clean & tidy and that the bed configuration is as requested. Are there towels and soap?
Commencing your onboard experience in your cabin is a good idea, as this will help you to get your bearings, as well as assist in familiarising yourself with the ship's layout.
Learn which is forward and aft, and how to access your cabin from the main stairways.
Your luggage can take a bit of time to arrive, especially on the larger ships, so don't sit around waiting for it. Perhaps take a walk, or if you are hungry, visit the self-service buffet.
Safety drill or muster drill
Following the Costa Concordia tragedy in 2012, a Passenger Safety drill is now compulsory prior to a ship's departure from the port of embarkation.
It is mandatory for all passengers to attend the drill and please do pay attention, as this can potentially save your life in the event of an emergency!
It is also a great opportunity to learn how to get from your cabins to the assembly stations, in case of emergency. Directions to your assembly stations are posted behind your cabin door.
By the time you return from the safety briefing, your luggage will have arrived.
Note: with COVID-19 new Health and Safety procedure, some cruise lines are doing a different type of Muster Drill. We will update the article accordingly when we have more information.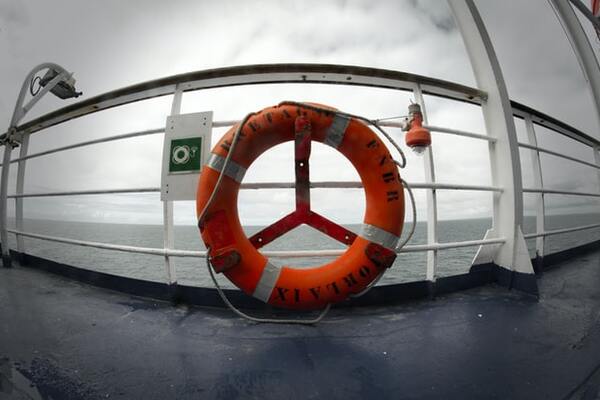 Photo by Alexander Sinn
Mobile phones & Wifi onboard
Internet costs and speed varies widely from ship to ship and line to line. Most cruise lines will offer internet packages based on data consumption.
For cellular rates, in port, you will be charged the country-specific roaming rates. And this can be pricey.
As soon as the ship has left port, you will automatically lock into the ship's digital marine network, reflecting international roaming rates, which is horrifically expensive.
Drinks onboard
Very few things are free on a ship!
(Unless it is a luxury cruise or you have bought an inclusive package)
The bottled water in the cabin will probably have a label, stating something along the lines of: "This bottle is provided for your convenience. If you open it, your account will be charged USD 4.50."
Be vigilant with the drinks, as the costs soon add up. If you drink a lot of water, most ships will provide a water station where you can refill a water bottle free of charge.
In most cases, it is worth checking the prepaid drinks packages in order to "limit" the potential unforeseen costs onboard.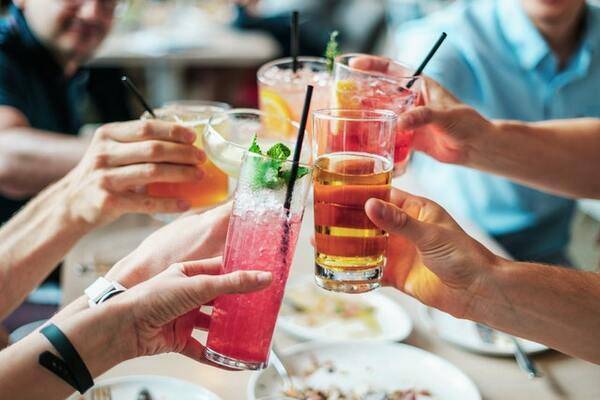 The 11 steps to choosing your perfect cruise holiday
Now that you have some more insights on what a perfect cruise holiday looks like, let's look at how you can make sure you get the right experience for your bucks.
Set your budget
Choose a destination
Choose the length of your cruise
Choose the right ship
Choose the right cabin
Onboard expenses
Dining options
Fitness and healthy eating
Dress code
Children onboard
Visa, passport and insurance
1. Set your budget
Setting your budget can be tricky, so I suggest that you start with a ballpark idea of what you can afford, including the transfer to the port (flight or drive).
Based on this budget, navigate the 10 steps below. By the end of this process, you should have a fairly good understanding of what you are in for and which cruise lines to go with!
2. Choose a destination
Choose where you want to cruise - the Bahamas, Hawaii, Northern Europe, Portuguese Island & Pomene in Mozambique, South America, Indian Ocean or the Mediterranean.
Bear in mind that most destinations are seasonal. For example, Mediterranean cruises are best during the European Summer, while Alaskan cruises are not available between October and May.
MSC Cruises only has a Southern African ship based here from October to April (MSC Musica); South America and Southeast Asia are best in winter.
If you are looking for a special theme-based cruise, such as Formula One in Monaco, or the Carnival in Rio, this will dictate the date of your cruise.
3. Choose the length of your cruise holiday
Decide on the approximate length of the cruise that you are after. Allow for some travelling time both prior to and post the cruise.
We always recommend arriving at least a day before the departure of your cruise, especially if the port is far from home, to avoid missing your ship.
A standard Caribbean and Mediterranean cruise length, for example, is seven days.
A South African cruise is often a three or four-day short break to Mozambique. Five days to Namibia.
In Northern Europe, you can expect a 12 to 14-day trip.
When doing a repositioning cruise, allow for 20 to 25 days cruising, while an around the world cruise will take 90 to 120 days.
Tips: For first time cruisers we would recommend taking a 7 day or less cruising vacation. This will allow you plenty of time to visit the ports of call and enjoy some excursions without you feeling trapped at sea.
4. Choose the right ship
With almost 350 ocean-going cruise ships, the choice is vast!
Choose the right size ship for your holidays, as size matters.
Do you want to mingle with 200, 700, 1,000 or 6,000 fellow passengers?
In general, the smaller ships focus more on a port as the destination, while the bigger cruise ships focus more on the ship itself than the destination.
Don't forget to take a look at some of the themed or speciality cruises. Examples can include specialist bird lectures, jazz music cruises or even an adventure cruise.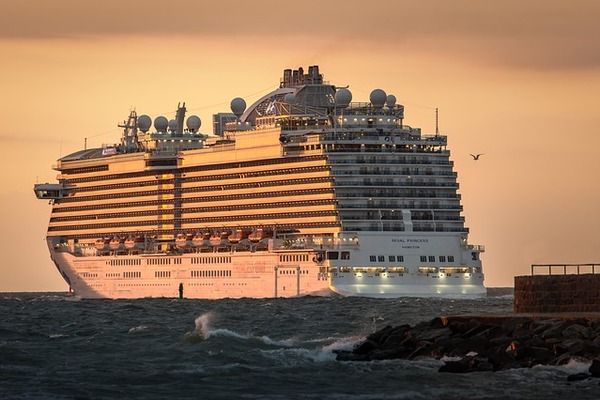 Regal Princess by Sven Lachmann
5. Choose the right cabin
There are four main types of cabin categories, although there are many variations within each type.
Interior cabin – no view
Ocean view cabin – with a window
Balcony cabin - with a balcony
Suite - with a balcony & a lounge
The average cabin size aboard most of the large ships ranges from 17 to 19 sqm (180-200 sq ft).
To choose the right cabin for your holiday, take into consideration the length of your cruise.
For example, a 21-day cruise might be very disconcerting if you choose an interior cabin; a balcony cabin would be a far better choice, as you will probably spend a fair amount of time in your cabin.
On the other hand, on a three-night party cruise, the cabin will only be used to shower and change, as you would spend your day partying around the pool!
In most cabins, you have limited closet space, so pack lightly.
The bigger the cabin, the more it will cost of course!
For more: How to Choose the Right Cruise Cabin
6. Onboard expenses
You will have plenty of opportunities to spend money onboard and ashore.
Make sure you prepare a budget beforehand for shore excursions, drinks packages, and drinks (unless they are included), spa treatments, specialty restaurants, casinos, and all other personal items.
Check with your travel agent or cruise company to see which items can be pre-purchased for peace of mind whilst aboard.
7. What about dining options?
Most of the cruise ships have multiple dining venues and you can enjoy the freedom of eating at any of these when you wish and with whom you want (some dining venues may cost extra).
If your ship offers two seatings, choose the times carefully when you would like to eat. To allow more time in ports without having to rush back to have a shower and change, you may want to choose a later seating.
However, if you prefer to enjoy the show and a night of fun - choose the early seating.
Bear in mind that there is a time limit to how long you can be in the restaurant for the early seating, as the staff are required to clean up and redo the tables for the second seating.
8. Fitness and healthy eating
A new trend for most cruise ships is to cater to healthier meals with a variety of dining ranging from low calories to Banting options. If you are into sports, fitness facilities and group exercises, classes are often offered on the longer cruises. Book a spa treatment as soon as you get onboard, as the allocations go quickly. Be mindful that most passengers tend to gain weight during their holidays!
9. Dress code
The era of the tuxedo & ball gown is, sadly, a thing of the past for most large ships.
Most dress codes are casual with no formal attire, with the exception of the high-end ships such as The Queen Mary 2, where formality is part of the evening tradition. For ladies, pack low-heeled or flat evening shoes, as the ship tends to move around quite a lot.
On longer cruises, there is often a captain's dinner, which provides the opportunity to dress more formally.
The dress code for men often includes a collared shirt. This can be a traditional button-up, or otherwise a golf shirt.
10. Children onboard
For those who prefer not to have children around when cruising, make sure you either choose a cruise outside of school holidays or one of the many child-free ships available.
Most medium to large-sized ships have excellent children's facilities with various clubs and entertainment catering to all age groups.
Children usually love to cruise; they make friends easily and it is a great time for parents to relax.
A family cruise is one of the best holidays you can take.
11. Visas, insurance & passports
Make sure you have comprehensive insurance cover when you travel, as anything can happen.
Whether arriving by sea or air, the visa requirements remain the same.
Even if you are not planning to disembark, you will be required to have a valid visa for all ports of call that require them.
The reason for this is that in case of an emergency, when an unforeseen situation may arise, a visa may be unexpectedly necessary.
In some cases, visas are handled by the cruise lines, such as in Namibia and Portuguese Island in Southern Africa, or in Jordan.
Ensure that you have at least six months left on your passport at the end of the cruise, as most countries will require this. Also, don't forget that you will need at least two blank pages, (side-by-side not overleaf) in your passport.
Check out the Passport Index website to know the latest about visa requirements.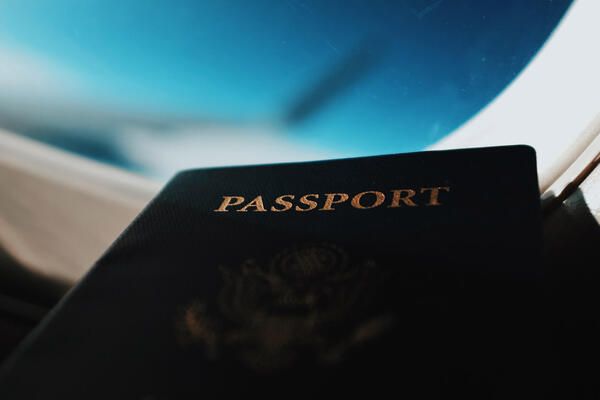 Photo by Agus Dietrich
Conclusion
Since the mid-1950's the cruise industry has improved the quality of their ships and the professionalism of their staff. When you are a newcomer to the cruise experience, make sure that you go back to the:
11 steps for choosing your perfect cruise experience:
Set your budget - (How much money do you have for your holidays?)
Choose a destination - (Where in the world would you prefer to be?)
Choose the length of the cruise - (How long? Often dictated by the destination)
Choose the right ship - (Would you prefer to have 5,000 fellow passengers or 100?)
Choose the right cabin - (Inside, Outside, Balcony or Suites)
On-board expenses - (do you prefer wine or beer and how much?)
What about dining options - (anything in particular you want to experience onboard?)
Fitness and healthy eating - (keep in shape)
Dress code - (what to pack)
Children onboard - (travelling as a family?)
Visa, passport and insurance - (how long do you have to wait for your visa?)
Originally published Feb 16, 2021, updated 05 May, 2021