Choosing the right cruise cabin to suit your needs is really important, as you should feel at home when at sea. Even if you spend a significant part of the day with your eyes shut, choosing the right cabin is important.
So how to choose a cabin? You will usually do so based on the type of cabins (Inside, Outside, Balcony & Suite), the cabin size (average from 9m2 (97 sq ft) to 209 m2 (2,249 sq ft) and cabin location (Aft, Mid or Front) and, of course, your budget!
In this post, we will cover all of it and more, in order for you to make the right decision when choosing your cabin.
What are the different cruise cabin types on a ship?
On a ship, the room is called a cabin (or incorrectly called a "stateroom" by some) and it is where you will be sleeping, similar to a hotel room, but often much smaller.
There are four principal types of cruise ship cabins:
Inside / interior cabins: no window to the outside and normally the smallest sized room, as well as the most affordable.
Outside / Ocean view cabins: similar to the inside cabin but with a window or porthole (round window) to the outside. These are often similar to the inside cabins in size.
Balcony Cabins: more spacious than the inside / outside cabins, with a veranda where you can sunbathe or have morning coffee.
Suite: the more spacious option, with a separate living and sleeping area and bigger than the balcony cabins. Most of the suites will also have a balcony.
Most cruise lines have many variations of each category type, some going up to 20 subcategories or more. For example: inside with a view or virtual-view; outside cabin with a side or obstructed view; balcony cabin with a balcony or a French balcony; and suites.
But it is useful to remember that all the possible variations will fall into one of the 4 types of cruise cabins.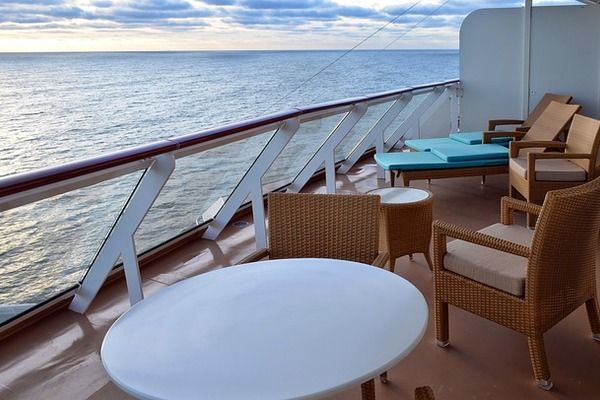 What are the standard cruise cabin amenities?
Cruise cabin amenities will vary on each cruise line, mainly depending on the cabin type that you have booked and the level of luxury of the ship.
All cruise cabins come with some basic amenities:
Cabin steward to clean your cabin and turn down the bed.
the standard is a small private bathroom with a shower, a toilet and a washbasin.
two beds, or a double, queen or king-size bed (some twin beds can be pushed together to form a queen or a king).
body soap & shampoo.
individual air conditioning.
smaller cabins will come with a chair; larger with a sofa and table.
telephone (ship to shore or inter-cabins calls).
bar fridge.
electrical plugs to charge your appliances (usually 110/220 volts).
desk unit with a stool or chair.
personal safe.
drawer space.
closet space.
bedside tables with light.
Some "higher" cabins might include priority boarding, free in-cabin drinks, ironing board, bathrobes, private whirlpool, concierge service or spa packages, to name a few.
Related: Guide to Choosing your Perfect Cruise Holiday
What is an inside / interior cruise cabin?
With an average size of 14m2 (110ft2), an inside or interior cruise cabin is a cabin that has no outside view in the form of a window or a porthole.
These cabins are generally in the centre of the ship, mostly the smallest type of cabins and the least expensive.
Inside cabins make it difficult to gauge the weather or get oriented but are perfect if you are not spending much time in your cabin.
The latest interior cabin design is a "virtual" window or balcony. The cabin is fitted with a 2m (6ft 7in) screen that projects a live feed from one of the ship's cameras. These have a curtain on each side and are almost floor to ceiling. The virtual balcony interior cabins are great to assist with getting oriented and knowing what to wear when outside.
The floor to ceiling virtual balcony cabins are, for now, only on Royal Caribbean International's Harmony, Spectrum, Anthem, Ovation, Navigator, Quantum, Explorer, Symphony and Voyager of the Seas. (Only in selected cabins)
Disney Cruises has something similar to Royal but in the form of a virtual porthole called the Magical Porthole. Disney were the first one with this concept - the porthole sits above the cabin bed and a Disney character pops up from time to time to say hi!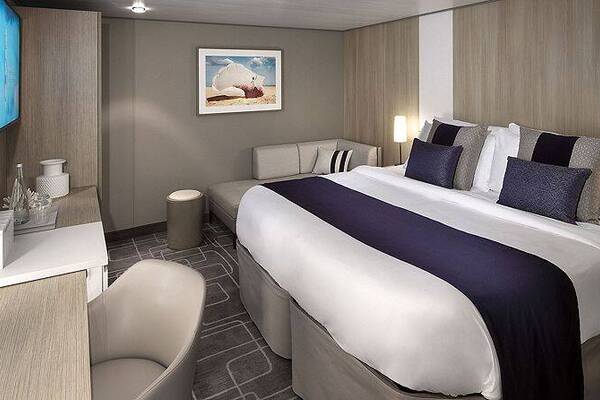 Inside Stateroom onboard Celebrity Edge
What is an ocean view / outside cruise cabin?
With an average size of 15m2 (161ft2), an ocean view or outside cruise cabin is very similar to an inside cabin, but offers a porthole or window to the outside world. It is often the recommended cabin to start with on your first cruise as the inside cabins have no view.
Some outside cabins have "something" in front of the window / porthole - these cabins are called obstructed or restricted view cabins. In most cases, the porthole will have a lifeboat in front of it, meaning the outside light will still come through. The obstruction can vary from a little to 100% obstructed view.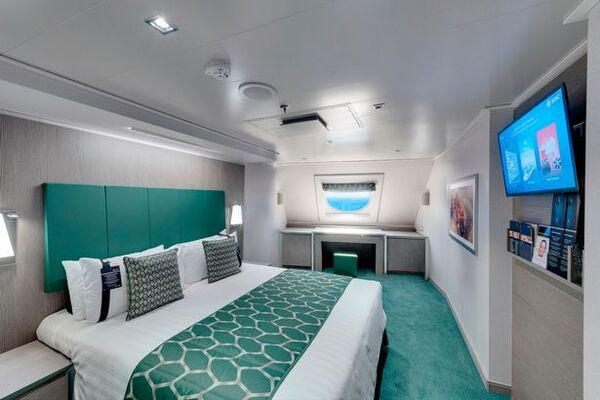 Ocean View Cabin onboard MSC Seaview
What is a balcony cruise cabin?
Most cruiser's favourite cabin - when you have tasted a balcony experience, you will never go back! Some of the latest cruise ships have balcony cabins making up 95% of their cabins.
On the deck plan, you will often find them in the middle of the ship.
With an average size of 19m2 (204ft2), a standard balcony cabin is often more spacious than an inside or ocean view. It has a private mini-terrace (balcony) adjoined to your cabin, where you can sit, enjoy the view, dine, have coffee or sun-tan.
Not all balcony cabins have floor to ceiling partitions on the sides of the balcony, (ie Queen Mary 2, Seven Seas Mariner, Veendam, Carnival Sunshine to name a few), making those balconies less private.
Most major cruise lines have balconies that are now too small to accommodate two reclining deck chairs, you will find normal outside chairs with a footrest on most of the newly built balconies.
The average size of a balcony is 2.7x1.8m (9 by 6ft), about 5 sqm (55 sq ft). However on some luxury vessels, the balcony can measure 20 times that.
All private balconies have a railing to lean on. Some balconies have solid steel plates between the railings, which means that you can not see out to sea when you are sitting (eg: on the Dawn Princess, Sea Princess and Costa neoRomantica).
Another option is a clear plate between the railings, giving you a great view of the sea at all times, especially when you are lying in bed (eg: on the MSC Musica, Mein Schiff 1, Radiance of the Seas).
You will find sliding glass doors on most modern ships' balcony cabins, whilst some of them will open inwards (Silver Wind, Star Legend and Silver Cloud for example). And a few have doors that open outwards (eg: Nieuw Amsterdam and Queen Elizabeth).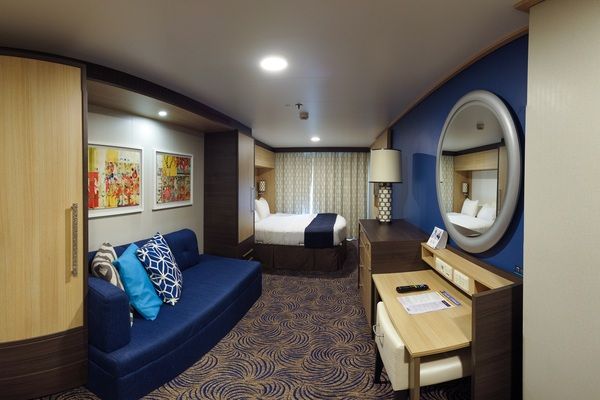 Anthem of the Seas Balcony Cabin
Taken from the river cruises in Europe, a new type of balcony has emerged on the ocean cruise ships.
What is a French balcony on a cruise ship?
A French Balcony on a cruise ship is a full floor to ceiling sliding door with a tiny ledge, just large enough to stick your toes out and smell the ocean. They have railings for safety. They are also called Juliette or Juliet balconies and have nothing to do with France.
What is an infinity veranda on a cruise ship?
In 2018, the Celebrity Edge inaugurated a "new" type of balcony, where it is completely closed-in. You have a floor to ceiling window split into two parts - the top part can be lowered to let the fresh air inside.
What is a suite?
With an average size of 24m2 (258ft2), a suite compromises an area dedicated to the bedroom and a seating area or a lounge. The two specific areas might be separated by a door or in most cases, it is open plan. Suites are more spacious than balcony cabins and are also located in the prime part of the ship.
The suites are normally the first cabins to sell out, as there are often fewer of them and because they are very good value. Make sure you book your suite early if it is what you are after.
A suite can be a lot of different type of cabins - they come in all sorts of shapes and sizes. For example, the Norwegian Cruise line 3 Bedroom Garden Villa has a space of 622m2 (6,700 sq ft) with butler and concierge service, three separate bedrooms with en-suite bathroom, a separate dining room and a private exclusive sun deck with a whirlpool.
Other suites may come with a private whirlpool, dining room, a separate floor for bedroom and lounge area, chair and table, a piano and many more perks, depending on the cruise line and the types of suites.
The bulk of the suites on most of the major cruise lines are actually mini-suites - bigger than a balcony cabin with a separate lounge area but no delimitation between the sleeping and the living area.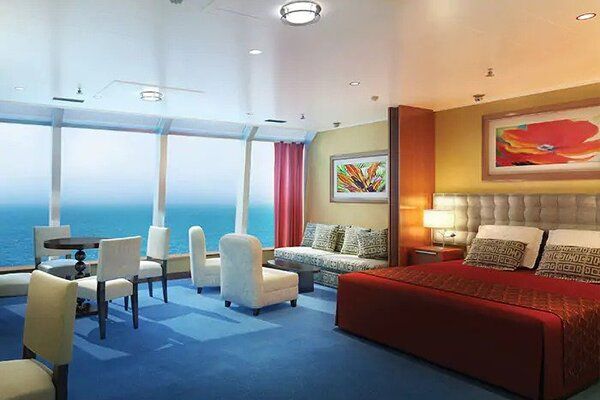 Family Suite on Norwegian Star
What is a solo / single cabin / studio cabin?
Until recently, very few ships had cabins dedicated to the single travellers' market.
A single cabin is a cabin designed to sleep only one passenger and is smaller than a standard inside cabin. MSC Cruises and Norwegian Cruise Line are the two main cruise lines that have solo cabins onboard their ships.
From 9.5 to 12 m2 (100 to 129 sq ft) these cabins contain a full-size bed, a private bathroom and all the other amenities that a normal cabin offers.
On NCL, the solo travellers can enjoy access to the Studio Lounge in the morning and evening, dedicated to mingling with fellow solo travellers. Book those cabins early as they sell out quickly.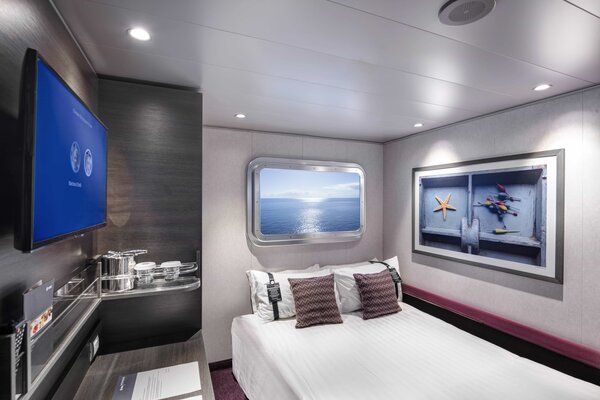 Interior Studio onboard MSC Virtuosa with a virtual window
Other interesting cruise ship cabins:
Promenade Cabins
Those "lanai" cabins, on Holland America Line, have a window opening directly onto the lower promenade deck, with a couple of pre-reserved deck chairs to enjoy the great outdoors without paying a balcony cabin rate. The floor to ceiling sliding door has one-way glass, which is fine during the day but the cabin can lack privacy when the lights are on.
Ben & Jerry Sweet
A speciality on the Freedom-Class ships of Royal Caribbean, Cabin 6305 is a promenade cabin above the Ben & Jerry's onboard ice-cream shop, with the view being of two cows displayed in the window. For the inconvenience, the ship offers a daily complimentary ice cream to each guest and some other perks. The room is also fully decorated with cow artwork: cow prints, trinkets and cow pictures.
Aqua Theater Suite
Another one of Royal Caribbean, on the Oasis-Class ships, the Aqua Theater Suites overlook the Aqua Theatre and surroundings.
Duplex suites
Some ships offer a duplex or loft-style accommodation, with a living room downstairs and a bedroom upstairs. (eg: Queen Mary 2, Symphony of the Seas, Anthem of the Seas). MSC Cruises has pushed it further and added a private whirlpool on the balcony on MSC Bellissima, MSC Virtuosa and MSC Meraviglia.
Spa cabins
Costa Cruises were the first to have spa cabins but most of the other major cruise lines have since followed. The spa cabin concept is simple - you get a Zen decorated cabin with healthier menu, yoga mat and access to the spa sauna/steam room area. The cruise line will often add a complementary treatment or fitness class.
Spa cabins are available on Norwegian Cruise Line, Costa Cruises and Celebrity Cruises. Holland America Line have added some inside cabins to the spa experience concept.
Interior facing cabins
Balcony and outside cabins don't always look out to sea. Royal, on their Oasis-class ships, have developed interior facing cabins.
The interior facing cabins are cabins overlooking the inside of the ship, with a view of the Boardwalk (one of the ships entertainment area) and the Central Park (ship's garden area). Most of them have a balcony and are priced between an inside and an outside cabin.
What is an inter-leading cabin / family cabin?
Not every family is 2 parents and 1.5 kids - a lot of families need much more space than that!
We should make a distinction between a family cabin and an inter-leading cabin.
Cruise lines are using both terms freely to describe the same, yet different, cabins.
A family cabin is a cabin that can sleep from 3 to 10 travellers with most of them sleeping 4 to 6. These cabins have only 1 main cabin door, sofa beds or Pullman beds and some have multiple en-suite bathrooms.
Inter-leading cabins are cabins that are separated by a connecting door. They can be any type of cabins that "transform" into a bigger cabin when the door is open - great for parents travelling with teens or tween kids.
Do cruise ships have cabins for guests with reduced mobility?
Nowadays most cruise lines have built cabins that are ADA compliant.
If you need one, book it early and in advance, as the ship doesn't have a lot of them. If none are available, ask the cruise line or your agent as a lot of the liners will "hide" those cabins in order to sell them only to passengers that need them, rather than to just anyone that likes bigger cabins.
When you book these, make certain that you communicate that you are in need of this cabin by completing the specific form given to you by your agent or cruise line. Otherwise, the ship / office team might move you when they need the cabin for someone that has requested it (this has happened more than once in my time.)
Where is the best cabin?
The larger rooms, suites and penthouses are located on the upper decks and will often have more than one area in the cabin, such as a sitting room, dining room as well as a bedroom.
These areas can be a completely different room or just a separate area. Apart from the facilities and size, the cruise cabin categories are differentiated by their location on a ship.
It is all about location - you might want a cabin in the middle of the ship if you are concerned about too much movement and the higher the deck, the higher the price.
The cabin location can keep you awake all night or can make you seasick, especially on rough seas.
When choosing a cabin, keep in mind the below factors:
Stability - The stability for your cabin on a cruise ship really comes if you are prone to motion sickness. The more central and lower in the ship the cabin is, the less motion it gets.
Distance - What is the main purpose of your holiday onboard? If you are a party-goer, choose a cabin next to the disco. If you have challenges walking, near an elevator.
Noise - Noise can be a concern if you are getting to bed earlier rather than later. Get a cabin far from any entertainment area if you need peace and quiet.
Private and exclusive space onboard
Norwegian's Haven and MSC Cruises' Yacht Club both offer a gated-access area on the higher decks of the cruise ship for their best cabins.
MSC Cruises calls it the "ship within the ship". The area offers the most expensive accommodation with private restaurants and lounges, a pool, whirlpools, sun decks, 24 hour butler service and a concierge.
Norwegian studio cabins also offer a private lounge exclusively for solo travellers.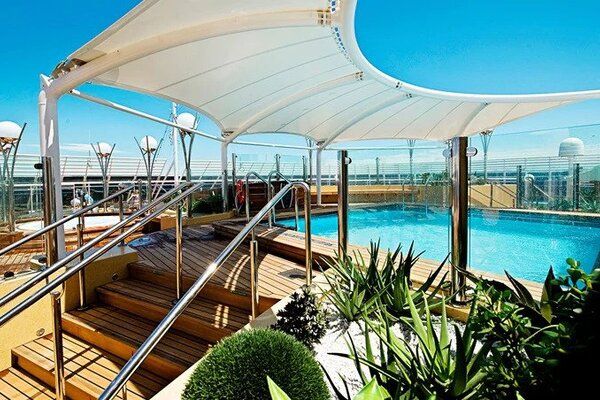 MSC Yacht Club "ship within a ship"
What about the view from my cabin?
If you are like me, and spend time in your cabin, especially when arriving or leaving a port, the view becomes quite important. Let's look at a couple of different possible views:
Which cruise cabins have no view?
The inside cabins have no view and are often the cheapest and smallest cabin onboard. These cabins are great for those that are not intending to spend to much time in their cabin; they are targeted to a budget-minded passenger.
If you are prone to motion sickness, it is a cabin to avoid, as you will not get natural light and cannot look outside at the distance. The lack of natural light does affect some passengers.
Coastline view from your cruise cabin
On a round trip in the Mediterranean or on a cruise from Cape Town to Namibia and back, which side of the ship you are on, doesn't matter.
You will have the opportunity to see the landscape either on your way out or on your way back.
If you have an Ocean View or a cabin with Balcony, the location of the cabin onboard becomes important when you are on one-way itineraries (a Venice to Barcelona or Northbound Alaska Cruise).
If you book a cabin on the side that doesn't face the land, you will have a stunning sea view the entire cruise and will miss out on the breathtaking scenic views when in your cabin.
What is an interior-facing cabin?
An interior-facing cabin is a cabin where the view from the balcony or the window looks out onto the cruise ship's public areas.
This is the case on some Royal ships. For example, on the Oasis Class ships, the interior-facing cabins will overlook one of two neighbourhoods: Central Park (trees & plants) or the Boardwalk, at the back of the ship.
These cabins can be considered as outside – inside cabins, if it rains, your balcony can get wet.
For those who are staying in a cabin facing the Boardwalk, you might hear your fellow passengers screaming while they enjoying the Zipline above, so it can get really noisy.
What is an obstructed view cabin?
Some cabins, usually ocean view but some balcony cabins as well, are called an obstructed view or partial view cabin due to the ship's structural design partly or fully blocking the view from the window.
Shall I get a cruise cabin at the front or back of the ship?
The cabins at the front (forward) or at the back (aft) of the ship can be the priciest cabins.
Even more sought after cabins are the ones that are in the corner of the ship, where you have a view of one of the sides and either the front or the back of the ship (for example, the Deluxe Suite on MSC Grandiosa).
A cabin at the back of the ship makes you feel like you are at the end of the world - sitting on your balcony and staring at the infinite is something amazing and highly recommended! The balcony is also often slightly larger than the cabins on the side of the ship.
However, a cabin at the far back of the ship is often far from any of the activities offered onboard. And some of them are "stepped out" especially on American vessels and older models, where the balcony above yours has a peeping view of your balcony.
For the front of the ship, those are also incredible cabins at a higher price than the back.
The only drawback of such cabins is the wind sometimes created by the ship moving. But to enter a port having coffee on your private balcony, facing forward, is also a rare experience.
Both Norwegian Cruise Line (The Haven) and MSC Cruises (MSC Yacht Club) have their exclusive "ship within a ship" luxury exclusive areas in the front part of the ship, those are not only on new ships but on older ones as well.
Why is a midship cabin more expensive?
These midship cruise cabins are more expensive due to their central location within the ship.
In a midship cabin, you are less prone to get seasick on the rough seas.
On a lot of ships, midship cabins are balconies or suites on the higher decks.
The downside of being midship, depending on the configuration of the ship, is that you might be near an elevator or outside a hallway, which means a lot more traffic.
The best way to check your cabin category and location is on a deck plan. If you cannot find it, ask your travel agent.
Cruise ship cabin pricing
You are the only one that knows your budget and finding the right cabin for it is often tricky.
The advertised cruise fare is often based on double occupancy.
A solo traveller will normally be subjected to a surcharge; additional passengers in the same cabin (third and fourth) will cost significantly less than the first two.
The interior cabins are often the most basic and least expensive cabins.
In normal times (no pandemic!), cruise ships will often sail at as close to 100% occupancy as possible; the revenue managers in the office make sure of that.
What is a guaranteed cabin on a cruise ship?
A guaranteed cabin is not a type of cabin as such. The cruise ships uses this "type" of cabin in order to sell you a cabin without allocating a cabin number.
They will then assign you a cabin number, usually no later than 2 weeks before departure, but sometimes only at check-in.
These cabins are often used by the marketing team to promote a cruise and allow the office to "move" travellers in various categories without having to ask them.
Cruise cabin price fluctuations
Like airlines, the cruise price fluctuates and is subject to changing daily or even hourly for some companies.
In general, the best cruise fares are either early bird specials, more than 9 months before departure or last minute bookings, 3 to 6 weeks before departure, when the cruise lines ask for full payment.
If you don't mind what kind of cabin you will book, waiting for last minutes deals are great.
But if the cruise line office has done their job properly, even when passengers are cancelling their cruise when asked for full payment, the ship occupancy will still be high enough not to need to heavily discount the cabins last minute.
Value adds for the price of your cabin
When comparing cruise cabin price types between cruise lines or even within the same cruise line and departure, carefully analyse the value adds that are on offer.
The purchase of a higher category is to be considered if it means that you have access to a private area or you get a drinks package included in the fare, to name but a few.
When calculating your cruise cabin price, you must also look into the cost of the rest of your trip - the flight to get to your embarkation, the onboard spend for drinks and excursions, or the hotel and taxi in the departure port. It all adds up.
Conclusion
As we have seen in this article there are a lot of variables to take into account when choosing the right cabin type for your cruise.
But here are a few areas that I recommend you look into before making a booking:
Budget – what is your budget, can you afford a balcony cabin or only an inside, the least expensive
How important is to have a private outside space?
How far you want to be from the lifts and stairs
Would you prefer midship, forward or backward?
Would you prefer to be close to or far from the pool deck and solarium?
Or the restaurant and other interior public spaces (lower down the ship)?
Although it all sounds very complicated, there are only four types of cabin: inside, outside (cabin with a window or porthole), Balcony and Suite (Balcony Cabin with a lounge area).
First posted on 04 May 2021 updated on 04 May 2021