Choosing your ship is part of the full experience when looking for your best holiday. All of them offer adventure and relaxation while sailing from one port to the next.
Here we are covering all the major cruise lines - from those that are long established, through to the number of passengers they carry, to their reputation of excellent service that they deliver.
(updated 12 March 2021) Each of them offers some distinguishing characteristics that make them truly unique.
Most of the ships have a lot in common; they offer bingo, shopping, talks, auctions, children & teen programs, wedding vows/renewal programs, WIFI and internet connection centres. All of these offerings are dedicated to increase the on-board revenue.
The main commonality of these major cruise lines is the very well packaged cruise vacation on offer - generally seven days (3 to 4 days in Southern Africa), with a mix between port and sea days - lots and lots of food and friendly staff.
You will also find casinos, shopping malls and large-scale shows that can compare to the top Las Vegas performances.
The 9 Major Cruise Line (10 ships and more):
AIDA Cruises: for youthful German speaking families.
Carnival Cruise Line: for all round fun activities aimed at the no sleep youth market.
Celebrity Cruises: the premium of the major cruise lines.
Costa Cruises: all about Italian style and lively ambiance.
Holland America Line: the perfect experience for seniors and retirees.
MSC Cruises: Mediterranean style, cleanest of the major lines with the best food & coffee.
Norwegian Cruise Line: excellent for young families and youthful solo passengers.
Princess Cruises: best suited for families with members in the 50s or upwards.
Royal Caribbean International: for kids and families, very active large ships
1. AIDA Cruise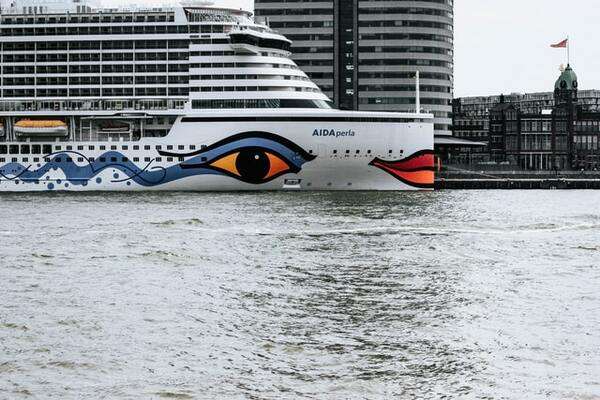 AIDAVita-- Photo by Micheile Henderson
The 14 AIDA Ships
AIDAaura [2003], AIDAbella [2008], AIDAblu [2010], AIDAcara [1996], AIDAdiva [2001], AIDAluna [2009], AIDAmar [2012], AIDAmira [2019], AIDAnova [2019], AIDAperla [2017], AIDAprima [2016], AIDAsol [2011], AIDAstella [2013], AIDAvita [2002]
AIDA is planning on expanding its fleet to 16 with an additional 2 ships by 2023
No announcement from AIDA of any ships been scraped or sold.
Aida cruises website : www.aida.de
About AIDA Cruises
The history of AIDA Cruises dates back to the 1960s in East Germany under the ownership of the Deutsche Seereederei [DSR], East Germany state-owned shipping company.
In 1991 after Germany's reunification, DSR was privatized and in 1994 placed an order for its first new ship named AIDA [1996], designed to appeal to a young and active German-speaking family, creating a Sea version of Robinson Clubs (the German Club Med).
AIDA Cruises was acquired in 1999 by P&O and is now part of the Carnival Corporation, under the direct control of the Costa Cruises division.
What to Expect on an AIDA Cruise?
You can expect all announcements, tours and signage in German, as the vast majority of passengers on AIDA Cruises are German or from German-speaking countries.
The ships are targeted for young German-speaking families, with ultra-casual dress codes and the food being more about the quantity than the quality – unless you can pay extra for dining in a "specialty" restaurant
- back to top -
2. Carnival Cruise Line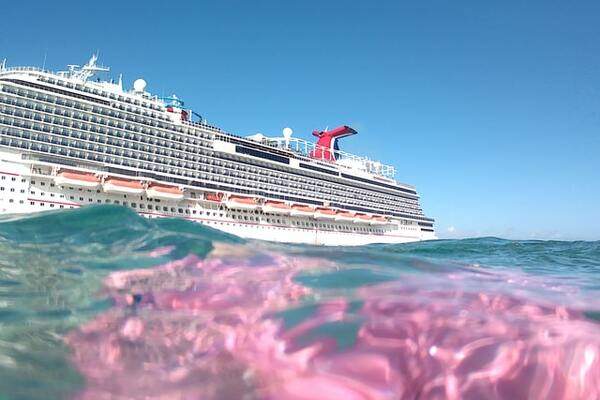 Photo by Jonathan Leonardo
The 27 Carnival Cruise Ships
Carnival Breeze [2012], Carnival Conquest [2002], Carnival Dream [2009], Carnival Ecstasy [1991], Carnival Elation [1998], Carnival Freedom [2007], Carnival Glory [2003], Carnival Horizon [2018], Carnival Legend [2002], Carnival Liberty [2005], Carnival Magic [2011], Carnival Miracle [2004], Carnival Panorama [2019], Carnival Paradise [1998], Carnival Pride [2002], Carnival Sensation [1993], Carnival Spirit [2001], Carnival Splendor [2008], Carnival Sunshine [1996], Carnival Triumph [1991], Carnival Valor [2004] Carnival Victory [2000] Carnival Vista [2016], – Mardi Gras & Carnival Radiance to launch in 2021
Ships that have been sold/scrapped due to COVID-19: Carnival Fascination [1994], Carnival Imagination [1995], Carnival Inspiration [1996], Carnival Fantasy [1990]
Carnival Cruise Line website : www.carnival.com
About Carnival Cruise Line
Carnival Cruise Line was founded by Israel-born Ted Arison, whose dream was to become a concert pianist. He founded Carnival Cruise Line in 1972 with the launch of the unique ship of the fleet, Mardi Gras (Formerly Empress of Canada). The objective was to appeal to all ages and backgrounds, and it works.
The company's first new ship was the Tropical [1982]. In 1996, Carnival Cruise Line was the first to introduce a ship measuring over 100'000 gross tons, the Carnival Destiny, now re-named Carnival Sunshine.
Carnival Corporation, the parent company of Carnival Cruise Line, owns Aida Cruise, Costa Cruises, Cunard, Holland America Line, P&O Cruises, Princess Cruises and Seabourn, totaling 102 ships.
What to Expect on a Carnival Cruise?
Carnival Cruise Line has some of the oldest ships of the major cruise lines. The dress code is ultra-casual, as it is all about "happy" and "fun". If you are a solo traveller, you will get lost in the middle of couples and families.
Make sure you grab your sun-deck chair first on Sea Days, otherwise you might end up sitting on your neighbor's lap - the plastic chairs with no cushioned pads are quite uncomfortable to sit on, no matter how short.
Carnival is targeted at family. With well over 70,000 children carried every year, the "Camp Carnival" – the cruise child / youth program - is a well oiled machine.
- back to top -
3. Celebrity Cruises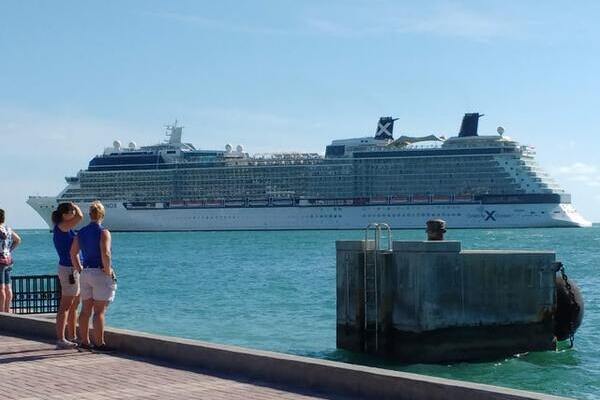 Celebrity Equinox - Photo by Jake Lusvardi
The 12 Celebrity Cruises Ships
Celebrity Constellation [2002], Celebrity Eclipse [2010], Celebrity Edge [2018], Celebrity Equinox [2009], Celebrity Flora [2019], Celebrity Infinity [2001], Celebrity Millennium [2000 / revamped 2019], Celebrity Reflection [2012], Celebrity Silhouette [2011], Celebrity Solstice [2008], Celebrity Summit [2001], Celebrity Xpedition [2001], – Celebrity Cruises are busy with a USD$500 million modernization program.
Celebrity Cruises website: www.celebritycruises.com
About Celebrity Cruises
Founded in 1989 by brothers John and Michael Chandris and Harry Haralambopoulos, who had an existing cargo and cruise business - the Chandris Group. They decided to create a cruise line with a more European experience and focus on onshore activities.
Celebrity Cruises is the only "premium" line amongst the major cruise lines, as the product delivered aboard is superior to the rest. Celebrity Cruises also focuses on land-based packages with their cruise experience, to allow travellers the joy of experiencing some of its destinations, such as Alaska, Ecuador & the Galapagos Islands, to their fullest.
Celebrity Cruises was acquired by Royal Caribbean in 1997 and in 2017 founded a sub-brand Azamara Club Cruises, focusing on smaller luxury ships.
What to Expect on a Celebrity Cruise?
Celebrity is well known for its higher staff per passenger rate, in comparison to its competitors. This is displayed by a high quality of service, many European staff, a lot of fresh flowers and a zero-announcement policy.
As with all of the major cruise lines, you can expect Bingo, art auctions and horse racing on board. For the younger ones, they will be looked after in the Shipmates club (3 to 5 years), Celebrity Cadets (6 to 8 years), Admiral T's (12 to 14 years) and Teens club (13 to 17 years).
If you are on-board one of the three expedition ships, Celebrity Xpedition, Xploration and Xperience, you will get an incredible destination immersion. With the add of Celebrity Flora, specialising by including the Galapagos Islands in the mix, Celebrity Cruises is asserting its position in the Premium Expedition market.
- back to top -
4. Costa Cruises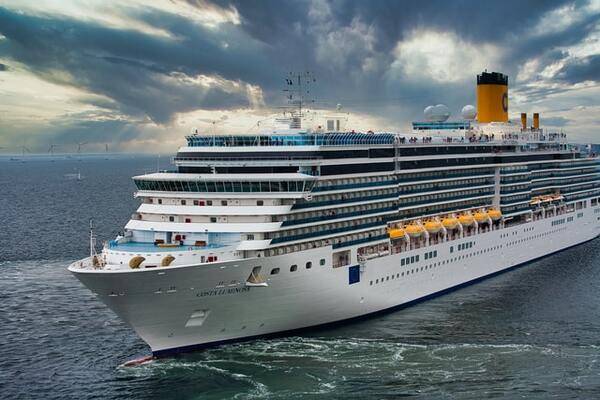 Costa Luminosa - Photo by Daniele D'Andreti
The 13 Costa Cruises ships
Costa Deliziosa [2010], Costa Diadema [2014], Costa Fascinosa [2012], Costa Favolosa [2010], Costa Fortuna [2003], Costa Luminosa [2009], Costa Magica [2004], Costa neoRiviera [1999], Costa Pacifica [2009], Costa Serena [2007], Costa Smeralda [Nov 2019], Costa Venezia [2019], Costa Firenze [2020] - Costa Toscana planned for end 2021 -
Ships that have been sold/scrapped due to COVID-19: Costa Atlantica [2000], Costa Mediterranea [2003], Costa Victoria [1996],Costa neoRomantica [1993]
Costa Cruises website: www.costacruises.com
About Costa Cruises
In the 1860s, Giacomo Costa started an olive oil business. After his passing in 1916, his three sons took over the company and in 1924 bought the first ship – Ravenna – to cut transport costs for their oil business.
In 1948, Anna 'C', Costa's first passenger ship was purchased and started a regular route from Genoa to South America. In 1997, Costa Cruises was sold to Carnival Corporation and UK's Airtours Plc. In 2000, Carnival Corporation took full control over the company.
In 2013, Costa started a sub-brand called Costa neoColletction, with Costa neoRomantica, Costa neoClassica and Costa neoRiviera, smaller ships for longer cruises with itineraries of 12 to 14 days, with longer stops to enjoy excursions and exploration.
What to Expect on a Costa Cruises ship?
Costa target the European travellers; smaller cabins, bigger spas and excellent coffee. The dress code is casual, even on formal nights. It is a couples, party & family-oriented atmosphere, where most passengers, in Europe, will speak Italian, Spanish and French and in South America the majority will be Spanish speaking, as the company has a strong helm on the South American market.
In the true South European way, the outdoor cafes and eating late with constant activities and loud entertainment are only a hint of what you can expect on a Costa ship.
The Mini club (3 to 6 years), Maxi club (7 to 12 years) and Teen Club (13 to 17 years) will delight the younger generations. Group babysitting is available, from 09:00am to 12:00 am. No activities or babysitting for children under the age of 3 years old.
- back to top -


5. Holland America Line (HAL)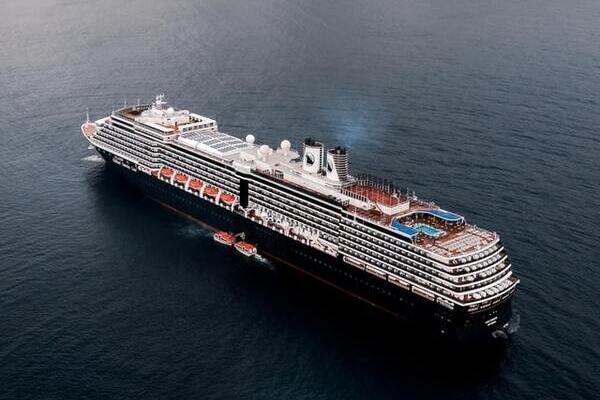 Oosterdam - Photo by Nestor Pool
The 11 Holland America Line ships
Eurodam [2008], Koningsdam [2016], Maasdam [1993], Nieuw Amsterdam [2010], Nieuw Statendam [2018], Noordam [2006], Oosterdam [2003], Volendam [1999], Westerdam [2004], Zaandam [2000], Zuiderdam [2002]
Ships that have been sold/scrapped due to COVID-19: Amsterdam [2000], Rotterdam [1997], Veendam [1996]
Holland America Line website: www.hollandamerica.com
About Holland America Line
When mentioning Holland America Line, the first thing that comes to mind is history! The company started its activities under the Netherlands-America Steamship Company, soon to be renamed the Holland America Line, shipping immigrants from Rotterdam to New York from 15 October 1872.

Holland America Line acquired Westours in 1983, the Alaska hotel and transportation company, that to this day is one of Alaska's biggest employers. HAL moved its headquarters to Stamford, Connecticut in 1978 and then to Seattle in 1983. In 1989, Carnival Corporation acquired Holland America.

HAL rents a private island in the Bahamas called Half Moon Cay. The cruise line appeals to a range of clients, from senior citizens to multi-generation families. Throughout the years, HAL has successfully kept its connection with its Dutch roots.
What to Expect on a Holland America Line ship?
You can divide the Holland America fleet into two distinct type of ship; the more senior and seasoned travellers and the traditional clientele will prefer the small and less swanky ships - Maasdam, Prinsendam and Zaandam.
The younger families and multi-generation travellers will prefer Eurodam, Niew Amsterdam, Nieuw Statendam, Noordam, Oosterdam, Westerdam and Zuiderdam.
Holland America Line puts a special emphasis on the onboard activities, with some excellent life-enrichment lecturers and its "Culinary Arts" program which includes celebrity guest chefs and interactive cooking experiences. When travelling in Alaska, for example, you might dive into the Tlingit culture by learning to prepare Alaskan style food! The on-board activities will suit the older passengers down to a T.
HAL will tailor their on-board children's program according to the number of junior passengers into one of their three age groups; 3 to 8, 9 to 12 and 13 to 17 years. This will allow the entertainment team to maximize their availability per age group.
A tip, stay away from the coffee if you are a coffee aficionado!
- back to top -
6. MSC Cruises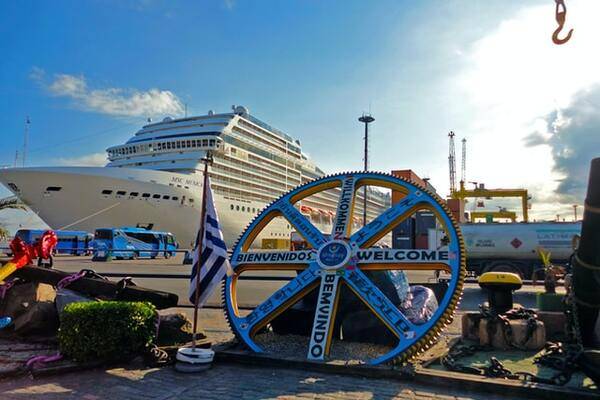 MSC Musica - Photo by Carolinie Cavalli
The 17 MSC Cruises ships
MSC Armonia [2001 – revamped 2014], MSC Bellissima [2019], MSC Divina [2012], MSC Fantasia [2008], MSC Grandiosa [2019], MSC Lirica [2003 – revamped 2015], MSC Magnifica [2010], MSC Meraviglia [2017], MSC Musica [2006], MSC Opera [2004 – revamped 2015], MSC Orchestra [2007], MSC Poesia [2008], MSC Preziosa [2013], MSC Seaside [2017], MSC Seaview [2018], MSC Sinfonia [2005 – revamped 2015], MSC Splendida [2009] – Launch of MSC Seashore and MSC Virtuosa in 2021 and 6 new ships planned until 2026
Related: List of MSC Cruises Ships
About MSC Cruises
MSC Cruises was born in 1989 when Gianluigi Aponte, owner of MSC Shipping (Mediterranean Shipping Company) decided to enter the cruise business by purchasing Italian company Lauro Lines and renaming it StarLauro Cruises.
In 1994, one of StarLauro Cruises two ships, the Achille Lauro caught fire while on route to South Africa, and sank. In 1995, StarLauro Cruises changed its name to MSC Cruises.
MSC Cruises has grown incredibly fast and is the world's largest privately-owned cruise line with its HQ based in Geneva, Switzerland. To this day, the company is owned by the Apontes, a shipping-based family with a history tracing back to 1675 in Naples.
In 2017, MSC added the MSC Meraviglia and MSC Seaside and consolidated their partnership with leading brands such as Cirque du Soleil, Chicco, Lego, Techno Gym, Harmon and Samsung.
Related: Full Guide to MSC Cruises
What to Expect on a MSC Cruises ship?
MSC Cruises emphasizes the European / Mediterranean look and feel (except for the North American dedicated ships), with high quality soft furnishings, Italian marble and Swarovski glass stairways.
The ship is operated in English, with some announcements in French, German, Italian and Spanish, depending on the nationality of its passengers. During the cruise there are very few announcements. Given the multilingual emphasis, the shows and other major entertainment are more visual than verbal.
MSC Cruises provides four distinct experience packages, although not all of them are available for each category nor for all destinations. They are Bella (for a basic, price-driven experience), Fantastica (for greater comfort and flexibility), Wellness (for the health and fitness conscious) and Aurea (for more inclusions). On top of the experiences, on the largest ships, MSC offers an exclusive lounge and separate cabins, dining and bathing areas for their 5 star Yacht Club-grade passengers.
The kids cruise fare is free if travelling in the same cabin as their parents, although they still pay port and service fees. The children are divided into three age groups: Mini Club (3 to 9), Junior (10 to 13) and Teens (14 to 17). There are also times when the infants can be brought to play and explore.
- back to top -
7. Norwegian Cruise Line (NCL)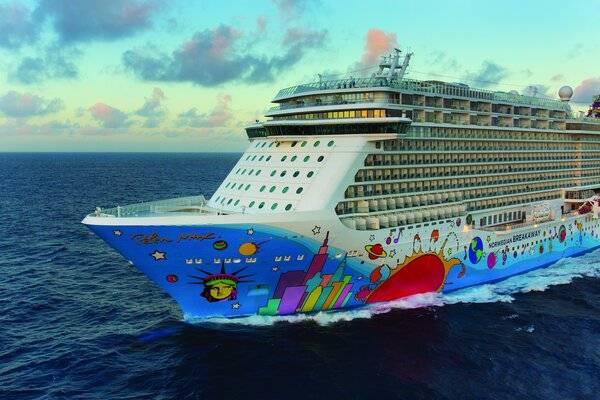 Norwegian Breakaway - supplied
The 16 Norwegian Cruise Line ships
Norwegian Bliss [2018], Norwegian Breakaway [Build 2013 - Refurbished 2018], Norwegian Dawn [Build 2002 - Refurbished 2016], Norwegian Encore [2019], Norwegian Epic [Build 2010 - Refurbished 2015], Norwegian Escape [2015], Norwegian Gem [2007 Refurbished 2015], Norwegian Getaway [Build 2014 - Refurbished 2019], Norwegian Jade [Build 2006 - Refurbished 2017], Norwegian Jewel [Build 2005 - Refurbished 2018], Norwegian Joy [Build 2017 - Refurbished 2019], Norwegian Pearl [Build 2006 - Refurbished 2017], Norwegian Sky [Build 1999 - Refurbished 2019], Norwegian Spirit [Build 1998 - Refurbished 2017], Norwegian Star [Build 2001 - Refurbished 2018], Norwegian Sun [Build 2001 - Refurbished 2018], Pride of America [Build 2005 - Refurbished 2016]
Norwegian Cruise Line: www.ncl.com
For a a list of all the Norwegian Cruise Line Ships
About Norwegian Cruise Line
Norwegian Cruise Line was founded in 1966 by Knut Kloster and Ted Arison, as Norwegian Caribbean Line.
The first ship was a car-ferry sailing between Southampton, UK and Gibraltar, called Sunward. NCL was first in many regards: the first cruise liner developing Caribbean ports, like Ocho Rios in Jamaica; the first to land in remote islands; and the first to combine fly and cruise.
On most ships, the only thing that is Norwegian are the senior officers. It is very difficult to find a true consistent style within the fleet, which makes a fantastic character variation between ships. For the last couple of years, NCL has gone to great expense to refurbish and modernize their fleet.
Related: Guide to Cruising in the Caribbean
What to Expect on a Norwegian Cruise Line Ship?
The ultra-casual atmosphere, with no formal dress code, draws a diverse crowd of passengers. The décor is contemporary, creative and fresh, with an eat when you want "kind" of philosophy.
In 2002, NCL started introducing the Garden Villas on its fleet. The 534 square metre (5,750 Square foot) suite offers guests privacy, luxury and pampering throughout their on-board experiences.
NCL attracts mainly English speaking passengers, even in Europe. The staff might lack polishing but are eager to help, friendly, smiling and obliging. There are plenty of activities aboard - Broadway type shows, lively music, casinos and the iconic Bingo nights.
As with most cruise lines, you will have to pay a little extra for specialty dining, shore excursions, all drinks (both alcoholic and non-alcoholic), except water, coffee and tea.
The NCL youth program was developed in conjunction with The King's Foundation and Camps, a UK based charity. The program divides the younger travellers into Guppies Programs (6 month to 2 years), Splash Academy (3 to 12 years) and Entourage (13 to 17 years).
- back to top -



8. Princess Cruises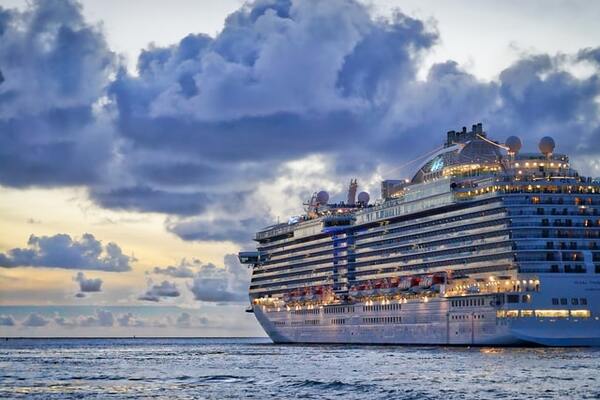 Regal Princess - Photo by Peter Hansen
The 17 Princess Cruises ships
Caribbean Princess [2004], Coral Princess [2002], Crown Princess [2006], Diamond Princess [2004], Emerald Princess [2007], Golden Princess [2001], Grand Princess [1998], Island Princess [2003], Majestic Princess [2017], Regal Princess [2014], Royal Princess [2013], Ruby Princess [2008], Sapphire Princess [2005], Sky Princess [2019] - the Discovery Princess is due in January 2022 and two additional ships will start sailing for Princess end of 2023 and mid 2025 respectively.
Ships that have been sold/scrapped due to COVID-19: Sea Princess [1998 - 2020], Sun Princess [1995 - 2020], Pacific Princess [1999 - 2021],
Both Golden Princess [2001 - 2020] and Star Princess [2002 - 2020] where transferred to P&O Cruises Australia in 2020.
Princess Cruises website: www.princess.com
About Princess Cruises
Founded in 1965 by Stanley McDonald, Princess Cruises first ship, Princess Patricia, was chartered from Canadian Pacific Limited for cruises along the Mexican Riviera from Los Angeles.
Unfortunately, Princess Patricia was not equipped for the tropical cruising and was replaced by Princess Italia a year later. For the next 9 years, Princess Cruises chartered various vessels without owning any.
It was only in 1974 when P&O (Peninsular & Oriental Steam Navigation Company) purchased Princess Cruises that the company got their first ship, the Sun Princess. In 2001 Carnival Corporation acquired Princess Cruises and the headquarters moved to Santa Clarita, California.
What to Expect on a Princess Cruises ship?
On-board Princess Cruises ships, passengers have slightly more space than its traditional competitors Carnival & Royal Caribbean. In 2010, the company converted to fully digital travel documents.
Princess's food and entertainment is targeted to the North American market, but any English-speaking passenger will feel welcome.
Since 2017, the cruise company has played a central role in the introduction of the new Ocean Medallion Technology developed by its mother company, Carnival Corporations. The Ocean Medallion serves as a virtual concierge while on board.
The ships are really well suited for families with young children, couples and retired solos.
For those who would like to get hitched at sea, Princess is one of the few cruise lines where the Captain can legally marry American Couples.
The "Tie the Knot" wedding packages are the most extensive of any of the major lines.
Since 1992, Princess Cays, a private resort on Eleuthera, located 80km (50 miles) outside the Bahamas, has become Princess's "private" port of call.
Unlike other cruise islands, Eleuthera is inhabited by a population of around 11'000 people. It can provide those passengers that are not beach people an alternative to the ship for the day.
The youth centre facilities are divided into four age groups, Just for Kids (6 months – 2 years), The Treehouse (3 to 7 years), The Lodge (8 to 12 years), Just for Teens (13 to 17 years). The operating hours are on Sea Days; from 9:00am to 12:00 pm | 1:00pm - 5:00pm | 6:00pm - 10:00pm. Port Days 8:00am - 5:00pm | 6:00pm - 10:00pm, the port days schedule might change subject to ports hours.
- back to top -


9. Royal Caribbean International (RCI)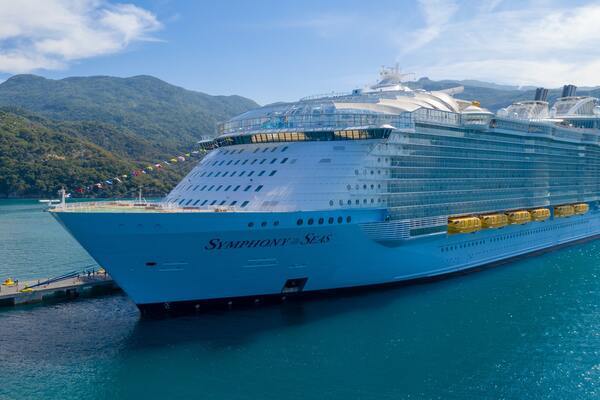 Symphony of the Sea - Photo by Fernando Jorge
The 26 Royal Caribbean International Ships
Adventure of the Seas [2001], Allure of the Seas [2010], Anthem of the Seas [2015], Brilliance of the Seas [2002], Enchantment of the Seas [1997], Explorer of the Seas [2000], Freedom of the Seas [2006], Grandeur of the Seas [1996], Harmony of the Seas [2016], Independence of the Seas [2008], Jewel of the Seas [2004], Liberty of the Seas [2007], Mariner of the Seas [2004], Navigator of the Seas [2003], Oasis of the Seas [2009], Ovation of the Seas [2016], Quantum of the Seas [2014], Radiance of the Seas [2001], Rhapsody of the Seas [1997], Serenade of the Seas [2003], Spectrum of the Seas [2019], Symphony of the Seas [2018], Vision of the Seas [1998] Voyager of the Seas [1999] – RCI has 6 ships on order until 2025. With Odyssey of the Sea planned for 2021 and Wonder of the Seas for 2022.
Ships that have been sold/scrapped due to COVID-19: Majesty of the Seas [1992], Empress of the Seas [1990]
Royal Caribbean International website: www.royalcaribbean.com
About Royal Caribbean International
Royal Caribbean International was founded by three Norwegian shipping companies, Gotaas Larsen, Skaugen & Company and Anders Wilhelmsen & Company.
The first RCI ship, the Song of Norway, debuted in 1970, followed by Nordic Prince in 1972 and Sun Viking in 1978.
What made Royal Caribbean International different from Carnival Cruise Line and NCL, was that RCL launched its cruise operations with brand new ships and not old, pre-owned vessels.
In 1978 Royal Caribbean performed an industry first with the Song of Norway.
They inserted a 26m (85 foot) section into the vessel's centre, becoming the first ship to be lengthened ever.
Then in 1988, with the launch of Sovereign of the Seas, the cruise line industry saw the launch of the first "large" cruise ship with 2850 passengers.
In 1997, Royal bought Celebrity Cruises. RCL also owns two private islands, Labadee in Haiti opened in 1986 and the freshly renovated (re-opened in December 2018) Coco Bay in the Bahamas, first used in 1990.
What to Expect on a Royal Caribbean International ship?
Royal Caribbean is the largest (in revenue) cruise line worldwide, with 14% of the total cruise line revenue and has carried over 50 million passengers since 1972.
The line sails the top four biggest ships in the world – Allure of the Seas, Harmony of the Seas, Symphony of the Seas and Oasis of the Seas.
Royal's emphasis is on the ship as the destination and not necessarily the port with some of the passengers actually never going onshore.
It is a comfortable, well-oiled, consistent product that caters for the American market.
The ships offer innovative activities and all have public rooms, bars and gimmicks for the active type.
All of the ships offers a Rock-Climbing wall and most of them have mini-golf. Just make sure you plan ahead, as most activities require you to sign up in advance.
The food aboard is mainstream but a good enough experience for most.
You will feel that your head is buzzing with announcements for activities that increase on-board revenue, such as bingo and art auctions.
Royal Caribbean is the ultimate cruise experience for young travellers, as it is like being at Disney World.
Children and teens are divided into seven age groups; Royal Babies (6 to 18 months), Aquanauts (three to five years), Explorers (6 to 8 years), Voyagers (9 to 12 years), Navigators (12 to 14 years) and teens (15 to 17 years). If needs be, an extra cost in cabin babysitting service is available.
- back to top -


Closing
There is something for everyone and all tastes when it comes to cruise lines.
All of these Major Cruise lines provide a well oiled and well packaged holiday experience with very little room for ultra-personalized experience, the exception being if you book the MSC Cruises Yacht Club or NCL Garden Villas.
On all the ships sailing under these brands, you can expect state of the art Broadway style shows, multiple dining options, floating malls, announcements in several languages and activities to please every single passenger.
These ships are stable in open ocean waters, even in bad weather. Some of the down side of such structures: food is prepared on a large scale; passengers will spend a fair amount of time in line waiting for embarkation, disembarkation, buffet and shore-excursions; finding quiet space is a permanent struggle, even in cabins; some of these ship are big retail malls surrounded by cabins.

Hero Image by Fernando Jorge