Almost everything you need to know about MSC Cruises.
MSC Cruises - the family-owned, Swiss-based company with an Italian heritage. The company showcases fine pan-European flair, with a high level of service and hospitality from a friendly, multilingual crew. It has evolved quickly as the "new kid on the block". Of all the major cruise lines, MSC Cruises holds the reputation of being the cleanest.
MSC is the fourth-largest cruise company, sailing to more than 200 destinations and a target of expanding its fleet to 25 ships by 2027.
To date, it is still a privately-owned company with a long Italian maritime heritage, find more about the history of MSC Cruises.
Interesting Facts about MSC Cruises
World's largest privately-owned cruise line

A fleet of 19 ships

Over 800 different itineraries

Discounts for MSC Voyager Club Members

Multiple kids' clubs designed for children of different ages

Elegant Italian Design
Ocean Cay Marine Reserve is MSC Cruises' private island in the Caribbean

Portuguese Island and Pomene in Mozambique are MSC Cruises private destinations

MSC for Me with ZOE: virtual cruise assistant

Cirque du Soleil theatre performances on selected MSC Cruises ships
What Makes MSC Cruises Different?
Inspired by their European heritage, MSC Cruises brings together travellers from more than 180 different nationalities to explore new places, discover new cultures and connect with new people.
From the Caribbean Islands to the Mediterranean, the Fjords in Northern Europe to South Africa and Asia, MSC sails to more than 200 destinations around the world - with great experiences waiting to be discovered in each port and city along the way.
The fleet of 19 cruise ships has some of the most innovative and modern vessels. Designed with a distinct European elegance and featuring details such as Swarovski crystal staircases, European marble finishes and Mediterranean-style promenades.
Expect to find enriching excursions and great onboard activities; refined international dining experiences; authentic Balinese spas; immersive kids and family programs; a variety of stylish and comfortable accommodation and award-winning entertainment.
The cherry on the top is the passion and dedication that the owner, Gianluigi Aponte and his family has had for the brand. Until only recently, Madame Rafaela Aponte, his wife was closely involved in designing every MSC Cruise ship since the launch of MSC Cruises in 1989.
Mister Aponte's son, Diego Aponte is MSC Shipping's President, Diego's sister, Alexa Aponte-Vago is the Group's CFO. Her husband Pierfrancesco Vago is the Executive Chairman of MSC Cruises -Vago is also the Global Chairman for CLIA (Cruise Line Association) since the 22nd of January 2021.
When cruising or working on an MSC Cruises' ship or in the office, you feel like you are part of a family.
MSC Cruises has been at the forefront of health and safety throughout its existence. However, since the beginning of the Covid-19 epidemic, MSC Cruises has implemented a range of health and safety protocols that allowed the premium cruise line to sail since October 2020 almost without interruption, focusing on an itinerary in the Mediterranean.
What does MSC Cruise line stand for?
MSC stands for Mediterranean Shipping Company. MSC Cruises was established as its own entity in 2006 with a fleet that now totals 19 ships. However, the cruise ship business started years before - back in 1988 when MSC bought the Monterey and in 1989 MSC purchased StarLauro Cruises and added the Achille Lauro to the fleet. In 1995, StarLauro cruises named changed to Mediterranean Shipping Cruises.
What to Expect on an MSC Cruise
With 19 ships and 6 more to come into service by 2027, MSC Cruise has a wide range to offer.
World-Class Entertainment
MSC Yacht Club is an exclusive ship-within-a-ship, located on the upper foredecks of the vessel with the finest views offering the highest standards of privacy, luxury and personal service.
Clients staying in the MSC Yacht Club will enjoy:
A private entrance with a dedicated key card

24/7 Butler & Concierge Service offering the highest standards of personal care and service

Private venues and elegant amenities

Gourmet dining in a private restaurant
Superior suite accommodation

A complete all-inclusive experience

All while still being able to enjoy the industry-leading amenities, entertainment, and services throughout the ship
MSC Yacht Club is available onboard the Meraviglia-Plus Class (MSC Grandiosa, MSC Virtuosa), Meraviglia Class (MSC Meraviglia, MSC Bellissima), Seaside-Evo Class (MSC Seashore), Seaside Class (MSC Seaside, MSC Seaview), and Fantasia Class (MSC Divina, MSC Preziosa, MSC Splendida and MSC Fantasia).
Guests can relax and enjoy the elegant staterooms of the MSC Yacht Club that include Royal Suites, Executive & Family Suites, Deluxe Suites, and Interior Suites (not available on Fantasia Class ships).
For those patrons that are looking for a premium service in crafting their own shore excursions, the concierge offers the finest customized tours package in any countries you will be cruising in.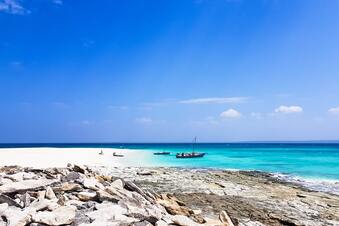 Southern Africa
Nothing calls you more towards a holiday than the beaches of Pomene and Portuguese Island in Mozambique. Both isolated destinations will attract anyone that needs a break from the routine.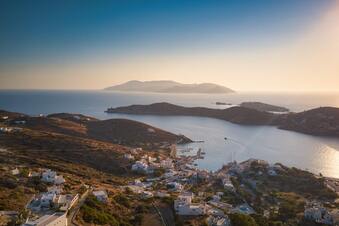 Eastern Mediterranean
Cruising the Eastern Mediterranean is to go back in time. From the traditions and monuments of Greece to the souk of Istanbul. The mix of the old and the new gives the perfect balance to your holiday.
Northern Europe
Cruising in Northern Europe is all about the landscape and the picturesque fishing villages. Sliding down the Fjords watching the surreal cliffs should be on your bucket list.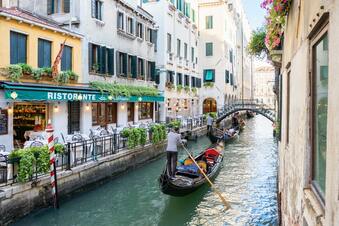 Western Mediterranean
Travelling in the Western Mediterranean will give you the opportunity to visit historic ports such as Bari, Venice, Genoa and Naples. Enjoy the Spanish culture in Barcelona, Malaga and Valencia or party until the wee hours in Ibiza.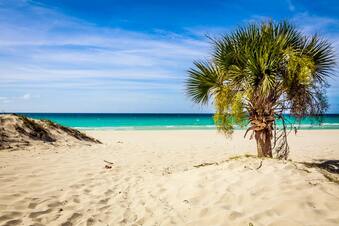 Caribbean
History, culture and natural beauty all lend to the splendour of the Caribbean. Discover incredible ports sure to make you fall in love with the Caribbean's people, food and culture.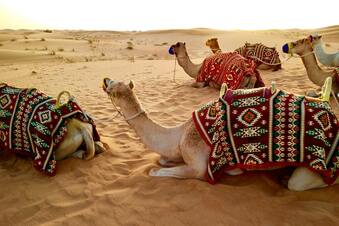 Middle East - Dubai UAE
From futuristic cities with staggering skylines to desert islands with pristine beaches, discover a land of ancient beauty and ultra-modern luxury. The contrasts are as surprising as they are spectacular.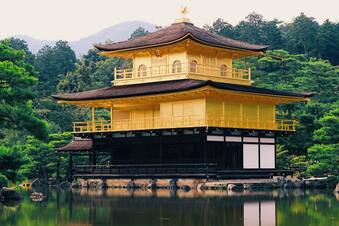 World Cruise 2022
117-day voyage onboard MSC Poesia departing on January 5, 2022. This is the opportunity to visit 43 amazing destinations in 24 different countries.
MSC Cruises Private Islands
Since the 1990s, cruise lines have been investing in land-based private islands to accommodate their customers.
MSC Cruises is the only cruise liner with 3 private islands:
Ocean Cay MSC Marine Reserve, Bahamas - first used in 2019
Portuguese Island, Mozambique - first used in 2006
Pomene Bay, Mozambique - first used in 2017

Ocean Cay, MSC Marine Reserve
Ocean Cay, MSC Marine Reserve is MSC Cruises' private island, just over 100km from Miami.

The pristine piece of land in the Bimini chain of islands in the Western Bahamas opened on December 5, 2019. The 38 hectares island is surrounded by 165 sq km of marine reserve.
With this private island, MSC Cruises is successfully immersing guests in a real Caribbean experience!
With over 3.5km of white sandy beaches you will find a lot of great activities on Ocean Cay. From snorkelling to stand-up paddle boarding and kayaking to relaxing and enjoying the sun, there is something to suit everyone.
On most of the itineraries, the ship will only leave either later in the night or stay two days in port. This allows you to enjoy a night on the island. Start with a drink at one of the multiple beach bars, enjoy the lighthouse light show and finally find a quiet place to dream lying on the beach stargazing, an unbelievable experience.
All drinks packages bought onboard will carry over to the island. However, for some packages, drinks might be limited on Ocean Cay.
8 distinct beach areas with free sunbeds

Head to Sunset Beach for watersports

Ocean House Beach is exclusive to MSC Yacht Club guests

Seekers Family Cove is dedicated to families.

Learn about the marine life with the Deep-Sea Fishing (Catch, Tag & Release) program.
Learn about the marine life with the Deep-Sea Fishing (Catch, Tag & Release) program.

Scuba Dive on Victory Reef, amazing experience.

WiFi is available on Ocean Cay with the ship's WiFi packages.

10-minutes walk will get you to most places around the Island.

All payments are done through your Cruise Card.

You have ample bars, restaurants and food trucks (free or at a charge), so as not to feel thirsty or hungry.
Map of Ocean Cay, MSC Marine Reserve

Portuguese Island, Mozambique
A mere 34 kilometres across Maputo Bay, east from the mainland of Mozambique, lies the 6km long, uninhabited island of Ilha dos Portuguêses, known as Portuguese Island in English.
This stunning gem of white sand and clear blue seas is a mere six kilometres long, which means it will only take you an hour or so to walk around in its entirety. It literally lies in the shadow of Inhaca Island, which has many amenities.
This island is usually part of your cruise holiday, where due to there being no dock, the ship is at tender off the shore of the island. (At tender means they drop anchor in the bay rather than being abreast of the shore.) There are tender boats, which seat around 150 people, that go between the ship and the shore. Each trip takes in the region of ten to fifteen minutes. Usually, there is a day to spend on the island and visit Inhaca.
At low tide, it is possible to walk across the sand bars from Portuguese Island to Inhaca, where there are a variety of lodges, bars, restaurants and points of interest, such as the lighthouse and marine museum.
Things to do:
Walk the Perimeter of the Island: The walk will take you to some of the most beautiful spots on the islands. Very few passengers move further than the beach bar, so you will feel like you are on a remote desert island, with crabs for company, pansy shells galore and perhaps the odd local fisherman in the distance. There are also a few mangrove swamps on the island, so you get to see something other than just sea and sand.

Swim!: The water is incredibly warm and on calm days, there is very little swell, making it easy to swim, whether you are young, old or somewhere in between.

Deep Sea Fishing: Opt to go on an excursion to do some deep sea fishing. Equipment is provided and most companies support the catch and release method.

Snorkelling: Take a trip to the Coral Gardens and explore the reef whilst snorkelling. There is an abundance of coral life and a myriad of fish to be seen. With all activities of this nature, if there is low visibility, it will make it very difficult to see anything, so if possible, pick a day with good weather.

Support the Local Market: The plethora of brightly coloured sarongs fluttering in the breeze will certainly catch your eye as you pass by the market on the island. There are a variety of carvings, crafts (beads, bags, baskets, etc), t-shirts, caps and a small number of foodstuffs, as well as the ever-present rum, to be bought. You will need hard currency for these, so take some Rands, US Dollars or Metacais along with you.

picture by Ishan @seefromthesky
Pomene is an idyllic bay on the coast of Mozambique, roughly 605km north of Maputo and 120 km north of the town of Inhambane. MSC Cruises has taken over what was the Pomene Lodge and turned it into the Pomene Beach Club, which it uses for a day stop on some of its Southern Africa itineraries.
Contrary to popular belief, Pomene is not an island – it is part of the Mozambiquan mainland, but there is a spit of land that juts out into the ocean giving it that island feel. This sandy peninsula creates a beautiful lagoon, with a mangrove forest on one side and the ocean on the other.
This unspoiled area is part of the Pomene Nature Reserve. Because it is not an easy part of the country to reach by land or air, it is a pristine environment.
Bearing this in mind, MSC Cruises has a policy of not leaving any rubbish on the island. This is taken back aboard the ship and properly handled on return to Durban.
What activities to do on Pomene:
There is so much to do at Pomene. Try to get one of the early transfers across to the island to get a great spot to set yourself up for the day.
The most obvious thing to do is head over to the beach and enjoy time in the crystal clear, warm water or relax on the white sandy beaches. Don't forget to take some shoes – the sand gets very hot during the day. To enjoy your day even more, book yourself an umbrella at the excursions desk, for your own shady spot. Or amp it up with an Exclusive Beach Lounge booking – your own beach hut with a sun lounger; a private bar area (use your drinks vouchers from on the ship); a free soft drink and a fruit skewer.

Stroll up to the Pomene Beach Club for lunch. This is not at an additional cost. Take a dip in the swimming pool, get a drink at one of the beach bars, or enjoy a spa treatment at one of the cabanas set aside for the MSC Aurea Spa. If you have kids, there are lifeguards at the pool and there is a jungle gym for them to play on.

There are a large variety of excursions to all the sites and activities on Pomene. Take a trip up to the old Pomene Hotel. There are beautiful views from the ruins and you can get a sense of the grandeur of the hotel when wandering through the buildings.

While at the hotel ruins, take a stroll down to the beach below to see the blowholes. The rocks have eroded to have vertical holes through them and the waves coming in are forced through to create a spray. Be careful of the slippery rocks and be very mindful that your children don't fall through the holes onto the rocks below. For the best display, be there when the tide is coming in or at high tide.

Go snorkeling or kayaking in the mangroves. The trees look like they are floating as their rooting system keeps the trees above water level. There is a plethora of marine life to see, especially as the roots are a prime spot for fish to hide amongst.

There is deep-sea fishing as an option; hiring a stand-up paddle board; pedalo boat rental; or a trip out to see the whales and dolphins in the area.
MSC Cruises prides itself on having the youngest fleet in the cruise industry, including some smaller ships in the Lirica Class with a guest capacity of about 2,000 passengers at double occupancy (two people to a cabin).

The Musica Class, has a capacity of about 2,550 at double occupancy and the Fantasia Class ships have between 3,200 and 3,500 at double occupancy. The newest class are the Seaside Class with 4,100 to 4,500 and the Meraviglia Class with a capacity between 4,300 and 4,800 passengers.
Technology on MSC Cruises
MSC for Me
MSC for Me is only available on the latest classes of ships - Seaside, Meraviglia and Meraviglia Plus.
Through the MSC for Me app, which can be downloaded on the guests' phones, passengers can organize and plan their trip, from reserving seats at the restaurant and theatre to viewing the daily program; book restaurant, spa treatments and excursions; navigate the ship through the use of MSC's smart & interactive maps.
The technology also comes with a bracelet that allows passengers to pay for purchases, as well as open their cabins with it.
ZOE
ZOE is a virtual personal cruise assistant. Similar to Alexa or Google Assistant, it assists passengers in answering most of the common questions they have.
The device responds to seven languages (English, French, Italian, Spanish, German, Brazilian Portuguese and Mandarin), however, it still battles understanding some accents, but it is constantly learning and improving.
Zoe was named after the granddaughter of the founder, Mr Aponte.
MSC Voyagers Club Benefits
How to earn MSC Voyagers Club points
MSC Loyalty Status Match Program
Cirque du Soleil at Sea
MSC Cruises' unique partnership with Cirque du Soleil®, has created the Cirque du Soleil at Sea show. Together they have created eight original shows that will be performed on the 4 Meraviglia Class ships - MSC Meraviglia, MSC Bellissima, MSC Grandiosa and MSC Virtuosa.
Six nights per week, the artists from Cirque du Soleil perform two unique shows in a purpose-built 994 sq. m. Carousel Lounge. You can add dinner or cocktails to your experience while watching the show.
Chicco
MSC Cruises has also partnered with Chicco, a global baby care brand for children under the age of 3.
The partnership allows all the MSC ships to offer:
Free baby essential equipment: for example bottle warmers, strollers, backpacks (for baby items), high chairs, cribs, small fridge in the cabin to store perishables. You will need to ask for those and register at the kids club - first come first serve basis.
MSC BabyCare Service: parents can leave their babies for a fixed time with trained care takers.
MSC BabyTime: some dedicated playtime between parents and their babies
LEGO®
MSC has teamed up with LEGO® to offer great play areas aboard their ships. Children between 3 and 11 years old can enjoy a great selection of LEGO bricks and equipment in the Mini and Junior Clubs.
The LEGO play areas are available on MSC Armonia, MSC Meraviglia, MSC Seaside, MSC Seaview, MSC Bellissima, MSC Sinfonia, MSC Opera and MSC Lirica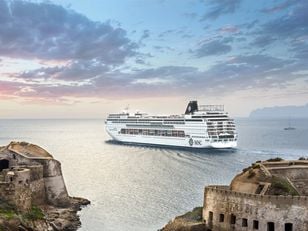 MSC Armonia
Renovated: 2014
Guest: 2,679
Armonia means harmony in English and the MSC Armonia indeed has this in buckets. Minimalis fittings and beautiful clean lines, as well as colours that are soothing and tranquil, will leave you feeling that you have escaped to your happy place.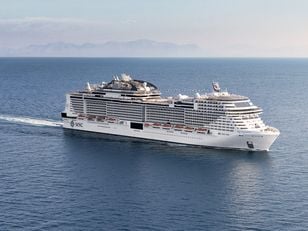 MSC Bellissima
Launched: 2019
Guest: 5,686
Be awed by the beautiful MSC Bellissima. Aboard the ship, there is ample public space, but this does not mean that she is not packed with plenty of entertainment options, bars, restaurants, spa and more!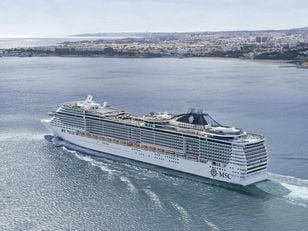 MSC Divina
Launched: 2012
Guest: 4,345
From the sublime to the divine, MSC Divina does not disappoint with her elegance and comfort. Take a dip in the Infinity Pool or watch a show in the Broadway-sized Pantheon Theatre.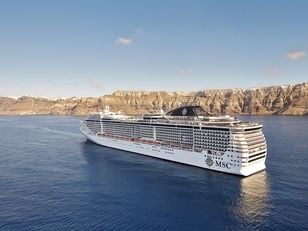 MSC Fantasia
Launched: 2008
Guest: 4,363
MSC Fantasia is modern, yet stylish with that Italian flair for which MSC Cruises is known. Where else can you walk on a Swarovski Crystal floor? With plenty of entertainment for both the under 18s and the adults, including a 4D cinema, F1 simulator and the Aqua Park, there will never be a dull moment.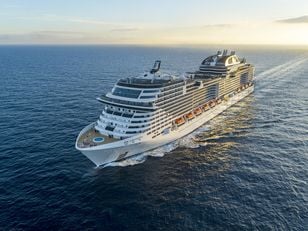 MSC Grandiosa
Launched: 2019
Guest: 6,334
Launched in November 2019, the Grandiosa is packed with features - speciality restaurants, the Jean-Phillipe Chocolat and Cafe, race water slides, Himalayan rope bridge suspended above the ship, Virtual Reality Maze and more.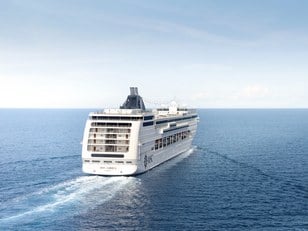 MSC Lirica
Refurbished: 2015
Guest: 2,679
One of the MSC ships refurbished in the 2015 Renaissance Programme, the MSC Lirica offers traditional cruise ship comfort, with wood, marble and brass finishes throughout the vessel.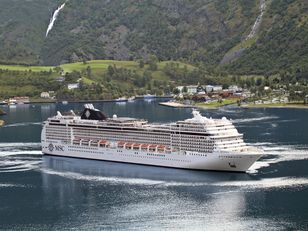 MSC Magnifica
Launched: 2010
Guest: 3,223
MSC Magnifica is refined yet opulent in feel - truly magnificent, just like her name. She is part of the Musica Class of MSC cruise ships. Enjoy the swimming facilities, including an indoor pool with a retractable roof.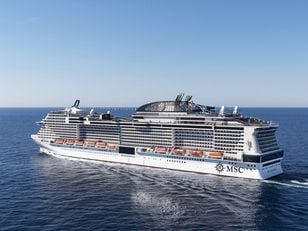 MSC Meraviglia
Launched: 2017
Guest: 5,655
MSC Meraviglia was the first ship in the MSC fleet to have a water slide that went out over the side of the ship; the first ship in the fleet to offer exclusive Cirque du Soleil at Sea shows in a purpose-built theatre.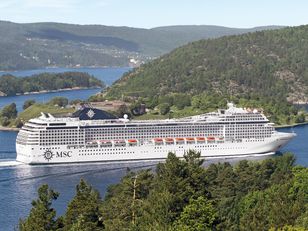 MSC Musica
Launched: 2006
Guest: 3,223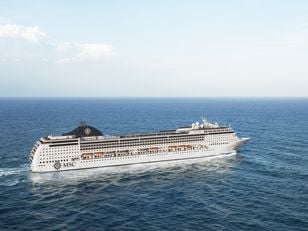 MSC Opera
Refurbished: 2015
Guest: 2,679
MSC Opera was extended and refurbished under the Renaissance Program. There are new facilities that have been added, such as the spray park...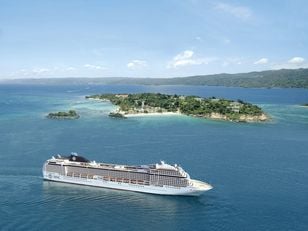 MSC Orchestra
Launched: 2007
Guest: 3,223
Like a well-tuned ensemble, the MSC Orchestra has the perfect combination of elegant interior design, quiet places to unwind, facilities for the active, (like 5 gorgeous pools and a gym).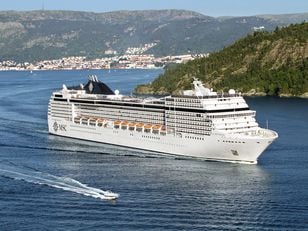 MSC Poesia
Launched: 2008
Guest: 3,223
As her name suggests, the MSC Poesia is a poem to the ocean. For non-Italians, it is pronounced Poh-eh-zee-uh.) From the sumptuous spa where you can get a relaxing massage, to the Zen Garden and the theatre.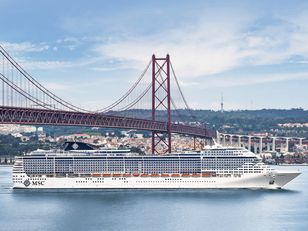 MSC Preziosa
Launched: 2013
Guest: 4,345
As with all of MSC Cruises' ships, the MSC Preziosa is comfortable with Italian flair ever-present. Stroll through the piazza, made with real stone, or take a thrill ride on Vertigo, the longest water slide at sea!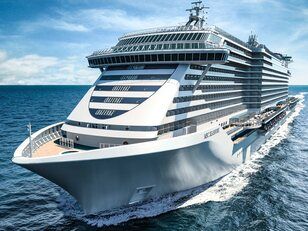 MSC Seashore
Launched: in 2021
Guest: 5,331
The first EVO Class Ship, MSC Seashore is inspired by MSC Cruises' vision for cruising in sunny weather and warm waters. Mirroring the Mediterranean way of life by providing indoor/outdoor eateries.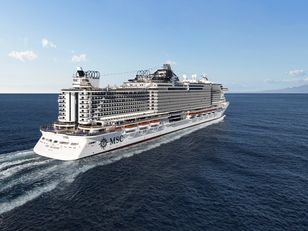 MSC Seaside
Launched: in 2017
Guest: 5,336
MSC Seaside is designed to bring the ocean closer to the passengers. Explore the Waterfront Boardwalk that circles the ship, meaning you can take a stroll in the sun and enjoying the breeze.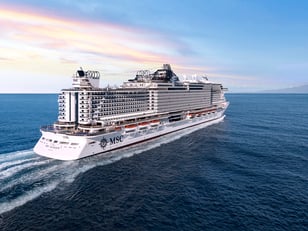 MSC Seaview
Launched: in 2018
Guest: 5,331
The MSC Seaview is known as "the ship that follows the sun", as she spends 6 months in each hemisphere, giving the illusion of eternal summer. Take your pick from 7 speciality restaurants or eat in one of the two buffets.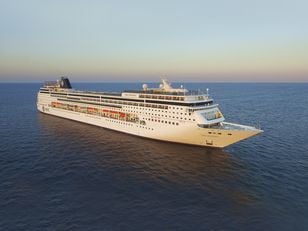 MSC Sinfonia
Refurbished: in 2015
Guest: 2,679
Honouring many renowned European composers, MSC Sinfonia is a symphony of elegance, comfort, entertainment and delight. She will enthral you from the moment you step into her cool interior..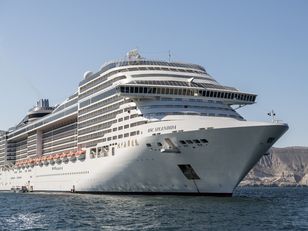 MSC Splendida
Launched: in 2009
Guest: 4,363
With a host of different music venues, bars and restaurants on the MSC Splendida, you will feel spoiled for choice when deciding where to begin exploring.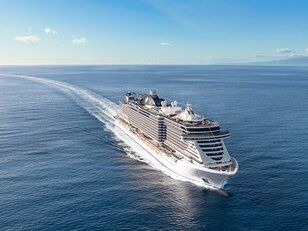 MSC Virtuosa
Launched: in 2021
Guest: 6,334
MSC Virtuosa will be the new jewel in MSC Cruises' crown. Due to be launched in September 2020, delays due to COVID-19 mean that she will be launched in early 2021.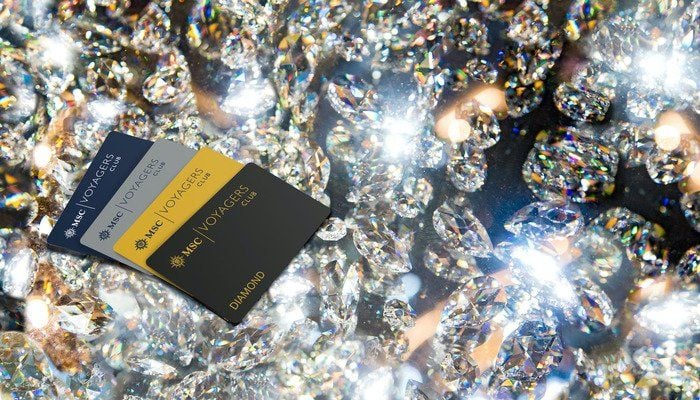 MSC Cruises
Everything you need to know about MSC Voyagers Club program
MSC Cruises Voyager Club is an excellent way for loyal cruisers to get rewarded. The line has revamped its program in May 2022, focusing on offering...