You're waiting for the right opportunity to get away on a cruise, but you have concerns about the potential for health risks, especially given the COVID risk.
If you do need medical care, are there medical professionals on board who can address your needs? This article covers the main points of what you need to know about medical care on a cruise.
All major cruise lines have at least one doctor and two or more nurses onboard. These health care professionals must meet specific criteria to practice medicine on a cruise ship. Medical staff is available 24/7 to address passenger medical needs.
As a cruise line guest, you can do things before and during your cruise to ensure you receive the best medical care. Read on to learn more about cruise ship requirements for medical facilities, the background required for shipboard medical professionals, the medical staff on some popular cruise lines, and what to expect should you need care from medical staff onboard.
Do cruise ships have doctors?
Fortunately for all travellers, cruise ships do have at least one doctor on board with other medical staff to help with various medical needs.
Doctors must have specific qualifications to provide care on cruise ships. The American College of Emergency Physicians (in the US) offers the following guidelines:
All clinical staff are licensed and have three years of post-licensing experience.
Doctors have experience or are board-certified in emergency, family, or internal medicine. If the ship allows children, then appropriate certification in pediatric care is required.
At least one doctor must be certified in advanced trauma life support care.
Cardiovascular, sedation, and minor surgical skills are also required.
Cruise ship guidelines for medical care
Cruise lines and their medical staff follow strict guidelines for their medical facilities and care. Major cruise lines abide by recommendations noted by the Cruise Lines International Association (CLIA - which Hupla is a member of).
If your cruise line is a member of CLIA, you know that onboard medical staff and facilities meet guidelines from The American College of Emergency Physicians (ACEP). These guidelines recommend that cruise ships carrying over 100 passengers provide quality medical care for passengers and crew members.
This care includes appropriate diagnostic, stabilisation, and therapeutic care, including medical evacuation if needed. Medical care must be available 24/7, and the medical staff must be proficient in the cruise ship's predominant language.
There are also guidelines for onboard medical equipment, lab testing, imagery, and pharmacy.
What medical conditions can cruise ship doctors treat?
Cruise guests may be surprised at the extent of medical expertise and facilities on-board. Treatment of common conditions such as seasickness, sunburn, and injuries like breaks and sprains, is assumed.
However, major cruise lines can also handle emergencies like heart attacks, strokes, and infectious disease outbreaks.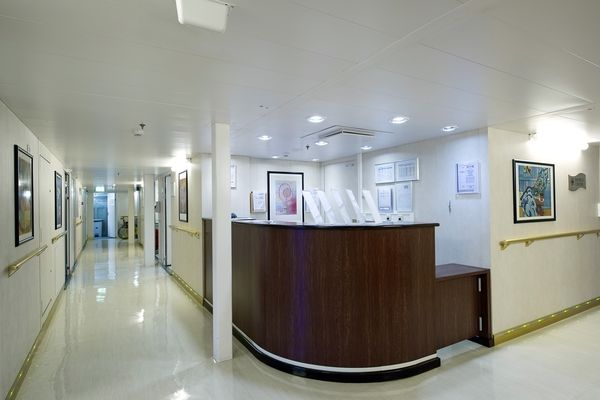 Medical Centre onboard MSC Musica
Cruise Ships with a Medical Staff
Check your specific cruise line to determine what medical facilities and health care professionals are available onboard. The following sections provide links to medical facilities and staffing for some popular cruise lines, including protocols for COVID mitigation and care.
Note: Many cruise lines have suspended sailing until spring of 2021 (June) due to COVID concerns. However, all cruise lines noted are implementing enhanced COVID safety precautions. Several cruise lines have also announced COVID vaccination requirements for crew members, and the cruise industry is studying how best to handle any vaccination requirements for guests.
What you can do to ensure a safe cruise
There are several things you can do to help ensure a safe cruise free from medical worries. Good communication with your travel consultant about doctors and medical resources is essential.
Ask about the medical facilities aboard your ship—remember, river cruises may rely solely on on-shore medical resources.
This is because of the proximity to doctors and pharmacies in towns along the cruise route. The more you know, the better prepared you'll be for a safe cruise.
And make sure that if you have any medical concerns let your agent or the ship know - it is for your own safety.
It is also imperative that if you are on medication, to ensure that you have enough for your entire trip. The ship does not have stock of all medication on the market.
Provide accurate health information
Be prepared to provide information to the cruise line about medical needs and conditions.
For example, if you have conditions requiring oxygen or the need for a wheelchair. In case you need assistance, this information helps the cruise line prepare.
Here are some examples of information you'll want to provide:
Do you have a condition requiring oxygen?
Will you need a wheelchair on-board?
Are you in your 24th week of pregnancy? (If so, you will not be allowed to sail. This restriction is per guidance from the American College of Emergency Physicians.)
Have you taken care of any dental needs? (Besides addressing pain, a trip to the dentist will likely have to wait until the next port.)
Are you over 70 years of age? If so, you may be required to provide a "medically fit for travel" form.
Again, it's essential to be open about any pre-existing conditions—and as with other adventures, consider purchasing travel insurance. (Be sure that a travel insurance policy covers every contingency, such as medical evacuation costs.)
Follow cruise health and safety protocols
It's essential to follow all shipboard protocols for your health and safety. When you embark on your cruise, pay attention to the shipboard safety talk—especially the location of medical facilities and how to notify crew if you need medical assistance.
You can safely enjoy a cruise!
In addition to cruise companies doing their part in providing on-board medical resources, any cruise working from a US port, might be subject to the "Cruise Passenger Protection Act", currently being considered by Congress that mandates doctors and medical staff on cruise ships.
The CDC also provides a way for you to look up your cruise ship to find more information about your cruise ship inspections and safety.
It's not that you want to think about this, but one of the best places to have a medical event is on a cruise ship. For one thing, there's no waiting or travelling from home to hospital for care you need for most medical emergencies.
Remember that major cruise lines abide by the Cruise Lines International Association and the American College of Emergency Physicians guidelines. This means there will always be a minimum of one doctor and two or more nurses available on-board 24/7.
Enjoy cruising! If you prepare beforehand and follow guidelines and safety protocols, you really can leave your worries behind and relax.
Know you'll be in good hands if you need medical assistance. So, go ahead and take in all those wonderful things (sunsets, fun activities, great dining) that make a cruise a delightful escape!