The Mediterranean is one of Europe's most popular destinations. You can find elements of beauty, culture and history all in this magnificent region.
There are a variety of cruise liners and itineraries available to travellers. The Med (as it is more commonly known), is divided into two distinct regions - the Eastern Mediterranean & the Western Mediterranean.
In this article we cover:
Why a Mediterranean cruise?
Best time to cruise the Med.
Which cruise lines?
Eastern or Western Mediterranean?
Top hotspots in the Med.
Do I require a passport or a visa?
What to pack
Typical Mediterranean cuisine
Currency and costs
Why a Mediterranean cruise?
The Mediterranean offers a plethora of attractions, hence it's popularity: soak up some sun on a Greek island; discover Florence's Renaissance art; Paris' Eiffel Tower; Venice's labyrinth of canals; the multi-layered historical culture canvas of Istanbul; and less obvious, but still impressive, Gaudi's Sagrada Familia in Barcelona.
Get a taste of authentic countryside on the outskirts of Monaco, Cannes or Nice. And if it is history you are after, choose a stop in Civitavecchia (port of Rome), Naples (for the Pompeii museum) and Dubrovnik (for the fortress).
Some Mediterranean itineraries also cover North Africa, the Middle East and the Canary Islands.
When is the best time to cruise the Med?
The summer season is the most popular time, however, you will find great offers throughout the year.
High Season (June – August)
Everyone visits Europe in peak Summer, and for most Europeans, this is the time to hit the road.
The cost of a cruise & hotel is thus at it's peak.
Mid Season (April – May and Sept - Oct)
Certain parts of Italy & Greece are still busy and pricey, however prices, as well as crowds, generally decrease in the rest of Mediterranean Europe.
Great months to travel to the Med because the temperatures are moderate and it is not as crowded as in peak Summer.
Low Season (Nov – Mar)
The weather can get cold in most of the Med, however you can still expect some spectacular days.
March is my personal favourite month in the Mediterranean. Not too hot and not too crowded.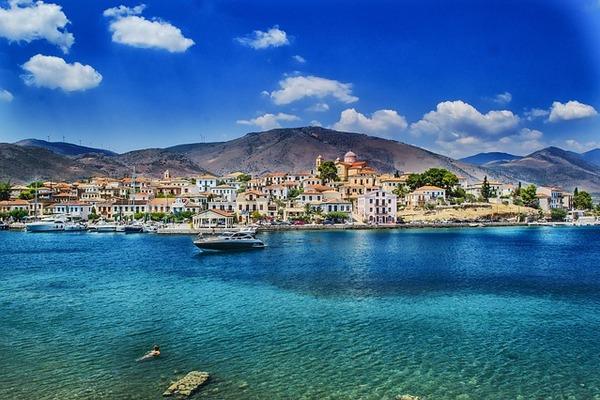 Galaxidi, Greece by Dana Tentis
Which is the best cruise line for the Mediterranean?
Most of the 9 major cruise lines, as well as the smaller and luxury cruise lines, sail the ports of the Mediterranean. MSC Cruises, Costa Cruise Line and Norwegian Cruise Line are the most popular ones.
Eastern or Western Mediterranean cruise?
The Eastern Mediterranean cruises cover Croatia, Greece, Greek Islands and Turkey. Sometimes they will include Egypt and Libya. Usually departing from Venice, Italy or Athens, Greece.
The Western Mediterranean cruises will cover France, Italy, Portugal and Spain, the Canary Islands, Las Palmas, Morocco and Tunisia. The Western Med cruises will mostly leave from Barcelona, Rome and Marseille.
Top hotspots in the Mediterranean for...
These are my favourite destinations for each category in the Med.
History
Rome (Italy), the city of seven hills. From the gladiatorial Colosseum to the Vatican, you don't get better historical sights than offered by this 3000-year-old-city.
Athens (Greece), for close to 4,000 years, Athens has been the centre of Greek Civilization. Submerge yourself in Greek mythology, whilst walking through the Parthenon, Acropolis and Agora Temple.

Valletta (Malta)

, this UNESCO World Heritage, was originally built by the Knights Hospitaller in the 16th Century. The Hypogeum (a subterranean necropolis discovered in 1902) and the St John's Co-Cathedral are both a must-see in Velletta.
Arts & Architecture
Florence (Italy), the cradle of the Renaissance. Few cities in the world house as many masterpieces of art & architecture. Walking down the street of Florence transports you back in time to the 15th & 16th century. Luckily when it comes to architecture, not much has changed.
Istanbul (Turkey), the true intersection of Western and Eastern culture. The Byzantines and Ottoman Empires, have achieved wonders in both building and preserving the impressive architecture and art in Istanbul.
Genoa (Italy), the opulence and prestige of the families that have ruled this mercantile port can still be seen today. Walking through The Romanesque-Gothic San Lorenzo Cathedral, and the many Palazzo will give you an in-depth Art & Architectural lesson on life from the 12th to the 17th century.
Great Outdoors
Dubrovnik (Croatia), known as the Pearl of the Adriatic, walk through this ancient fortress overlooking the sapphire waters. It is a once in a lifetime experience!
Cinque Terre (Italy), undoubtedly the most dramatic coastal scenery on the planet. Here you will not find a single car or a museum, only sun, sea, wine and the pure concentration of Italian vibes.
Nice (France), when strolling down The Promenade des Anglais, you will appreciate why the entire European Aristocracy use to spend their summer holidays in this stunning coastal town.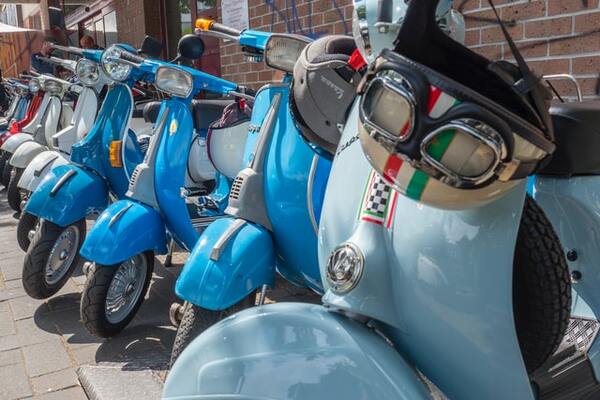 Rent a Vespa for the day
Food and Drinks
Barcelona (Spain), expect no sleep. This city celebrates the food scene like no other. From the chiringuito (temporary snack bar) on the rustic beachside to the 3 Michelin star gourmet restaurants, the only limitation is time!
Greek Islands (Greece), you will often start a meal with some dips (meze), eg taramasalata (fish roe dip) or tzatziki (garlic, yoghurt and cucumber). But you simply cannot leave Greece without trying a spit-roasted or charcoal-grilled pork or lamb souvlaki, a cooking technique the Greeks' have mastered.
Naples (Italy), the city that gave birth to the pizza napolitana. It is not only about the pizza, as you will also find excellent spaghetti alle vongole (clams) and frittatine di pasta (deep-fried pasta in a unique Neapolitan way).
Do I need a passport or a visa to travel to the Med?
In most cases, there are no special entry requirements for European citizens and nationals from UK, Australia, Brazil, New Zealand and the USA.
For most of these countries, a valid passport (children need their own) will grant you a stay of up to three months.
Most African & Asian countries will require a visa to travel to the Mediterranean countries.
What do you wear on a Mediterranean cruise?
Be sure to always pack comfy clothes, especially shoes regardless of the season. In any Mediterranean port, you will be required to walk a fair amount to truly submerge yourself in the experience.
It is also advised to pack a hat and sunglasses as the sun can be treacherous. I always choose to pack some light linen clothes for the evening as it is a great way to spend the night in style!
Related: 20 items you need to pack for more tips.
Typical Mediterranean cuisine
Most of the friends I speak to have this perception that the only items on a menu in the Mediterranean are pizza, pasta and tomato sauce!
Wrong! The Mediterranean diet is a way of life, with spectacular meals full of sun and delicious ingredients all year round.
Picture yourself eating shrimps with lemon and garlic, olives with thyme & capers, a typical horiatiki (Greek salad, with fresh local feta, ripen tomatoes and a peppery olive oil) or some tortillas.
And all of this surrounded by your family and friends making sure to embrace life at a very slow pace.... this is the Mediterranean life...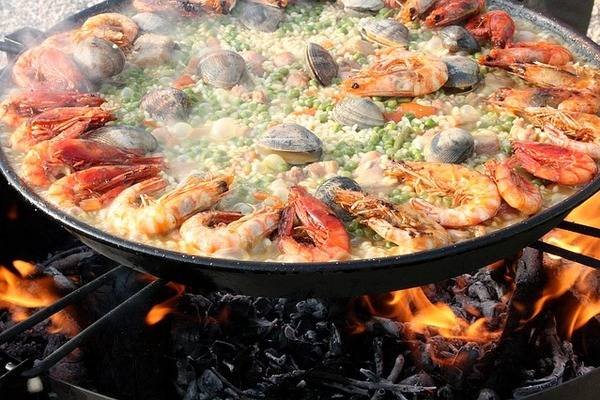 A homemade paella
What about the currency and costs in the Med?
Euro is the principal currency in the Western part of the Mediterranean sea (Portugal, Spain, France, Italy, Greece).
In the Eastern Mediterranean, EUR is also widely accepted ie: Albania, Bosnia & Herzegovina, Croatia and Turkey. However, in North Africa and the Middle East, the currency will depend on the specific country visited.
The costs per day will vary from one city to the next, but the below budgets are ballpark amounts you can use for budget planning purposes.
Bike hire for a day: Eur 10 - 17
Walking tour in a group: Eur 15 - 30
Private day tour: Eur 200 - 400
Museum entries: Eur 5 to 15
Taxi across town: Eur 20 - 40
Two-course meal for two with wine: Eur 100 - 150
Upmarket two-course meal with wine: Eur 200 - 450
When travelling to these regions, we recommend carrying a credit card (generally accepted) or an ATM card and some cash for tipping. Be vigilant of pickpockets and purse-snatchers, as they prey on tourists in the Med in summer.
Tipping
There is no hard and fast rule with regards to tipping. A lot of restaurants will add a service charge or a "discretionary" tip to the bill, generally varying from 5% to 10%. Most waiters do expect patrons to round off their bills.
At cafes and bars, tipping is not vital, but it is customary to leave a few coins or some change.
Be aware that most tour guides expect a tip on an organized tour.
Originally published Feb 15, 2021, updated February 23, 2021
Hero Image: Costa Brava at Sunset in Tossa de Mar, Catalonia, Spain