MSC Cruises has today revealed the MSC Starship Club, a futuristic integrated bar and entertainment experience. The unique bar will feature Rob, the first ever Humanoid Robotic Bartender.
In the press release, MSC Cruises indicated that the MSC Starship Club will only be available onboard the MSC Virtuosa, which should come in service mid-April this year.
Passengers will place their order "using specifically designed vertical digital cockpits".
Rob will mix a range of alcoholic and non-alcoholic beverages; these cocktail options will be displayed through digital monitors within the MSC Starship Club, as well as a ticker-tape-style LED strip above the futuristic bartender.
In addition to his 16 signature Cosmic drinks, guests can choose their own recipe with over 40 different ingredients at hand. To make the experience even more immersive, Rob will serve the cocktails into custom-designed futuristic glasses, which guests can take with them.
Don't be fooled, Rob is not just any robot, as per MSC "This humanoid robotic bartender moves his arms, body and head in a highly natural way, all collaborating to give the impression that a real bartender is preparing the cocktail - a very unique engineering feature. Various facial expressions in addition to a voice have been designed to give Rob a human-like personality."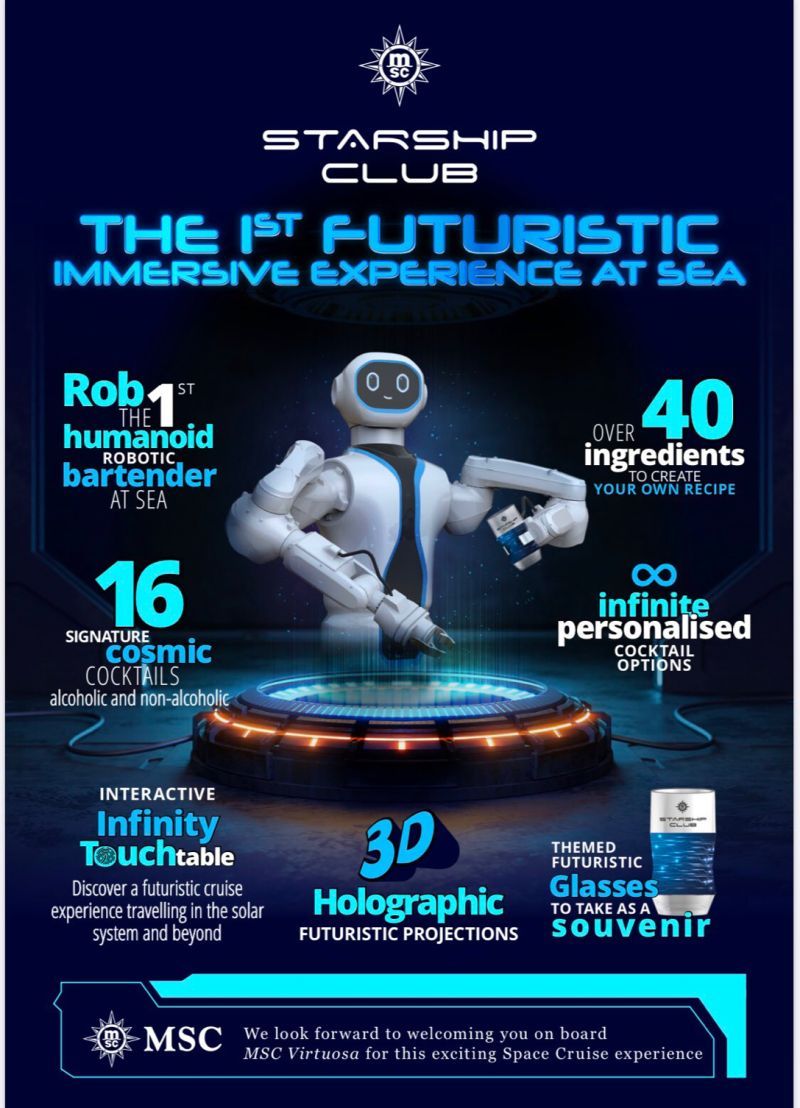 Based on the language of the order, the Humanoid Robotic Bartender, will interact with the client in one of his 8 spoken languages (Brazilian Portuguese, Chinese, English, French, German, Italian, Japanese and Spanish).
Aside from the great visual interaction that Rob will bring to the MSC Starship Club, the club will also feature a range of state-of-the-art technologies. From 3D holograms to a 12-seater infinity digital interactive table to an immersive digital art wall. "This will give passengers the possibility to explore space with their own personalized galactic tour", MSC Cruises wrote.
"After six years of working with leading experts from companies specializing in robotics and automation, this latest innovation will deliver a futuristic immersive experience, re-visiting the traditional bar experience" the cruise line wrote.
According to MSC Cruises, human bartenders will always be around to assist and Rob will not be left to his own devices.
MSC Cruises is not the first cruise line to introduce a robot at sea. Costa Cruises introduced "Pepper" in 2014, helping with guest services and Royal Caribbean pioneered the Robotic Bartender with its Bionic Bar in 2014 on the Quantum of the Seas.
However, MSC Cruises is the first cruise line to use a humanoid type robot as part of its interactive experience onboard a ship.

The cruise line further states that "its constantly looking to the future for inspiration for guest experiences, seeking out new ways to employ the latest technology to create something unique."
The MSC Starship Club featuring Rob will only be available on the MSC Virtuosa. After her christening early February, she will enter into service in April.
MSC Virtuosa will start in the Mediterranean with a range of three, four and five-night cruises and then will be deployed to Northern Europe for summer 2021.